STORY
Popular 'Learn With Purpose' button wall invites downtown passers-by to catch campus spirit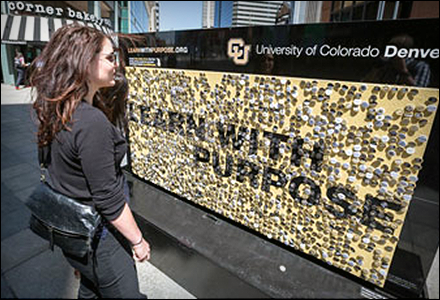 They were destined to be together: The interactive CU Denver button wall and Denver's vibrant 16th Street Mall.
Judging by the reaction to the button wall—the buttons were nearly picked clean on the first day—the installation is a smashing success.
Button wall a hit on 16th Street Mall:
Mall passers-by got their first gander of the billboard-sized wall at Arapahoe and 16th streets, near the D&F clock tower, shortly after noon May 1. The wall is covered with thousands of eye-catching buttons that convey the uniqueness, spirit and educational excellence that are CU Denver, the Mile High City's premier urban research university.
But you better hurry, because Denverites have a clear case of Button-palooza fever! Passers-by are invited to check out the astonishing variety of buttons—many designed by CU Denver students—and select their favorites.
The wall represents the latest phase in the CU Denver Learn with Purpose marketing campaign, which kicked off last fall. The 16th Street Mall installation will stay up until all the buttons are gone. This two-sided button wall is similar to the one that debuted at the corner of Larimer Street and Speer Boulevard last year.
CU Denver asked students to contribute to the Learn with Purpose campaign by submitting button designs and slogans. Buttons on the 16th Street Mall wall will include 11 new designs—10 were designed by students. Edgar Allen Rivera (below), a junior studying digital design in the College of Arts & Media, submitted three ideas that turned into actual buttons: "Unleash Your Inner Lynx," "Sleep Optional" and "You Can't Spell Triumph Without the Umph."
For the latter submission, Rivera won an iPad.
Be sure to stroll over to the mall to show your CU Denver spirit, and come back to the classroom or office with one (or several) of the coveted and fun buttons!