STORY
Philanthropy at Work: Dawn Gregg
Contributions honor lasting impact of entrepreneurial colleague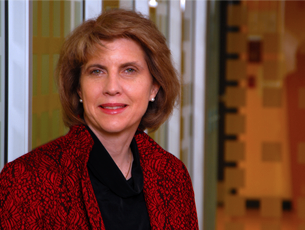 Professor Dawn Gregg is passionate about higher education. She has been teaching students and fostering entrepreneurs at the University of Colorado Denver Business School since 2001. It was both her dedication to education and her desire to honor a friend and business associate that drove her to make a donation to CU Denver.
"I think it's important for people to give back to things that impact their lives and have the ability to change the lives of others," Gregg said.
Gregg made a gift to the Dave O'Brien Incubation Office in the new CU Denver Business School building. Her donation, in combination with gifts from colleagues throughout the Business School, is supporting an office for students and young entrepreneurs who need a place to meet clients, receive mentoring and be advised on how to get their businesses off the ground.
Perhaps most importantly, the office will have a plaque that commemorates Dave O'Brien and his many contributions to CU Denver. O'Brien, who died in 2011, was on the advisory council of the entrepreneurship program, was an entrepreneur-in-residence and served as interim director for the Bard Center for Entrepreneurship. He supported students, alumni and faculty in many meaningful ways. Gregg says he had a lasting impact on every person who passed through his door.
When talking about philanthropy, Gregg speaks to the personal nature of it. She says that everybody should give back in their own way but how they choose to give back will depend on their personal interests and passions.
"I had a great deal of respect for Dave," Gregg said. "And I thought this would be the best way to create a lasting memorial for him."