STORY
Philanthropy propels CU forward, Benson tells donors
Heritage Society has added 90 members this year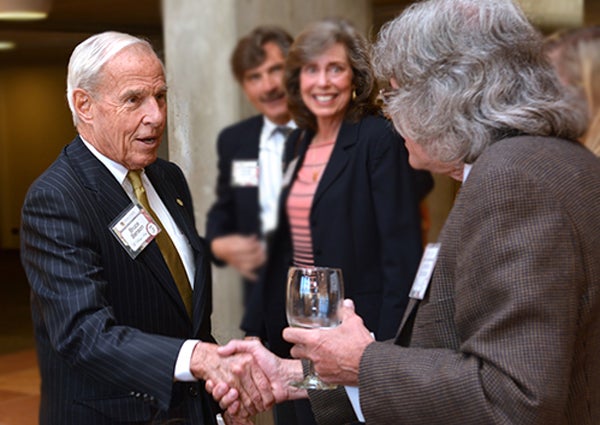 Patrick Campbell/University of Colorado
With a grateful nod to past philanthropy that supports CU, President Bruce Benson said he believes that donors who make planned gifts to CU ensure future university priorities flourish.
"I can't thank you enough for everything you do for the University of Colorado," Benson told more than 200 donors at an April 21 luncheon at the Denver Botanic Gardens. "I guarantee future leaders of this university will be glad."
The university — and donors with their generosity — can help make a difference in a long list of developing initiatives, he said, including addressing mental health challenges, cybersecurity infrastructure, hospital improvements and online education.
Benson and Vice President of CU Advancement Johnnie Ray hosted the event to honor members of the Heritage Society — donors who have committed planned gifts, which include estate bequests, real estate gifts, charitable trusts and annuities, to benefit CU.
With 90 new members this year, its roster now numbers more than 1,100 alumni, staff and friends of CU. The university stands to benefit from nearly $6 million in newly realized planned gifts and another $49 million in newly committed bequests since the start of the fiscal year on July 1, 2015. Counting all private support, donors have made gifts in excess of $247 million so far this fiscal year.
Ray told donors CU has benefited from more than $1 billion to date in estate gifts to fund the university's endowment. That's an extraordinary number, he said.
"But it's not just a number that matters," he said. "It's what happens because of all the extraordinary advances that we make as a result of these kinds of investments. Words aren't sufficient to express our gratitude."
Benson said philanthropy benefiting CU is growing for one major reason, and that's how people feel about the university. Its reputation is on the rise due to recent progress in diversity (both in student-body composition and political perspective); the growth of international student enrollment and of the university's reputation; and of its efficient efforts (increasingly recognized by state legislators) to lower education's costs while raising its already-high standards.
Donors see that and want to play a part in helping CU succeed, he said.
Planned giving is one of CU's most important sources of philanthropy, allowing donors to discover and support the programs that matter to them while structuring gifts that achieve financial goals for them and the university.
For more information about planned giving to CU, call 303-541-1229 or visit cu.planmygift.org.