STORY
Optimism in a challenging fiscal environment
President Benson begins fall series of town hall meetings at UCCS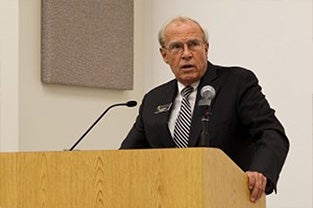 University of Colorado President Bruce D. Benson was optimistic and complimentary during his first campus town hall meeting of the fall on Sept. 20 while advising that neither Colorado nor CU are out of fiscal danger.
Benson began his four-campus tour of the university at UCCS. He shared personal anecdotes as well as compliments between notes of caution about what's ahead for the university.
"Our fiscal environment continues to be challenging," Benson said. "We will still see another $70 million to $120 million in state cuts to higher education next year. For the university, it's between $30 million and $50 million in cuts again next year. That's the bad news. But we always figure it out and make things work."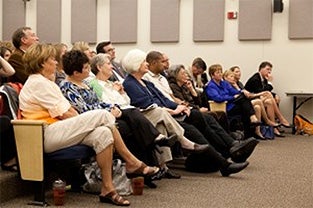 Benson estimated that CU's budget is about $180 million less than what it should be from the state of Colorado. That lack of funding puts pressure on the university to boost enrollment and be entrepreneurial, including private fundraising, sponsored research and partnerships with other organizations. He also said CU will work to pass additional legislation to help make the university more efficient.
"We will continue to be as efficient as we possibly can," Benson said. "We are going to do strategic cuts and revenue enhancements which is largely enrollment growth. I thank everyone who was involved in increasing UCCS enrollment this year. It's a big effort and it takes a lot of work but I really appreciate it."
Benson noted the record enrollment of 9,300 students at UCCS this fall as well as improvements in student retention. He emphasized the importance of continued enrollment growth, particularly non-Colorado residents including international students. He reminded those in attendance of recent actions by the CU Board of Regents to approve space for 200 more students to live on campus. He also complimented Chancellor Pam Shockley-Zalabak's recent outreach efforts with rural community colleges.
"When I have people say, 'We'll just hold flat; we won't do anything new,' I say, 'You don't go flat, you go down,'" Benson said. "So, we've got to strategically keep trying to move upward with programs that make sense for the community and for us."
Benson's town hall meetings continue in October and November. The schedule:
University of Colorado Denver
3 p.m. Monday, Oct. 24, Lawrence Street Center, 1380 Lawrence St., Second Floor Terrace Room
University of Colorado Boulder
10 a.m. Wednesday, Oct. 26, UMC Ballroom
Anschutz Medical Campus
3 p.m. Tuesday, Nov. 1, location to be announced
System administration
8:30 a.m. Wednesday, Nov. 16, Sherman Street Event Center, East 18th Avenue and Sherman Street, Denver
Photos by Tom Hutton