STORY
NIH's $48.4 million will advance translational research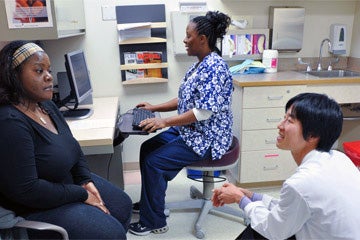 Research has found that what is most important to an aging senior citizen is independence. A collaborative study through the Colorado Clinical and Translational Sciences Institute (CCTSI) and the Center for African American Health is working with African American women to discuss the importance of walking. Yes, the simple act of walking allows seniors to keep their independence, keep their balance, keep them in their homes and keep them healthy.
This is one of many programs that the CCTSI is helping to fund. And that funding just got a big addition.
CCTSI has received a $48.4 million, five-year grant from the National Institutes of Health to continue to accelerate the translation of research discoveries into improved patient care and public health. CU is just one of 15 institutions in the U.S. selected this month to receive an NIH Clinical and Translational Science Award, or CTSA.
"This award allows us to continue seamless and safe translation of biomedical research. The clinical discoveries that are made will help improve human health," said Richard Traystman, Ph.D., vice chancellor of research.
"The CCTSI has made great strides and we fully support the work facilitated by both clinical and research scientists which ultimately impact the lives of our community," said Richard D. Krugman, M.D., vice chancellor for health affairs and dean of the School of Medicine.
The CCTSI is a collaborative enterprise between the University of Colorado Denver | Anschutz Medical Campus, CU Boulder, Colorado State University and six major hospitals -- University of Colorado Hospital, Children's Hospital Colorado, Denver Health, National Jewish Health, Denver Veterans Affairs Medical Center and Kaiser Permanente of Colorado. CCTSI also includes health care organizations and local communities, both rural and inner city.
"We appreciate the NIH's continued support and commitment to our Institute. This award allows us to be a continuous voice in the broader discussion of improving health while reducing costs," said Ronald J. Sokol, M.D., principal investigator and CCTSI director.
Some goals of the CCTSI are to:
Expand the statewide academic home for clinical and translational research.
Implement new clinical research management strategies to improve quality, safety, efficiency, cost-effectiveness and innovative team science as well as introduce new software systems and workflows.
Centralize the delivery of resources, services and technologies.
Incorporate key concepts of community engagement into the full spectrum of translational research.
Increase the translational research workforce capacity through a broad curriculum of education, training and career development opportunities.
A rigorous tracking, assessment and evaluation program with a formal quality and process improvement component will ensure the best use of resources while protecting the safety of research study participants. These programs are centralized at the CU Anschutz Medical Campus.
The NIH started the CTSA program in 2006 as a research vehicle in the health care reform movement to provide higher quality and more affordable health care. CU received its first round of CTSA funding in 2008.
Since 2008, the CCTSI has
Established new infrastructure and improved resources and services for investigators
Tripled the number of training and education programs supporting the lifespan of an investigational career;
Administratively centralized and expanded the breadth of clinical research capacity and expertise;
Established system-wide informatics capabilities
 Promoted team science and encouraged interdisciplinary research through pilot grant programs and technology cores;
Established an extensive community engagement program, from small towns to the inner city, from professors to farmers.
Streamlined processes and reduced the regulatory burden for investigators
Created an academic home for clinical and translational scientists and trainees.
Eventually, though innovative research and dissemination, CCTSI should help improve the health care of all of Colorado's more than 4 million residents and the 1,300 physician practices and 300 hospitals that serve them.