STORY
President's Employee of the Year Award nominations due today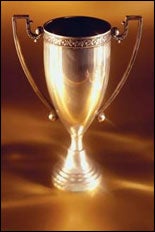 The deadline for the 2009-2010 President's Employee of the Year Award has been extended until 5 p.m. today (Oct. 7). The award will honor a system administration employee for exceptional job performance, and includes a presentation of $1,000 (subject to payroll taxes) during a recognition reception hosted by System Staff Council on Oct. 22 at 1800 Grant St.
All system administration classified and professional exempt staff may be nominated for the award.  Criteria for the award and details on the nominating process are posted at the System Staff Council Web site.
Excellence in Leadership Award to debut
The Excellence in Leadership Program (ELP) requests nominations for its first Excellence in Leadership Award, which honors a graduate of the program who shows exemplary leadership at the university.
Nominations should detail leadership in one or more of the following areas:
Organization, departments or teams
Projects, programs or research
Fiscal management or fundraising
Student instruction
All ELP graduates working at the University of Colorado are eligible to be nominated; self nominations are not accepted. The nominator must be a CU employee who has worked directly with the nominee.
The award will be presented at a leadership lecture and lunch on Nov. 13. The nomination form is posted on the ELP Web site. Nominations are due Oct. 20.
Boulder Public Library hosts free lecture series
CU at the Boulder Public Library offers a slate of three public lectures this fall, beginning Tuesday, Oct. 13, with an exploration of a Costa Rican volcano.
Anthropology Professor Payson Sheets will present "From the Garden of Eden to Armageddon and Back: Eruptions of Arenal Volcano in Ancient Costa Rica." Sheets researched the effects of eruptions on nearby people, their departure and return before the next eruption.
The program continues Nov. 10 with "Planetary Nebulae: Previewing the Fate of the Solar System," presented by Kevin France, research associate at the Center for Astrophysics and Space Astronomy. On Dec. 8, Sara Hellmuth, doctoral candidate in ecology and evolutionary biology, will present "Climate Change and Disease: A Case Study of Malformed Frogs."
The free, public lectures start at 7 p.m. in the library's Canyon Theater, 1000 Canyon Blvd., and are sponsored by the CU-Boulder Office for University Outreach, the Boulder Public Library and the Boulder Arts Commission. For more information, e-mail outreach@colorado.edu or call 303-441-4113.
Speakers sought for leadership conference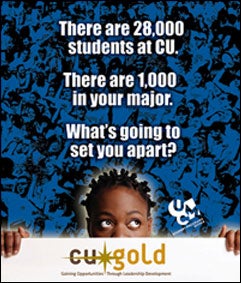 In preparation for its annual student leadership conference, CU GOLD(Gaining Opportunities through Leadership Development) at the University of Colorado at Boulder is requesting presentation proposals from faculty, staff and students.
The theme of the event, set for Feb. 20, is "Leading in Tough Times: Adapt. Innovate. Inspire." Possible topics for the 50-minute sessions include, but are not limited to, managing stress and burnout as a student leader, conflict resolution, entrepreneurship, political leadership, multicultural leadership, and ethics. Previous presentation experience is not necessary.
Submissions are due by 5 p.m. Oct. 16. For more information and a submission form, go to CU GOLD's Leadership Conference site.