STORY
Pharmacy professor helps develop technology to protect hepatitis B vaccine
Research will have implications for safe vaccination delivery across the globe
LaToya Braun, Ph.D., an assistant professor at the School of Pharmacy, helped develop a technology that protects the hepatitis B vaccine from heat and freeze damage.
Braun worked in collaboration with PATH, an international nonprofit organization that creates sustainable solutions aimed at breaking cycles of poverty, and Arecor, a company that works with pharmaceutical and biotech companies developing proteins and vaccines for application in drugs, medical devices or diagnostics.
PATH published the findings of the study in this month's issue of the journal Human Vaccines, describing a new hepatitis B vaccine formula that exhibits nine-week stability at 55 degrees Celsius, and six-month stability at both 37 degrees Celsius and 45 degrees Celsius.
According to researchers, whose work was funded by the Bill and Melinda Gates Foundation, the data indicate that the new hepatitis B vaccine formulation will be better able to withstand disruption in the cold chain, and could be stored at room temperature for a significant part of its shelf life.
Former CU chief financial officer passes away
C. William Fischer served four CU presidents
C. William Fischer, who served as vice president for budget and finance and chief financial officer under four University of Colorado presidents, died at his Boulder home on Thursday, Aug. 13. He was 78 years old.
His family will hold a service at 2:30 p.m. on Saturday, Aug. 22, at the Mountain View United Methodist Church at 355 Ponca Place in Boulder to celebrate Fisher's life.
In lieu of flowers, and because of Fischer's passion for service to his community, his family requests that remembrances be made to one of his favorite organizations: Muskingum College, Frasier Meadows Manor Employee Education Fund or Special Transit of Boulder.
Born in Pittsburg in 1931, Fischer served in the U.S. Army Signal Corps from 1953 to 1955 during the Korean War. Over the course of his career he also served several federal agencies such as the U.S. Congressional Budget Office and the U.S. Department of Energy. In addition to CU, he served other universities, including Brandeis University and Northwestern University.
He met his wife, Betty Taylor Fischer, at Muskingum College in New Concord, Ohio, and the couple went on to raise four children who gave them nine grandchildren. The Fischers celebrated their 56th wedding anniversary on Aug. 1, according to the couple's son, Mark Fischer.
Fischer served CU twice under four presidents, serving from 1981 to 1989 and from 1998 to 1999.
"Bill had an exuberant approach to living, which kept him going at top speed throughout his life. During his working career he worked long hours while still finding the time and energy to help raise four kids, take his family on incredible adventures, and travel with his wife," according to an online tribute created by his children.
Discounted football season tickets for faculty/staff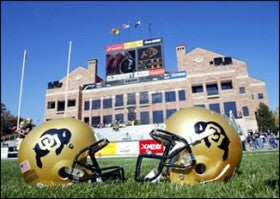 University of Colorado faculty and staff across all four campuses are still eligible to receive a 20 percent discount on 2009 football season tickets.
According to the CU Athletic Department, all CU faculty and staff can purchase two season tickets at a discounted price. Pricing depends on seat location in the stadium and Buff Club membership status. To get more information on these discounted tickets, please go to the CU Faculty/Staff ticket information page.
On Sunday, Sept. 6, at 5 p.m., the Colorado Buffaloes will open their 2009 season in Boulder against the rival Colorado State Rams, the first of six games at Folsom Field this fall.
Other games will include the first in 12 years with Front Range foe Wyoming on Sept. 19, followed by a pair of key Big 12 North Division matchups against Kansas on Oct. 17, which is also Family Weekend, and Missouri on Oct. 31, the highlight of CU's annual homecoming weekend.
The Buffs will remain home the following week (Nov. 7) to take on Texas A&M, and conclude with the crucial end-of-season showdown against Nebraska on Nov. 27, the day after Thanksgiving.
To take advantage of this special offer, the Athletics Department encourages all CU faculty and staff to buy tickets by calling the Athletic Ticket Office at 303-49-BUFFS.
Underinsured to receive free colon cancer screenings

The Colorado Colorectal Screening Program plans to screen more than 800 underinsured and 3,200 uninsured Coloradans for colorectal cancer over the coming year, according to the University of Colorado Cancer Center, which oversees the program.
Program administrators said the increased outreach is due to expanded grant funding from the Colorado Department of Public Health and Environment.
Since its 2006 inception, the program has screen 8,150 people, found and removed precancerous nodules from 1,945 people, and detected 80 cases of colorectal cancer. Last year, the program screened 3,015 people, including 30 who were diagnosed with colorectal cancer.
Cancer Center officials said colorectal cancer is the second-highest cause of cancer death among men and women, and is the only cancer that can be prevented and cured through early detection.
Program Director Holly Wolf, Ph.D., said the program aims to decrease the colorectal cancer rate in Colorado by providing screening for uninsured people older than 50 who fall at or below 250 percent of the federal poverty level.
"Some people have insurance, but the co-pay, coinsurance or deductible they'd need to pay to get a colonoscopy is too high for them to afford the screening test," Wolf said. "Starting this month (July), our program will pay for the cost of the colonoscopy, and, if needed, the person's insurance company will provide coverage for any follow-up treatment."