STORY
New School of Medicine dean: Growth management a good problem to have
Reilly to regents: 'My job is to increase the RPMs'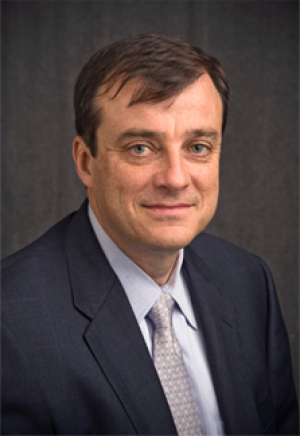 John Reilly, M.D., new dean of the CU School of Medicine, left a job he loved at the University of Pittsburgh because of the upward trajectory of the school and the CU Anschutz Medical Campus.
"I had a great job at Pittsburgh," Reilly told the Board of Regents at their Tuesday meeting at CU Anschutz. "The reason I came here was because of the trajectory I see on this campus. … The problems we have here are the problems of managing growth. My counterparts across the country are worried about hanging onto what they have.
"We have 15 percent growth of clinical practice per year … and I don't see a reason why that can't continue."
Reilly was Jack D. Myers Professor and Chair of the Department of Medicine at the University of Pittsburgh before succeeding longtime CU School of Medicine Dean Richard Krugman, M.D. During his first public remarks to the board since joining CU on April 1, Reilly outlined his vision for the school.
Among his goals, Reilly said, is to recruit talent to meet clinical needs at the school and partner health care providers while managing infrastructure demands and funding key initiatives.
"We're going to open up a research competition this summer and pick some big ideas to invest in bringing in more talent," he said. "It's a virtuous circle we have going on here. We have started that wheel turning and my job here is to increase the RPMs. It's exciting."
During the 2014 fiscal year, the school brought in $1.2 billion in revenue, which accounts for 85 percent of all revenue across CU Anschutz.
"We do have a dominant player on the campus," Chancellor Don Elliman said of the School of Medicine before introducing Reilly. Because of that, "the role of dean at the School of Medicine is absolutely critical not only to the future of school but of the campus itself."
Most of the school's revenue comes from faculty clinics. Reilly said the timing of his arrival and recent appointments of new CEOs at the University of Colorado Health System and Children's Hospital Colorado provide an opportunity for all three entities to "forge a closer alignment."
"If you look at the care provided on this campus, our faculty provide all the care at University of Colorado Hospital and 98 percent of the care at Children's Hospital Colorado," Reilly said. "We're going to sink or swim together."
Reilly alluded to the Affordable Care Act and its role in changing how patients pay for health care. Because of that, he said, "There is going to be more risk involved … so we're in active conversations with both partners about how we approach the changing clinical landscape."
Reilly also said he sees a need for the school and its partner health care providers to better coordinate their messaging to external audiences.
"I do think we're a little bit of the best-kept secret in Denver," Reilly said. "When we talk to people in the community, they're pleasantly surprised by what's going on here."
Typically strained state funding for CU and higher education across the state, as well as realistic market limits on what medical students can pay for tuition, pose challenges, Reilly said.
"We are resigned to the fact that our state appropriation and the amount of money we generate from student tuition are going to remain relatively fixed," said Reilly, who aims to build the school's grant-funding portfolio. He sees opportunity for the school to secure more NIH funding – if and when that funding receives boosts from the federal government – but he also expects increased competition with peer institutions.
"My personal belief is that over the next decade there is going to be a winnowing in institutions who attract a lot of NIH funding," Reilly said. "The strongest institutions are going to get stronger while the middle and lower tier is going to drop out. My intention is that we're among the winners in that market, if you think of research as a market."
To do that, the school must continue to attract top talent, Reilly said.
"That requires money, and that comes from philanthropy and clinical revenues," he said.
Reilly said he and Elliman are working with Scott Arthur, vice chancellor for advancement at CU Anschutz, "to spread the word about the good work going on on this campus … to tell our story to the community and encourage them to seek clinical care here."
Regent John Carson asked Reilly about the growth potential for enrollment at the nascent medical school branch at the University of Colorado Colorado Springs, where a cohort of students is just getting underway.
"We have to learn to walk before we run," Reilly said. Once the first class has graduated, if it's determined that the facilities and clinical partners can accommodate larger class sizes, enrollment increases could be considered.
Elliman said there is potential to add similar programs in other parts of the state, too, but that "it's critical we make sure this one is working first."