STORY
New Folsom Field seating closing in on finish line
Athletic director updates regents with days remaining until football kicks off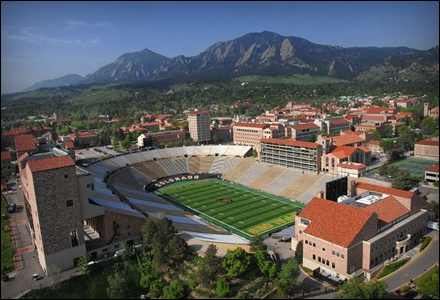 With the Colorado Buffaloes season debut at Folsom Field fast approaching, CU-Boulder Athletic Director Rick George told a Board of Regents committee on Wednesday he is hopeful that new seating areas under construction will be finished in time for Saturday night's football game.
George's update on athletic facilities improvements at CU-Boulder was part of a meeting of the Intercollegiate Athletic Committee at the University Memorial Center on the CU-Boulder campus. The full board also met in executive session on Wednesday; most of the public portion of the meeting takes place today. (Check back at CU Connections later today and Friday for more meeting coverage.)
Construction on the new seating areas in the north end zone and northeast corner began in May. George said one of the areas should be completed by late today, while the other will be "very close" to the Friday night deadline. The Buffs play Arizona State at 8 p.m. Saturday.
George said fundraising on the athletics facility upgrades continues to go well. He said more than $50 million has been raised so far, representing roughly a third of the total construction cost. Improvements will continue over the next year, with a late fall 2015 completion date targeted for an indoor practice facility.
UCCS Chancellor Pam Shockley-Zalabak and Steve Kirkham, intercollegiate athletics director, also spoke to the committee, providing updates on facilities progress. A new field atop a parking garage provides space for club sports – and striking views of the Rockies. Groundbreaking on an expansion of the recreation center took place earlier this month. At the Gallogly Events Center, basketball is expected to attract standing-room-only crowds this season, which has the campus considering future expansion plans.
Earlier in the meeting, George also listed for the committee the various ways the CU-Boulder athletic department honors and recognizes student athletes past and present, including several honorary dinners and celebrations of anniversaries of major championships. He said the department also likes having the flexibility to celebrate unconventional milestones, such as this year's 20th anniversary of "The Catch" during the Buffs game at Michigan.
"How we select our teams to honor, how often we do it, who's doing it – this is an area of our business that we're looking at," George said. "We're looking at it this fall and will report back (to the regents) early next year. I think it's an area of our business that we can do a lot better."
Regent James Geddes, who chaired the committee since its re-establishment in February 2011, gave a summary of its work during his tenure at the helm. Regent Glen Gallegos officially began his term as chair with Wednesday's meeting. Gallegos noted that the full board next June will consider whether to continue the committee. Geddes, who will leave the board after his term expires early next year, encouraged the board to continue the committee.
Gallegos asked for comments from the committee; Regents Steve Bosley and Irene Griego said they appreciate the work being done, but also want to gather feedback from administration on the usefulness of the committee.
CU-Boulder Phil DiStefano noted that an earlier version of the committee was discontinued more than a decade ago when it was decided that athletics issues should be heard and dealt with by the entire board. He pointed to a presentation on Title IX, scheduled for today's board meeting, as an example of an athletics-related issue that is being heard by the entire board rather than the committee alone.
Bosley said he hopes campus leaders will "be candid with us. Is this wasting your time? Is it beneficial? … Is this really a necessary step?"
Kirkham, noting the Division II status of UCCS athletics, said he appreciates the opportunity provided by the committee to keep board members apprised of activity in Colorado Springs.