STORY
New academic building progressing; Qdoba chosen as food vendor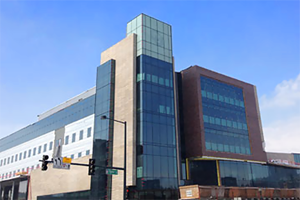 Since breaking ground in January 2013, the new CU Denver academic building on the Auraria Campus has been evolving along Speer Boulevard at Larimer Street.
Perhaps most noticeable in the past month, the shiny insulation on the exterior has been covered with stone and red brick, a look that meshes with the style of surrounding buildings such as the North Classroom and the Science Building.
A recent walk through the interior revealed many elements designed to engage and excite students, faculty, staff and visitors. Workers representing nearly 40 companies are busy adding the finishes of what promise to be inviting and comfortable spaces.
Features of the new five-story building include classrooms, offices, study nooks, a common area with food service on the first floor. The first two floors are designated for student services including the Admissions Office and the Lynx Center. The idea is to serve current students but to appeal to prospective students on their first look at the environment.
Food vendor selected 
When the building opens in August, Qdoba will be there, too. Results of a student survey informed the decision made by a committee to award a food vendor contract to Qdoba Mexican Grill.
The menu is expected to include the chain's typical fare as well as breakfast options available only at this location. This will be the first "university" Qdoba space operating in Colorado.
Building offers dramatic view
Large windows will offer broad views of the Tivoli, Lodo and the Denver Performing Arts Center. Even the ceiling has been upgraded with skylights and terrace lounges on the roof.
The second floor will house the Learning Resource Center, TRiO, Disability Resources and the Educational Opportunity Office. Co-location of these offices is designed to promote a cohesive and cooperative environment so that office personnel and visitors may interact to the extent they desire, but also enjoy their unique needs, all while respecting their unique service needs. Departments to be housed on the third and fourth floors include history, communication, political science, math, and master of humanities and social science.
Five floors above Speer, windows have been installed as the exterior walls. From this floor, you'll get a 360 -degree view of Denver and Colorado's Front Range. The Financial Aid Office, the Registrar's Office and the Bursars Office are expected to settle there, so be prepared for the bonus view from the top floor.