STORY
Movie icon returning to Auraria Campus for women's conference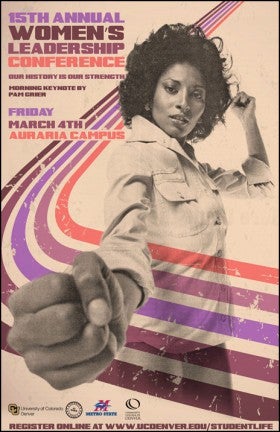 Pam Grier, movie icon with longtime ties to the Denver area, will return to the Auraria Campus on Friday, March 4, as keynote speaker for the 15th annual Women's Leadership Conference.
Grier, who attended Metropolitan State College in the late '60s, is known for a revolutionary career as an African American actress, having starred in Quentin Tarantino's "Jackie Brown" (1997) and several blaxploitation films in the '70s, such as 1974's "Foxy Brown." She was one of the first African Americans to receive a Golden Globe nomination for best actress. Recently she has appeared in the cable TV series "The L Word"and had recurring roles on "Law & Order: SVU" and "Smallville." Last year, she penned her memoir "Foxy: My Life in Three Acts" with Andrea Cagan.
The theme of this year's conference is "Our History Is Our Strength."The day will feature interactive sessions and programs designed to address contemporary approaches to leadership, inclusive of a more globalized perspective, as well as women's approaches to leadership in the Western world. Participants will identify leadership within themselves, reflect on their own strengths and cultivate confidence with regard to leadership.
The event is from 8 a.m. to 2 p.m. in the Tivoli Turnhalle. Grier's keynote address will take place during breakfast 8:30 a.m. Interested participants may register here or athttp://fs11.formsite.com/sorcforms/form37/index.html?1298324628251. Registration fee is $10 for faculty and staff, $5 for students and $15 for community members.
This event is co-sponsored by the Metro State Institute of Women's Studies and Services, the University of Colorado Denver Office of Student Life, the Community College of Denver Office of Student Life, the Metro State First-Year Success Program and the Metro State Office of Student Activities.