STORY
Momentous year ahead: Academic building groundbreaking, mascot, 40th anniversary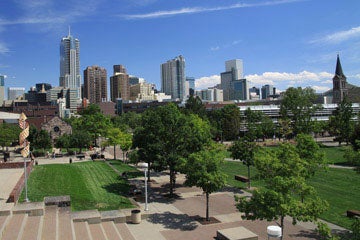 New academic programs. Construction of our "front door" Academic Building at Larimer Street and Speer Boulevard. The unveiling of a mascot. The University of Colorado Denver's 40th anniversary celebration.
Those are just a few of the ways that the coming year promises to make a powerful statement about who we are and where our urban research university is headed.
The year gets off to an exciting start with the groundbreaking on the 128,000-square-foot Academic Building One on Jan. 31. The building, targeted to open by fall semester 2014, will be the first newly built structure on the Denver Campus, devoted solely to our students — their education, their needs, their success.
Just a week later, students, faculty and staff will pounce on a new way to express pride in their university. Not much can be disclosed at this time, but plan to be in the Tivoli Turnhalle around noon Feb. 7. Let's just say that the university's continued physical expansion, both on the Auraria Campus and in downtown Denver, combined with a burgeoning club sports program resulted in strong interest among the student body for the launch of its own mascot.
In April, we'll hold a celebration to commemorate our 40th anniversary. The marriage of CU Denver to the downtown community began in 1973 and the many ways we've grown, evolved and added to Denver and Colorado's vibrancy will be celebrated throughout the year.
Also in the spring semester, finalists for dean at the College of Arts and Media will be interviewed.
In his State of the University address last fall, Chancellor Don Elliman said CU Denver continues to develop relevant programs that leverage our assets. Examples include the new undergraduate degree programs in architecture and bioengineering and plans for programs in construction engineering management and hospital management.
"We have huge advantage in our ability to marry experiential learning with interdisciplinary programs," Elliman said. "We have to find more ways to build on that advantage."
The university, which has seen strong gains in undergraduate enrollment, will continue its strategic focus on this area. Other areas of focus include diversifying funding streams, assessing technology issues, improving marketing and enhancing student success.
Adding to the visibility of a new mascot, signature building and 40th anniversary will be an image campaign to further raise the university's profile.