STORY
In memoriam: Regent Emeritus Tilman 'Tillie' Bishop
Longtime state leader served higher education for decades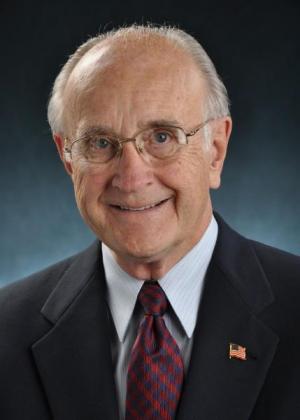 Updated June 21 with details on services.
University of Colorado Regent Emeritus Tilman "Tillie" Bishop, died Sunday, June 16, 2019, in Grand Junction. He was 86.
His service to the university from 2007 to 2013 was the final leg of a 38-year-career as an elected public official. A Republican, he represented the state's 3rd Congressional District while on the Board of Regents for a single term, deciding not to run for re-election for health reasons.
Bishop supported education in Colorado for decades. He taught in public schools for seven years and served as a Mesa State College administrator for 31 years.
"Tillie Bishop was an exceptional Coloradan whose life and work exemplify the best of what public servants can achieve," said CU President Bruce D. Benson. "Whether it was working in his community, serving in the Colorado General Assembly or on the University of Colorado Board of Regents, Tillie was known for his honesty, integrity and ability to work with all manner of people to get things done. Our state and our university are better places because of his work and his strength of character.
"Tillie was also a close personal friend who I have known for more than 35 years, and Marcy and I, along with the entire University of Colorado community, extend our deepest condolences to Pat and the Bishop family."
Bishop in 1970 was elected to the Colorado General Assembly and served two terms for a total of four years in the Colorado House of Representatives and six terms (24 years) in the Colorado Senate, the last six years as president pro tem. His tenure as a state lawmaker ended in 1998 due to term limits.
In a 2012 interview, Bishop recalled his first run for office: "I remember campaigning in Palisade, knocking on doors, and a lady chewed me out for walking on her lawn. So I stayed on the sidewalks. Then the lady's little poodle ran out when I opened the gate. She's yelling and sobbing while I'm chasing that little dog all over, close to downtown. I finally caught him and took him back to her house. She said, 'You're running for something?' I said, 'Yes, I'm running for the Colorado House of Representatives.' She said, 'You really ought to run for dog catcher.'"
Bishop's 28 years of service in the General Assembly rank him fourth in Colorado history for continuous service, and he was the longest-serving state senator from the Western Slope. During his time as a state lawmaker, Bishop focused on education, water, energy, natural resource development, highways and transportation, legislative reform, youth corrections and the state personnel system.
Nationally, Bishop served as Colorado's representative on the executive committee of the National Conference of State Legislatures. He also sat on the executive committee of the Energy Council, made up of 10 major oil-and-gas producing countries such as Canada and Venezuela. His other work experience includes four years as a Mesa County Commissioner.
Born in Colorado Springs on Jan. 1, 1933, Bishop earned a bachelor's and a master's degree in education at the University of Northern Colorado as an El Pomar Foundation and wrestling scholarship recipient. In 1999, his alma mater awarded him an honorary doctorate.
In honor of his dedication, outstanding service and leadership as a public servant, Bishop received numerous honors and awards. In recognition of his legacy, the Western Colorado Community College campus and the Colorado Wildlife Refuge on the Colorado River in Palisade were named in his honor.
Bishop and his wife, Pat, a retired public school teacher, were married for 67 years. Their son, Barry, passed away in December 2008.
A celebration of life is set for 4-6 p.m. Tuesday, June 25, on the third floor of Escalante Hall on the Colorado Mesa University campus. Parking is available in the University Center parking garage off 12th Street. From the garage, walk west to Escalante Hall, on the northwest side of the plaza. Memorial contributions may be made to the Tilman and Pat Bishop Endowed Scholarship at the CMU Foundation, 1450 N. 12th St., Grand Junction, CO, 81501.