STORY
Match Day lights paths to residency for School of Medicine students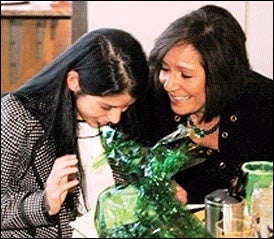 On a picture-perfect St. Patrick's Day, hollers and whoops of joy rose to a deafening din at Invesco Field as medical students tore through the green cellophane and into the envelopes that revealed where they will serve their residencies. March 17 was Match Day, a celebration where 140 School of Medicine fourth-year students met their "match."
While many literally leapt at the revelation, Meghan Riley celebrated quietly with her boyfriend, Vijay Kailasam, and her parents, Dianna and Jeff Riley. The good news? "I'm going to Penn State," she said with a smile. "It was one of my top choices." Riley will serve her residency in pathology. "It's been a long time!" her mother Dianna said. "She's been working on this for 24 years! Well, maybe 21 years."
Across the table, cheers, hugs and Brandon Fain's bright smile told the story. Fain, whose specialty is internal medicine, will serve his residency at his first choice, the University of Washington. He'll head there "the day I graduate!" he said. That day is May 27.
On the other side of the room, Trevor Neal slowly unfolded his envelope as his family looked on. A broad grin appeared on his face. "I'm going to North Carolina," he said with relief.
Yet, not all aimed for residencies in far-off places. "Grand Junction," exclaimed one young woman. "That was my first choice!"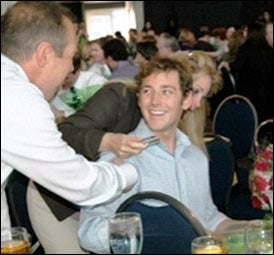 While green was certainly the color of the day, this celebration couldn't be attributed to the luck o' the Irish. Years of dedication, education, study and commitment brought the outstanding students to their moment.
Match Day is a coveted ritual across the country where medical students receive their assignments all at once, typically at about 11 a.m. MDT. Students are matched with the program that will educate them further during the next three to seven years.
Prior to the grand opening, School of Medicine Dean Richard Krugman spoke to the students and their families as they fiddled with the green cellophane that held their future. "This is our second-most exciting time together," he told the crowd. "The most exciting time will come when we graduate you."
Krugman tried to pre-empt any feelings of disappointment for those whose letters might hold a destination they didn't prefer.
"You are in a career that is extremely portable," he said. "There is really nothing about this process that isn't fun, even if it's a lot of hard work."
For more on Match Day, including photos and student profiles, click here.