STORY
Match Day inspires cheers, hugs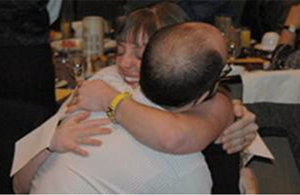 With a baby on the way, married medical students Melanie Bui and Bebo Seward went into Friday's Match Day feeling more than a little anxious.
Match Day is the annual event where fourth-year students in the University of Colorado School of Medicine open envelopes to see the medical school or hospital that has accepted them for further training as residents. Bui, a specialist in dermatology, and Seward, pathology, hoped to land in Michigan where Bui's family lives.
"I'm very excited," said Bui, who will be a resident at Wayne State University in Detroit. "It was my first choice, and my husband got his first choice at the University of Michigan, so we'll be together. It would have been rough to be apart for a year."
They joined 130 other fourth-year students in the festive affair in a ballroom at the downtown Hyatt Regency. After introductory words by School of Medicine Dean Richard Krugman, M.D., and Dean of Students Maureen Garrity, PhD, students opened letters from the National Resident Matching Program at precisely 10 a.m.
Moments afterward, the room erupted with cheers, high-fives and hugs as students celebrated with spouses, family members and friends. More than 95 percent of U.S. medical school seniors -- the highest rate in 30 years -- have matched to residency positions, according to the NRMP.
Jeff Krause learned he is matched to an anesthesiology program at the University of Oklahoma in Oklahoma City. "That was my favorite program, so yeah, I'm pretty happy about it."
Jeni Berngard burst into tears of joy and hugged her husband Clark when they simultaneously opened envelopes to learn she will be a resident at Saint Joseph Hospital in Denver (family medicine) and he will be at the University of Colorado Hospital (internal medicine) -- both their first choices for residencies.
"We're really excited," she said. Clark added, "It's a blessing to be able to stay here. The stars have aligned."
Lela Gonzales, specializing in internal medicine, celebrated with her parents, grandfather, sister and aunt that she will be a resident at her first choice, Providence St. Vincent Hospital in Portland, Ore. Her father, Joe Gonzales, said, "We're very proud. She's worked very hard to get here."
Gonzales, whose next stop is a trip to Australia, summed up the feelings of many of her classmates, saying, "It feels really good. I'm ready for a vacation."
For the first time, the School of Medicine's Communications Department live-streamed Match Day on the School of Medicine website. More than 400 people nationwide watched the webcast, according to Communications Director Dan Meyers. The recorded video can be viewed here: http://www.ucdenver.edu/academics/colleges/medicalschool/education/commu....