STORY
Mars-bound MAVEN hailed in haiku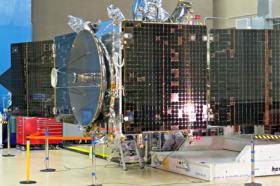 The spacecraft for NASA's Mars Atmosphere and Volatile EvolutioN, or MAVEN, mission recently arrived in Florida in anticipation of a November launch.
The mission, being led by the University of Colorado Boulder, also inspired winners of a recent haiku contest.
The spacecraft was shipped on Aug. 2, aboard a U.S. Air Force cargo plane from Buckley Air Force Base in Aurora, Colo., to the Shuttle Landing Facility at NASA's Kennedy Space Center on Merritt Island, Fla. Lockheed Martin had previously assembled and tested MAVEN in its Littleton, Colo., facility.
MAVEN will carry just over 1,100 haiku, along with thousands of names, on its journey to the red planet. The haiku were part of a contest, sponsored by CU-Boulder, asking the public to submit haiku poetry relating to the mission.
The winners of the contest, coordinated by CU-Boulder's Laboratory for Atmospheric and Space Physics (LASP), came from across the nation and around the world, including entries from Palestine, India, Australia and Europe. The top five haiku received 1,000 votes or more, and included entries by popular British blogger Benedict Smith and well-known American poet Vanna Bonta.
The top five winning haiku entries and their authors are below:
It's funny, they named

Mars after the God of War

Have a look at Earth

Benedict Smith

United Kingdom



Thirty-six million

miles of whispering welcome.

Mars, you called us home.

Vanna Bonta
U.S.


Stars in the blue sky

cheerfully observe the Earth

while we long for them

Luisa Santoro
Italy



distant red planet

the dreams of earth beings flow

we will someday roam

Greg Pruett

Idaho, U.S.



Mars, your secret is

unknown for humanity

we want to know you.

Fanni Redenczki

Hungary
"The contest has resonated with people in ways that I never imagined," said Stephanie Renfrow, MAVEN Education and Public Outreach leader and the Going to Mars campaign leader. "Both new and accomplished poets wrote poetry to reflect their views of Earth and Mars, to share their feelings about space exploration, to pay tribute to loved ones who have passed on and to make us laugh with their words."
For information on other MAVEN haiku contest winners, as well as how you can submit your name to be placed on a DVD that will travel to Mars aboard the MAVEN spacecraft, visit LASP's Going to Mars with MAVEN program at http://lasp.colorado.edu/maven/goingtomars/.
For more information on the MAVEN project visit http://lasp.colorado.edu/home/maven/. For updates, photos and more about the MAVEN journey visit CU-Boulder's social media collection at http://www.colorado.edu/social/maven-mars. See more at http://www.colorado.edu/news/features/maven-arrives-florida#sthash.KSNQ1RIH.dpuf.
MAVEN now will go through a final testing phase in preparation for launch. The MAVEN team will confirm the spacecraft arrived in good condition and re-assemble the components that were removed for the transport from Colorado. The spacecraft is now slated for additional software tests, spin balance tests and further tests on the deployment of the spacecraft's solar panels and booms that will occur once it achieves Mars orbit.
After final testing and fueling, MAVEN will move to Launch Complex 41 at the Cape Canaveral Air Force Station.  A United Launch Alliance V-401 rocket will launch the Mars orbiter on its interplanetary trajectory.