STORY
Marks, Aagaard talk mentoring at CU Women Succeeding
More than 180 faculty, staff gather for professional development symposium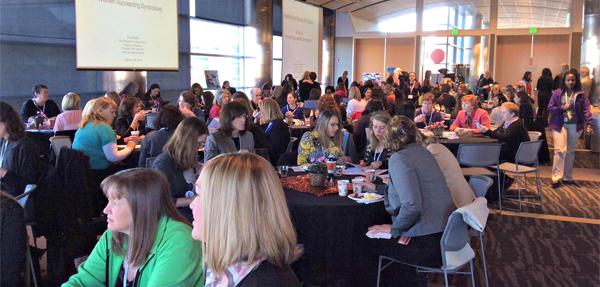 More than 180 University of Colorado faculty and staff members met last week for CU Women Succeeding, the 12th annual professional development symposium presented by the Faculty Council Women's Committee.
Representing all four campuses and system administration, attendees convened at the CU Anschutz Medical Campus to take advantage of opportunities for professional development, career support and networking with colleagues.
The Feb. 27 evening networking event – which found participants working with artists and creating multimedia displays – included a welcome by Don Elliman, chancellor of CU Denver l Anschutz Medical Campus, and introductions by Cathy Bodine and Julaine Field, co-chairs of the Faculty Council Women's Committee.
Related story:
Panelists learn from 'PB&J problem'
Sometimes, a successful partnership is all about negotiating the most mundane tasks - like how to correctly prepare a peanut butter and jelly sandwich.
The "PB&J problem," described by panelist Jean Abbott, M.D., professor emerita of the School of Medicine, was one of the many personal lessons from a panel discussion at the 12th Annual CU Women Succeeding Professional Development Symposium on Feb. 28. Read more>>
Friday's daylong slate of presentations and group discussions led off with a welcome by Richard Krugman, dean of the CU School of Medicine, who introduced the event's keynote speaker: Lilly Marks, vice president for health affairs for the University of Colorado and executive vice chancellor of the Anschutz Medical Campus.
Marks shared advice and lessons learned from her groundbreaking career, which took root in business school at CU-Boulder, where she majored in finance.
"This was not my intended path in life," Marks said. "I was really convinced I wanted to go into business. … I never considered going into higher education administration."
When her husband's pursuit of a law degree led the family to the University of Virginia, she said, "I had no opportunities to pursue the career that I had started." She said taking a job as grants manager at the University of Virginia's medical school "was a giant U-turn in my career." Her time in that role produced an epiphany: Her rare skill set was lacking in her new environment, and the growing field of health care economics would create greater demand for her abilities.
"That's my first lesson, that sometimes life and your career take very unexpected turns," Marks said. "You need to have a vision of how you'll adapt."
Marks said she's committed to the issues of women's professional development, and acknowledged overcoming gender prejudices in her career.
"But gender hasn't been the biggest issue: The hardest accomplishment for me was climbing the leadership ladder in academic medicine," Marks said. "I'm one of only three or four women who lead an academic medical campus around the country, and I'm the only person in that role – man or woman – who is not a physician or scientist.
"Gaining credibility and acceptance when you aren't an exclusive member of that club, by gender or credentials, has been one of my biggest challenges."
Some of the nuggets of advice delivered by Marks:
To cross the gender divide, first understand that there is one. "I'm not gender militant … but there are some very real, significant differences between men and women. … I think it's critically important to understand that men and women are wired differently." She said entry-level and mid-career opportunities for women are greater than they were 30 years ago, but women only hold 10 percent to 15 percent of leadership/executive positions.
Find the right mentors and champions. "This whole campus is filled with potential mentors."
Develop your negotiation skills. She said women often don't ask for pay raises and advancement opportunities because of the "imposter syndrome." "Believe me, I still live with it every day, that fear that someday you're going to show up for work and be exposed as a fraud or an imposter."
Avoid groupthink. "Bring the same intellectual rigor to your management and financial decisions as you do to your academic pursuits."
Do your homework. "The higher up you go, the more difficult it is to be prepared. I always do my homework and … over time I think I gained respect and credibility. Pretty soon, people start to count on you to carry the water. … I'm generally not the smartest person in the room, but you can be the person people most want to talk to."
Besides sharing professional advice, Marks also spoke movingly of her family, including her parents, both natives of Poland who survived the Holocaust before coming to America. Her father, who lost his parents and siblings in the Holocaust, died this year at age 98; one of her infant grandsons now bears his name, Samuel.
"I'll always remember this advice from my father – 'Lilly, you can't be a victim. Don't think of yourself as a victim,'" she said. "People face enormous challenges in their lives. … What defines you are not the challenges that confront you, but how you respond."
Mentoring in focus: A recurring theme throughout the day's presentations and discussions, mentoring provided a focal point for much of the give and take.
Marks credited the dean of the School of Medicine for his role in her career. "I have been extraordinarily blessed to work with Dick Krugman for two decades," she said. "He's been a wonderful mentor."
And Marks, in turn, was mentioned by Eva Aagaard, M.D., FACP, who received the Elizabeth D. Gee Memorial Lectureship Award. It honors an outstanding CU faculty member for efforts to advance women in academia, interdisciplinary scholarly contributions and distinguished teaching.
"I recently asked Lilly Marks to be my mentor," Aagaard said during a breakout session on the mentor-mentee relationship. "We were talking awhile, and she asked me, 'Is this worthwhile for you?' I said, 'Are you kidding? You have no idea how valuable this is.'"
Aagaard defined a mentor as "someone you have a relationship with – it's longitudinal, and often considered to be reciprocal. We both get something from the relationship, including just the joy potentially of seeing someone grow."
Aagaard is assistant dean for Lifelong Learning, director of the Academy of Medical Educators and director of Faculty Development in the Division of General Internal Medicine at the University of Colorado School of Medicine. She said, "success is not an individual support," noting she has benefited from the support of numerous mentors and of her husband of 23 years.
"Success is not about luck or being at the right place at the right time," she said. "There's a piece that is true about that, but success is about positioning yourself to be in the right place at the right time."
Her key messages:
There is no perfect path in life.
Life is always going to get in your way.
If you stay true to your values, goals and passions, you will always be happy.
If you want to be a leader, do so – with passion. Because we really need you at the top to change the world.
If being a leader is not your goal, that's OK. Do what you're passionate about, but do it really, really well. Because we also need you.
Aagaard helped lead the mentor-mentee session with Judith Regensteiner, Ph.D., who also took part in a later panel discussion on mentoring, co-led by Carol Rumack. Regensteiner, professor of medicine in the Division of Cardiology in the School of Medicine, also is director of the Center for Women's Health Research.
"Seeing these events, having all these women together from all the campuses – staff and faculty together – it's very moving to me," Regensteiner said.