STORY
Magazine calls UCCS 'military friendly'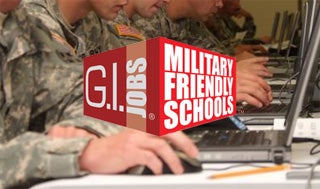 G.I. Jobs magazine named the University of Colorado Colorado Springs to its 2012 list of Military Friendly Schools, an honor given to the top 20 percent of colleges, universities and trade schools that are doing the most to embrace America's military service members and veterans as students. The University of Colorado Boulder and University of Colorado Denver also made the list.
This is the third year UCCS was named by the magazine to its Military Friendly Schools list.
In its effort to help student veterans find the right school, G.I. Jobs incorporated a survey of student veterans for the first time. This feedback provides prospective military students with insight into the student veteran experience at a particular institution based on peer reviews from current students.
For a list of institutions selected, please visit  www.militaryfriendlyschools.com/2012 list
The 1,518 colleges, universities and trade schools on this year's list prioritize the recruitment of students with military experience. These schools offer scholarships and discounts, veterans' clubs, full-time staff, military credit and other services to those who served. The 2012 list of Military Friendly Schools was compiled through extensive research and a data driven survey of more than 8,000 schools nationwide. Methodology, criteria and weighting for the list were developed with the assistance of an Academic Advisory Board consisting of educators from schools across the country. A full list of board members can be found at http://militaryfriendlyschools.com/Article/advisory-board/