STORY
LGBTQ faculty, staff, allies team for Something Queer 2018
Third annual gathering offered networking, information sharing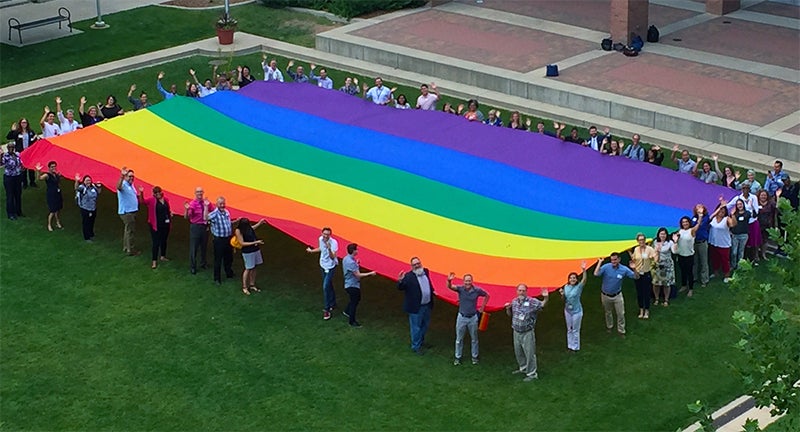 Submitted by Edward Cannon, clinical associate professor, CU Denver School of Education and Human Development
Some 80 members of the CU Denver|Anschutz Medical Campus community convened at the Fulginiti Pavilion for Bioethics and Humanities for Something Queer, the third annual back-to-school gathering of LGBTQ faculty, staff and allies.
The Aug. 16 event offered a networking opportunity, critical information and social support for new and seasoned faculty and staff to connect, to engage and to learn about cross-campus and cross-city happenings.
Daniel Ramos – executive director of One Colorado, an LGBTQ advocacy organization – delivered the keynote.
Participants were greeted by representatives from local LGBTQ organizations, who shared with them all the important things happening in and around Denver and across Colorado that relate to the community.
Sponsored by the CU Denver Office of Diversity and Inclusion – and funded by the President's Diversity Fund for Development and Support, as well as the CU School of Medicine ODI and the School of Dental Medicine – the event also is a time to reflect on the successes of the past year, as well as to look to the challenges yet to come.
Following an introduction by Shanta Zimmer, associate dean for diversity and inclusion at the School of Medicine, Brenda Allen, vice chancellor for diversity and inclusion, spoke about the important role that LGBTQ faculty, staff and allies play in the university. Allen also described how this event is an embodiment of many elements of the university's strategic plan.
The event's organizer, Edward Cannon, clinical associate professor in counseling at CU Denver's School of Education and Human Development, recognized committee members Stephanie Flores, Alicia Hinshaw and Mimi Munroe. He introduced One Colorado's Daniel Ramos, who gave remarks.
The crowd convened in front of the Fulginiti Pavilion for a group photo with a 30-by-50-foot rainbow flag made available by US Bank. There also was time for eating, drinking and mingling as new and seasoned CU Denver|Anschutz Medical Campus community members shared stories, milestones and goals for the upcoming academic year.
Testimonial from a participant:
I want to thank you and all the people who were involved in putting together the "Something Queer" event. It was very informative and well-organized. As I shared on my social media, I am so lucky for the opportunity to work for an institution that allows me to be myself and be proud of it.
The former first lady Michele Obama once stated, "When they go low, we go high." Words that will always stay with me, this type of event means a lot for our community. They are so relevant as people around the world continue to face violence and inequality — and sometimes torture, even execution — because of who they love, how they look or who they are. It is up to all of us to "Rise Up" and work towards a world where all people can enjoy their rights fully. Thank you so much again for creating something very special.