STORY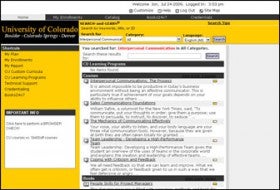 Learning is a lifelong process that can affect and improve your professional and personal endeavors. Learning provides the skills that can help you succeed in your career and your relationships. Investing in yourself provides huge advantages. The University of Colorado has invested in its employees by offering a wide array of standard online courses through SkillPort. You can maximize your abilities and knowledge about:
IT and Desktop Skills
Interpersonal Communication
Time and Stress Management
Work/Life Balance
Your skills are what help you deal with the everyday challenges of life. You owe it to yourself and those around you to take some time to be your best. You can access SkillPort through the My.Training tab on the myCU Portal (my.cu.edu).