STORY
Journalist Hedrick Smith announced for keynote at Conference on World Affairs
65th annual event set for April 8-12 at CU-Boulder
Pulitzer Prize-winning journalist Hedrick Smith will deliver the keynote address for the 65th Annual Conference on World Affairs (CWA), set for April 8-12 on the University of Colorado Boulder campus.
Smith will speak at 11:30 a.m. April 8 in Macky Auditorium. Last year's CWA attendance was 94,281 at 200 sessions over five days.
In his 26 years with The New York Times, Smith has covered six American presidents and their administrations. In 1971, he was a member of the Pulitzer Prize-winning team that produced the Pentagon Papers series. He covered the Vietnam War from Saigon and the Cold War from both Moscow and Washington. In 1974, he won the Pulitzer Prize for International Reporting from Russia and Eastern Europe.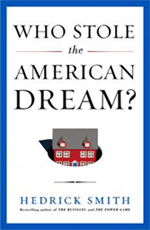 Smith's No. 1 best-selling book The Russians was based on his years as New York Times Moscow bureau chief from 1971 to 1974. His recent book Who Stole the American Dream? has been hailed by critics for its brilliant analysis of political, economic and social trends in the U.S. over the past 40 years.
Smith has created 26 prime-time specials for PBS, including two Emmy Award-winning Frontline programs. His PBS specials have included topics such as Wall Street, Wal-Mart, Enron, education reform, health care and the environment.
Preceding the opening keynote will be the traditional keynote procession into Macky through the CWA's colorful "avenue of international flags" in Norlin Quad at 11:10 a.m.
The keynote procession and address is a time-honored Boulder tradition. Past keynote speakers include Eleanor Roosevelt, Henry Kissinger, Arthur Miller, Charles Krauthammer and Chuck Hagel.
Another CWA tradition is the annual Tuesday night jazz concert, set for 8 p.m. April 9. As with all conference sessions, the concert will be free and open to the public. However, due to the enormous popularity of the event, advance seat-specific tickets will be allocated through a random lottery drawing. To receive instructions on how to enter the free lottery, write to cwapress@colorado.edu.
A biographical listing of participants confirmed to date is now online at www.colorado.edu/cwa. The full CWA schedule will be posted to that site in late March.