STORY
James Shore, CU Denver chancellor emeritus and professor, remembered
Respected leader died Sunday in Wyoming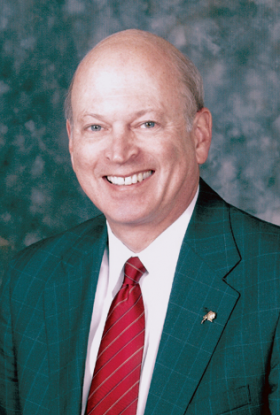 James H. Shore, M.D., a psychiatrist and former chancellor of the University of Colorado's health sciences and Denver campuses, passed away over the weekend. He was 73.
Dr. Shore helped move and expand CU's health sciences campus, fought for improved mental health services for American Indians and other native groups and even played a minor role – as a psychiatrist -- in a major movie.
From 1999 to 2006, Dr. Shore was chancellor of the University of Colorado Health Sciences Center. He added the role of CU Denver chancellor in July 2004 when the two campuses were consolidated.
Dr. Shore died Sunday, Sept. 29, at his ranch in Wyoming.
Dr. Shore was instrumental in the move of the CU health sciences campus from Denver to the former Fitzsimons military base in Aurora that has evolved into the Anschutz Medical Campus. With five health care schools and a graduate program on more than 200 acres, the campus generates $2.5 billion yearly for the Colorado economy and is a national leader in education, health care and research.
"Much of the success of the Anschutz Medical Campus and the contributions it makes to our society and economy can be linked to Jim Shore's vision and leadership," said Lilly Marks, vice president for health affairs for CU and executive vice chancellor of the Anschutz Medical Campus.
Dr. Shore and his wife, Chris, are acknowledged on that campus through the Shore Family Forum, the auditorium in the Nighthorse Campbell Native Health Building.
He also served on the boards overseeing University of Colorado Hospital, which he chaired, and Children's Hospital Colorado.
Beyond his administrative leadership, Dr. Shore devoted his career as a doctor and researcher to improving mental health services for American Indians and Alaska Natives. His interest in Native American culture was ignited by a visit when he was a child to Cherokee, N.C., ancestral home of the Cherokee tribe. Dr. Shore received the Distinguished Service Award from the federal Indian Health Service in 1996.
His friend and colleague, Spero M. Manson, Ph.D., director of the Centers for American Indian and Alaska Native Health on the Anschutz Medical Campus, recalled that Dr. Shore was instrumental in supporting the passage of the federal Indian Child Welfare Act (ICWA) in 1978. The ICWA set standards for removal and out-of-home placement of American Indian children, which had been occurring at a much higher rate than for non-Native children.
"Dr. Shore's testimony revealed the adverse mental health consequences of those actions and the equally devastating loss of generations of Indian children to the tribes," Manson said.
A 1961 graduate of Duke University and, four years later, Duke's medical school, Dr. Shore was an intern at the University of Utah from 1965-1966. He went on to a residency at the University of Washington from 1966-1969. He then became chief of the Mental Health Office for the Portland Area Indian Health Service and chaired the Mental Health Research Committee of the Indian Health Service.
From 1975-1985, Dr. Shore was a professor and chairman  of the Department of Psychiatry at the Oregon Health and Science University's School of Medicine. He came to the CU School of Medicine in 1985 as chair and a faculty member of the Department of Psychiatry.
Dr. Shore was past president of the American College of Psychiatrists and held leadership positions with the American Psychiatric Association, the American Board of Psychiatry and Neurology, and the American Association of Chairmen of Departments of Psychiatry.
One of the many people influenced by Dr. Shore's work was then-Nevada Rep. Jonathan Christopher Porter, who recalled in a telephone interview this week that he met Dr. Shore while the congressman was working on American Indian mental health issues in Nevada.
Porter was so impressed he put a tribute to Dr. Shore in the Congressional Record in 2006, recognizing "his tireless efforts to positively affect campus culture and environment, as well as for his significant influence on its current and future leaders by modeling management skill, civil discourse, active listening, time management and a keen sense of timing."
Dr. Shore even had a brush with Hollywood. In "One Flew Over the Cuckoo's Nest," the 1975 Oscar winner for Best Picture, he played a psychiatrist who evaluated the character played by Jack Nicholson. In his 10-second scene, captured three minutes into a video by the Duke Medical Alumni Association honoring Dr. Shore, the young psychiatrist says of Nicholson's maniacal character, "He's not crazy but he's dangerous."
Dr. Shore is survived by his wife, Chris; daughter Lenya and her family; and son, Jay, also with the CU psychiatry department faculty, and his family.
The family is planning a memorial and celebration of Dr. Shore's life with a tentative date of Saturday, Nov. 2, 2013. Details will be forthcoming.
In lieu of flowers, his family asks that memorial gifts be directed to CU's James H. Shore, MD/Colorado ARCS Scholarship endowment fund, established when the Colorado chapter of the Achievement Rewards for College Scientists (ARCS) honored Dr. Shore as their 2005 Man of the Year. The endowment generates annual scholarships to Anschutz Medical Campus students interested in a career in medical sciences.
Checks for the ARCS fund should be made payable to the CU Foundation and indicate in a separate note or on the check memo line that the gift is in memory Dr. Jim Shore. Donations may be mailed to CU Foundation, P.O. Box 17126, Denver, CO, 80217-9155. Contributions also can be made online at www.cufund.org (click on "give now" and then add under comments for "James H. Shore, MD/Colorado ARCS Scholarship endowment fund"). Finally, gifts may be dropped off at the CU Foundation on the Anschutz Medical Campus in Building 500, Ground Floor West.