STORY
Higher education funding discussion draws crowd in Colorado Springs
A standing-room-only crowd of community supporters shared views about a new formula for funding higher education during a Colorado Department of Higher Education-sponsored meeting Oct. 9 at the Penrose Conference Center.
Brenda Morrison, partner, Engaged Public, a firm hired by CDHE to gather public input, led the crowd of 100 in a discussion about HB-1319, a bill passed last year that will change the way Colorado public higher education is financed.
Morrison explained the legislation requires the CDHE to develop a new base funding formula to allocate state general fund dollars among the state's public institutions of higher education. This new funding model will be implemented in the 2015-16 fiscal year and will include allocation of Colorado Opportunity Fund stipends, which reflect enrollment, and new Fee-for-Service contracts that will reflect state higher education priorities.
Components of the new funding model will include the role and mission of the institutions, admissions selectivity, number of campuses, location, enrollment, programs and performance. Following the explanation, she polled the audience for its views on which components should bear the most weight in making funding decisions.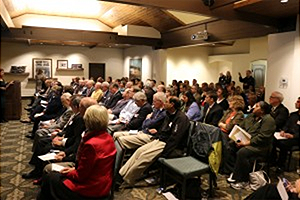 Morrison explained that the model for funding public colleges and universities is shifting from a post-World War II era of enrollment or access to new, outcomes-based measures. The challenge, she said, is finding the right combination of measures. She also traced the history of funding for higher education in Colorado that shifted from the majority of funding for higher education being provided by the state to a model where students are expected to pay the bulk of the cost. Currently, state support for higher education consumes about 7 percent of the state general fund budget and a student is expected to pay about two-thirds of the cost of his or her education. A decade ago, a student paid about one-third of the cost with state funding providing the balance.
Sen. Kent Lambert, R-Colorado Springs, attended the meeting and spoke of the conflicting objectives of higher education institutions across Colorado and the game of "Pac-Man" the Legislature faces as spiraling costs of programs such as Medicaid consume available funds.
Using clicker technology to quickly tabulate individual votes, the group ranked degree completion, contributions to economic development, whether an institution conducts research, the number of Pell-eligible, first-generation and underserved undergraduate students, and affordability. Fully 69 percent of those in the room agreed that state funding for Colorado higher education is insufficient.
Morrison also engaged the group in broad-based discussions about topics that ranged from whether higher education is a public or private good as well as the strengths of higher education in Colorado Springs.
"Higher education is the only thing right that's happening in Colorado Springs," said Mary Ellen McNally, a former Colorado Springs City Council member.
For more information about HB-1319 and efforts to restructure higher education funding, visit http://highered.colorado.gov/Publications/General/1319/default.html