STORY
Hidden Gems: UC-Denver Career Center
Staff blends personal touch with technology in serving job-seeking students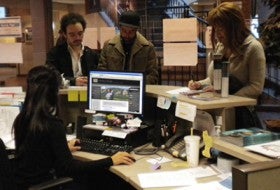 A young student finds herself struggling with the future, wondering where her passion lies and what kind of work she'll want to do when she graduates. She's unsure about her talents and strengths so she has turned to the University of Colorado Denver's Career Center for help.
At the small office, staffed by three full-timers and a part-timer, the student will find the support she needs to not only choose a path to a rewarding career but also learn how to find job openings and land the perfect position.
The Career Center has operated as its own department since 2008, and uses what it calls "high-touch, high-tech" (face-to-face and Internet) avenues to connect with about 37 percent of the students at the Denver campus and at its satellite office on the Anschutz Medical Campus.
The center's numbers are "amazingly high" (other career counseling centers attract an average 10 percent to 15 percent of the student population), says director Jonne Kraning, in part because of the way career skills are delivered to students using services it calls Just ASK!
Although a simple acronym, ASK (assess, search, knock) provides clarity about the career development skills available through the center, Kraning says. All current students and alumni of UC-Denver who have graduated within the past 12 months can take advantage of the services. (After the one-year period, alumni are charged a nominal fee.) Services include career assessments, access to job banks and resume- and cover letter-writing guides, mock interviews and other advice needed to succeed in today's foundering job market. Students may make appointments at the center at the Tivoli Student Union, or go online 24/7 to access information, including software that targets interviewing techniques.
Last year, the center counted 60,000 interactions with students, both personal and through its website, which has about 17,000 users.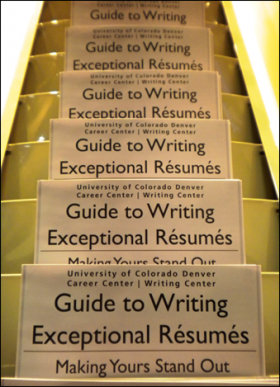 Brian Davis, a December 2010 graduate, calls the center "probably the most helpful resource the campus provides."
He received resume review and interview preparation services through the center, and found networking opportunities on the website.
One helped him find a job in his chosen field – accounting.
"They posted a networking opportunity with the current firm that I'm working at. It was at a Rockies (baseball) game. It gave me the opportunity to meet the managing partner of the firm (BDK), along with a few of the other partners, including hiring managers and marketing directors," Davis says. "Through that I was able to apply to the firm and I was able to get a position."
Most of the how-to information on the site was written by CU personnel. A year ago, when it was discovered that students were receiving conflicting information about resumes from different sources on campus, Kraning met with other department members. The group then developed a guide that was acceptable to all parties. A cover letter guide also is in the works.
The center also plans to take a proactive approach to reach those students who have never used the center.
"These people are going out into the job market, and with the economy so bad, they have to be at a higher caliber to get noticed," Kraning says.
The center has created a seven-part video series that walks a student through the career process and offers step-by-step modules that include in-depth ideas for success.
"We'll be sending this out to every junior and senior so that even if they've never heard of the Career Center, we'll let them know that we're here to help," Kraning says. "There are a lot of skills that students don't even think about ... skills that they need."
Kraning says one of the most important aspects of the center is getting students to realize their goals. "Not their parents' goal, not their coach's goal, but something they are really passionate about."
Some students choose their studies because they think they will make more money in that area, but the center tries to help them understand that a better career might be one that matches who they are.
"Students work hard with academics, but not many people talk to them about what they want to do with their lives and where they want to go," Kraning says. "I become a listening ear, and I become the person who helps them interpret the data ... and I also become the career coach."