STORY
Hickenlooper honored by Faculty Council
Governor is recipient of Leadership in Public Higher Education Award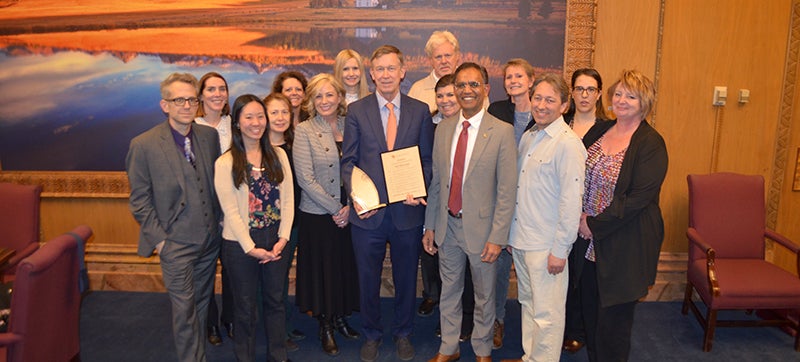 The Faculty Council last week presented its Leadership in Public Higher Education Award to Gov. John Hickenlooper, who welcomed council members to his office for the occasion.
Following the governance group's Feb. 15 meeting at 1800 Grant St., a dozen Faculty Council members headed to the Capitol, where they were joined by Tanya Kelly-Bowry, vice president of government relations.
Faculty Council Chair Ravinder Singh presented Hickenlooper the award and read a resolution that praises the governor as a champion for investment in public higher education institutions. See the resolution here.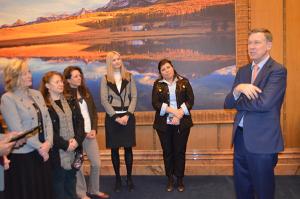 Hickenlooper spent several minutes chatting with the faculty members, stressing his belief that a state's investment in higher education directly supports its economic vitality. Council members thanked the governor for his November budget request and its $86.89 million increase for higher education. If approved by the Legislature, it would mean an increase of about $18.9 million for CU – a 10 percent boost.
The Faculty Council's annual awards slate typically is announced in April; Hickenlooper's award presentation was delayed to a time when the governor was available to accept in person. The council's Executive Committee has requested nominations – due by 5 p.m. March 2 – for the following 2018 Faculty Council awards:
Administrator of the Year Award
The award for Administrator of the Year is given (though not necessarily on an annual basis) to a CU administrator in recognition of significant contribution(s) to the University, to Faculty Council, and/or to shared and faculty governance. The winner receives a plaque from Faculty Council, presented at a Faculty Council meeting and/or a Board of Regents meeting.
Distinguished Service Award
The Faculty Council Distinguished Service award recognizes the service of faculty to the University of Colorado. It is designed to recognize contributions through participation in faculty governance, particularly through activities in Faculty Council and its committee structures.
Further award descriptions and eligibility requirements may be found at https://www.cu.edu/faculty-council/faculty-council-awards.
In other business at the Feb. 15 Faculty Council meeting:
Discussion continued on the review of Regent Laws and Policies as it pertains to the current review of Article 5 and Policy 5. Michael Lightner, vice president for academic affairs, said multiple faculty groups and individuals have submitted comments, which will be reflected in the second draft of revisions.
In a letter signed by Women's Committee Co-Chairs Leanna Morgan and Sarah Anderson, and by Personnel and Benefits Committee Chair Tamara Terzian, a call was made to expand medical benefits to address a lack of coverage for infertility treatment including artificial insemination and in vitro fertilization. The committees welcome input from other committees and plan to work with human resources leadership with a goal of expanding at least one CU medical insurance plan by 2019.