STORY
Heritage Society donors celebrated for making a difference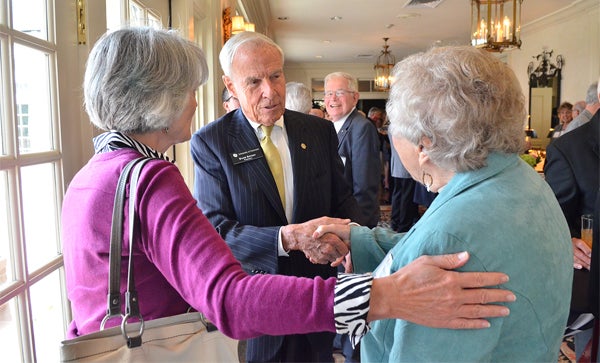 Casey Cass/University of Colorado
Significant gifts from donors ensure CU continues making invaluable contributions to Colorado and the world.
That's the message President Bruce Benson delivered to university supporters April 2 at the annual Heritage Society luncheon at the Denver Country Club: From academic research to scholarship endowments to building construction, donor generosity is playing a vital role at CU more than ever.
"Thank you all for what you do. It's terribly important to the University of Colorado," Benson told attendees. "Keep it up."
The university has benefited from $294 million in private support since July 1, 2014, and with three months remaining in the fiscal year, Benson said he expects CU will surpass last year's fundraising record.
An overflow crowd of about 140 attended the luncheon, which honors donors who have committed planned gifts — a category that includes estate commitments, real estate gifts, charitable trusts and annuities, and other tax- and estate-wise philanthropic structures — to the University of Colorado.
Benson and CU Advancement Vice President Johnnie Ray welcomed 68 new Heritage Society members, bringing the group's membership to nearly 1,000.
The Heritage Society comprises alumni, staff and others who have made planned gifts to further the university's mission. Since the start of the fiscal year, CU stands to benefit from $14 million in newly realized planned gifts and another $30 million in newly committed bequests.
"Let me just say how extraordinarily grateful we are to our Heritage Society members. You make a difference," Ray said. "It is the university's responsibility to all of you to live up to your faith by executing our mission of teaching, research and service at the highest possible level — and by living up to our core purpose of transforming lives for the benefit of society."
Benson highlighted several meaningful recent projects accomplished through donor support, to wit: the completion of CU Denver's new Academic Building at Speer Boulevard and Larimer Street, continued cancer and Alzheimer's research on the CU Anschutz Medical Campus, CU-Boulder's exciting contributions to space exploration and UCCS' help in reinvigorating a once-downtrodden zone of Colorado Springs with new academic- and community-focused development.
Planned giving is one of CU's most important sources of philanthropy, providing donors with an ability to support programs that resonate with them while simultaneously creating financially attractive tax-savings possibilities.
For more information about planned giving to CU, call 303-541-1229 or visitcufund.giftlegacy.com.