STORY
Health and Wellness Center officially on its way
University breaks ground on new AMC facility, slated to open in spring 2012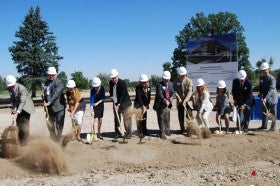 The University of Colorado Anschutz Medical Campus on Tuesday, Sept. 7, broke ground on the development of a new 94,000-square-foot Health and Wellness Center. The Center will serve as the pre-eminent resource for people seeking to improve their health and prevent chronic disease.
With the goal of optimizing the health of people in Colorado and across the nation, the center will conduct research and offer state-of-the art, science-based clinical programs for individuals and communities to make meaningful, lasting changes in terms of weight management and healthy lifestyles.
"We are very proud to see the Health and Wellness Center come to life in Colorado," said James O. Hill, Ph.D., the center's executive director. "This facility will become a one-stop shop and national model for how health and wellness can be integrated, allowing us to generate and translate science into actual products and programs to change people's lives. We will emphasize the need for 'lifestyle medicine' in an effort to support prevention and manage chronic disease."
The center will house and collaborate with the Center for Women's Health Research and will collaborate with and incorporate services from the Center for Integrative Medicine. It is designed to allow for collaboration by experts in the fields of nutrition, exercise physiology, obesity/weight management and behavior change. The resulting synergies will foster not only the development of knowledge from research, but the efficient and effective translation of advanced scientific understanding into clinical and community programming.
"With the obesity rate soaring in the U.S. and related health care costs totaling an estimated $147 billion each year, Dr. Hill and the center's leadership team are guiding Colorado as it takes a big step forward in combating these issues head on," said Lilly Marks, vice president for health affairs and executive vice chancellor of the Anschutz Medical Campus. "We are providing the blueprint for community organizations on how to be more than a resource by being an active partner in schools, communities, chambers, businesses and government to help people of all ages achieve healthier lives."
In March 2008, the Anschutz Foundation donated $15 million to establish the Health and Wellness Center on the Anschutz Medical Campus. The foundation also awarded an additional $2 million grant to support Hill's role as executive director of the center in April 2010. This gift established the Anschutz Foundation Endowed Chair in Health and Wellness, the first endowed chair supported by the Foundation. The University of Colorado Anschutz Medical Campus contributed additional resources to allow construction of a new building to house the center and for development and implementation of clinical and community programs.
Besides being a research facility, the center will offer a variety of public programs and services including weight management and exercise programs, a fitness center, a nutrition lab, cooking classes, an on-site grocery store and restaurant, seminars, summer camps and worksite wellness programs.
The center will have five levels (including a basement level) and is designed by Cannon Design/H+L Architecture. Construction will begin in October, and the facility is scheduled to be open for public use in the spring of 2012. To read more about the center, click here.