STORY
Groundbreaking on CU Denver's signature building set for this morning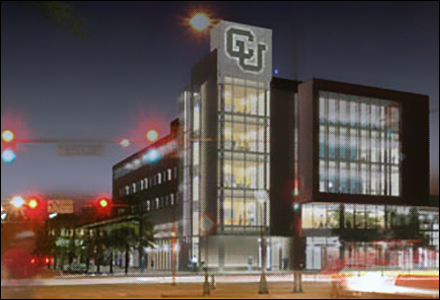 University and city leaders will plunge shovels into earth today, marking the start of construction on a signature building in CU Denver's 40-year history downtown.
Academic Building 1, the first structure on the Auraria Campus owned and operated by CU Denver, has been a long time coming and today's event will befit the historical significance. Attendees at the by-invitation groundbreaking include city and business leaders, as well as representatives from university leadership, the CU Foundation and Student Government Association (SGA).
Speakers will include Chancellor Don Elliman, President Bruce Benson, Board of Regents Chairman Michael Carrigan, Denver Mayor Michael Hancock and SGA Vice President Natalia Gayou. They will hail a building that will define the university, meet our long-term needs and add a new landmark to the cityscape.
The 128,000-square-foot building at the corner of Larimer Street and Speer Boulevard will be completed by August 2014. During construction, signs that celebrate CU Denver's 40-year downtown heritage will surround the site.
Academic Building 1 will include space for student affairs, student disability and financial services, admissions, registrar, a cafe, classrooms and the College of Liberal Arts and Sciences. It will serve as both a "one-stop-shop" for students and a welcoming place for alumni to reconnect with their university. It will be a signature building in the CU Denver neighborhood that connects Auraria to the city's downtown.
The project includes renovation and backfill to the spaces being vacated when faculty and staff move into the new building. Backfill projects are expected to be finished by fall 2015.
After the groundbreaking ceremony, a special Spirit Thursday event will take place at 11 a.m. in North Classroom Atrium C & D. The Academic Building 1 renderings will be on display and free pizza will be served. Students are encouraged to wear their CU Denver colors, enjoy lunch, and learn about the exciting activities on their urban campus. For more information about the Spirit Thursday, contact the Office of Student Life at 303-556-3399.
All of the momentous developments signal an even stronger identity for the CU Denver community, which starts its next 40 years in the Mile High City with a bold statement.