STORY
Grateful patients John and Cynthia Schultz endow chair in surgery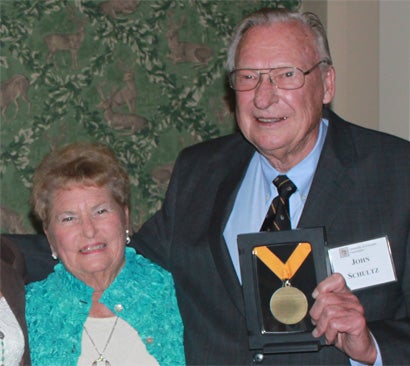 John H. and Cynthia Schultz, a couple with two lives' worth of University of Colorado memories, have made a landmark gift to establish an Endowed Chair in Surgery at the University of Colorado School of Medicine.
Their gift honors the innovative therapies and multi-disciplinary collaboration the Schultzes experienced at the Anschutz Medical Campus—notably, the clinical care by Gregory Stiegmann, M.D. Commitments from the Schultzes totaling $1 million are matched by funds from the Department of Surgery to establish the chair, whose inaugural holder will be Stiegmann.
The Schultzes decided to endow the chair (adding to an endowment they established in 2006) after Stiegmann's work helped Cynthia recover from a near-fatal illness seven years ago. "We frankly feel we owe her life to Dr. Stiegmann's group, which worked so valiantly and who helps us so much," John Schultz said at an Oct. 11 inauguration event.
Before John Schultz launched a successful career as an oil and gas attorney, he had graduated from the University of Colorado Boulder in 1951 and Colorado Law in 1953. But his CU experience technically goes back further: In 1930, he was born in a charity ward at the university hospital. Cynthia Schultz is a long-time CU-Boulder administrator who worked for several chancellors. Together, they also support an annual lectureship in their name at the Department of Surgery, and are generous benefactors of CU-Boulder's law and graduate schools.
Gregory Stiegmann, professor and division head for GI, Tumor, and Endocrine Surgery, is considered one of the nation's most pre-eminent clinical gastrointestinal surgeons with special expertise in surgical endoscopy. He has received numerous honors since joining the faculty of the CU School of Medicine in 1983, and since 1997 has been the vice president of clinical affairs for University of Colorado Hospital.