STORY
Global Health Responders course to help humanitarians 'do no harm'
MOOC teaches 'responsible engagement' during health care crises near and far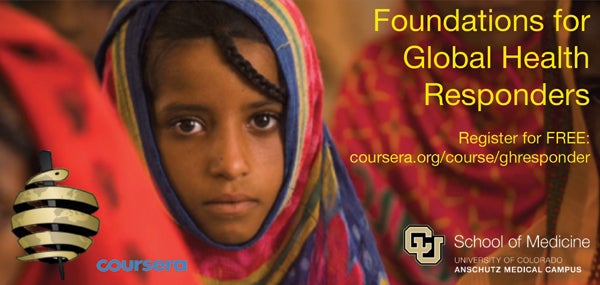 In 2010, a devastating earthquake hit the Haitian capital of Port au Prince – one of the most vulnerable cities on Earth. More than 200,000 Haitians were killed and many more severely injured and left homeless. Thousands of well-meaning humanitarian responders flooded the country trying to pitch in, yet many of them were unprepared and were more of a hindrance than a help.
"The proximity to the North American mainland made it easy for good Samaritans to rush to the country in an effort to help," said Jay Lemery, M.D., associate professor of emergency medicine in the CU School of Medicine at the CU Anschutz Medical Campus. He points to aphoto of a U.S. helicopter in front of the crumbling Haitian capital building. "This helicopter was part of the U.S. government's response to Haiti. Yet in the first week of the disaster response effort, 18 percent of all its flights were not medevac'ing earthquake victims or delivering food or medical supplies, but rather going on search-and-rescue operations looking for lost humanitarian responders who were ill-prepared to take care of themselves."
With the ascendancy of the field of global health this past decade, many institutions and organizations are increasingly sending their personnel abroad, but few have addressed the question of what competencies someone needs to thrive in a global health capacity, Lemery said. Now, a first-of its-kind, free Foundations for Global Health Responders massive open online course (MOOC) aims to provide participants from all walks of life competencies in global health care.
Launching May 4, the Foundations for Global Health Responders will provide foundational knowledge on global health to better contextualize experiences, optimize self-reliance and situational awareness, and allow learners to be more effective in their work in low- to middle-income countries, Lemery said. The course will be of interest to aspiring engineers, NGOs (non-government operations) and nonprofit workers, agricultural scientists, university students and faculty, government officials, as well as those providing direct patient care.
"It also will provide basic competencies for organization or university members traveling abroad with a goal toward mitigating institutional risk," he said. "We developed this course as a starting point for all-comers, and have invoked the guiding principle of medicine as our mantra: Do No Harm."
Led by world class experts from the University of Colorado, Harvard School of Public Health, Weill Cornell Medical College, the U.S. Agency for International Development, the Centers for Disease Control and Prevention and others, the course is a primer for people who seek the knowledge and skills to effectively participate in global health ventures. The course lasts six weeks and participants will spend between three and six hours studying each week, he said.
"To be clear, this course is not about disaster response," Lemery said. "But it is about responsible engagement, to give you the introductory foundational knowledge to be a meaningful participant in the world of global health."
The course is a stand-alone introduction to global health, and also serves as the first step toward a more advanced certification. Those wishing to obtain additional hands-on skill sets may participate in an in-person, three-day course offered at locations around the world this year to be certified as a Global Health Responder through the University of Colorado School of Medicine.
The course will be taught by CU medical school faculty, leaders in austere care medical education. Details, including dates and locations, are at the workshop website.
Global health workers and volunteers, such as those in Haiti, are often exposed to unfamiliar situations for which they are unprepared. "What should have been a net positive to a precarious relief effort (in Haiti) was in fact a drain on already precious and desperately needed resources," Lemery said. "It was all avoidable."
The Foundations for Global Health Responders course is an important initiation toward being an asset in times of crisis at home and across the globe, he said.