STORY
Ganahl visits Faculty Council to discuss shared governance, diversity of thought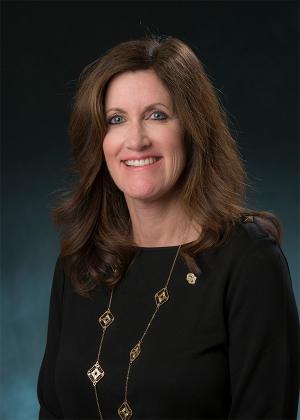 Regent Heidi Ganahl was a guest of the Faculty Council at its regular meeting March 15 at 1800 Grant St.
She described her 2016 campaign for regent at large and first 14 months in the role as "quite an adventure."
"I enjoy every day of it. The board meetings are tough sometimes," she said with a laugh. "Other than that, it's a lot of fun."
Ganahl, who chairs the board's finance committee, said affordability for students remains a key concern of hers. "We're always looking at improving graduation rates and understanding what gets students across the finish line," she said. "One way of keeping costs down is to graduate in four years." Another focus for Ganahl: women's issues. "It's a very interesting time to be involved in that conversation."
The Republican from Superior also has spoken often of diversity among faculty and students, and free speech and diversity of thought. She said she is working with student leader Marcus Fotenos on the Free to Be Coalition to "encourage feisty, collaborative debate at CU." The group is involved with presenting an April 2 debate between former Mexican President Vicente Fox and Brexit architect Nigel Farage.
Coming from the business world, Ganahl said she still is acclimating to the concept of shared governance.
"I thank you for your patience," she said. "I think everyone on the board has a good heart and wants to do well, but sometimes it's hard to come in from the outside world and learn how everything operates."
Ganahl encouraged faculty members to contact her with input and suggestions.
In other business at last week's Faculty Council meeting:
CU Staff Council Chair Nancy Moore was a guest, telling the council that she and Faculty Council Chair Ravinder Singh had discussed shared issues such as the tuition benefit and paid parental leave that are of interest of faculty and staff alike. She said Staff Council supports the Faculty Council's work on development of an anti-bullying policy that's currently under consideration. She invited Faculty Council members to attend Staff Council meetings and said faculty should feel free to contact her with thoughts.
Felicity O'Herron, chief human resources officer and associate vice president of Employee Services, said her office is looking into fertility treatment benefits, which the Faculty Council Women's Committee recently formally expressed interest in. She said Kaiser Permanente currently makes available the benefit, and that her office is researching potential costs and the prevalence of the benefit at other corporate and higher education employers.
Michael Lightner, vice president for academic affairs, updated the council on the ongoing review of Regents Laws and Policies. A second draft of Article 5 now is available on the review website.