STORY
Gallogly family support spans campuses
Gifts provide boosts to UCCS, CU Boulder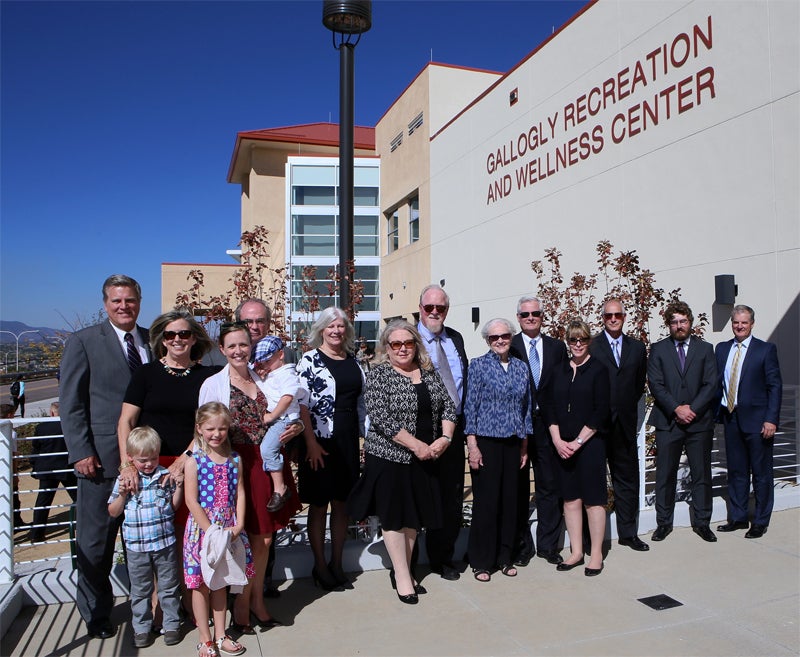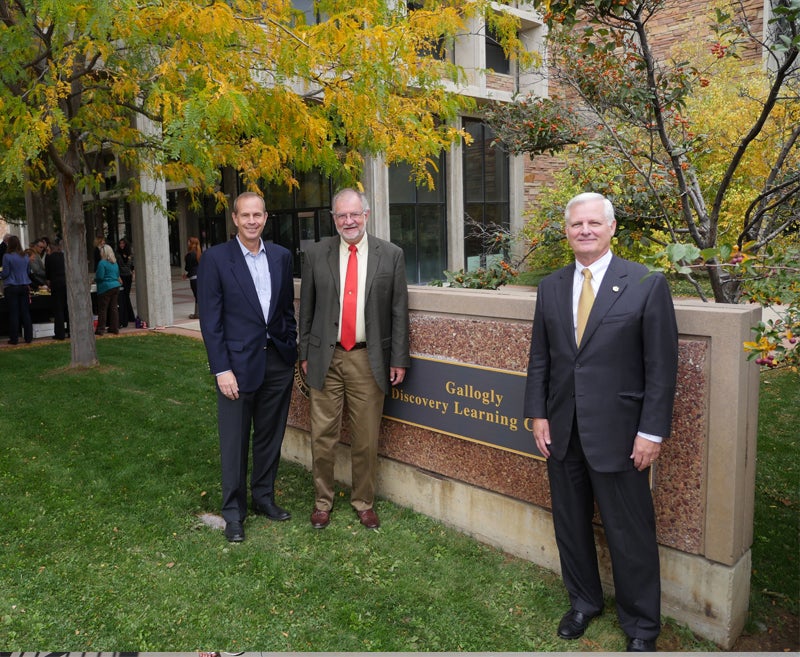 A family's loyal support to CU campuses was celebrated in recent days at UCCS and CU Boulder.
During ceremonies on Monday, a newly expanded UCCS building housing recreation and wellness programs was named in honor of the Gallogly family, which includes a long line of CU graduates and donors.
The event celebrating the Gallogly Recreation and Wellness Center was attended by about 15 Gallogly family members and 75 faculty and staff members.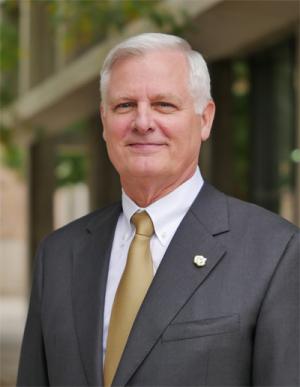 Glenn Asakawa/University of Colorado
Chancellor Pam Shockley-Zalabak, Jim Gallogly, Susan Szpyrka, senior vice chancellor for Administration and Finance, and Racquell Valadez, a Colorado Springs senior studying sociology, gave brief remarks.
"Life is a lot like Pikes Peak," Jim Gallogly said. "It may look smooth from here but there are a lot of peaks, valleys and rough spots along the way."
Gallogly reflected on his late father, Tom, who was the first in the family to graduate from UCCS. Later, seven of the 10 children born to Tom and Margery Gallogly, graduated from UCCS. Several third-generation family members graduated from UCCS and other CU campuses and a "fourth generation is on its way."
"You can truly take your degree from UCCS and do anything you would like," Jim Gallogly said. "The only thing that limits you is yourself. Our father, Tom, taught us that."
The naming marks the Gallogly family's continued support of key UCCS initiatives. Jim and Janet Gallogly recently provided $2.8 million to UCCS to support initiatives in cybersecurity and student scholarships.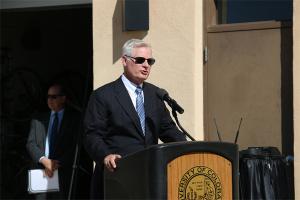 See more photos and information in Communique.
At CU Boulder, with $2.5 million in gifts, the Gallogly family is naming the Discovery Learning Center, as well as boosting the teaching and research power of the College of Engineering and Applied Science with two new faculty positions. Jim spoke Friday during an on-campus ceremony.
Jim, Janet and family are committing the lead gift to establish the Robert H. Davis Endowed Chair in Discovery Learning, a new position named in honor of the engineering college's outgoing dean. The college's Engineering Advisory Council, of which Jim Gallogly is an emeritus member, aims to raise an additional $500,000 in private support toward a $500,000 matching challenge.
Additionally, a $1 million gift from the Gallogly family establishes an endowed professorship in the chemical and biological engineering department.
Endowed chairs and professorships help attract and retain brilliant scholars by providing them dedicated resources for innovative research and teaching opportunities. High-caliber researchers attract the brightest graduate and undergraduate students and spur transformational advancements in society. Both endowments provide funding in perpetuity.
"These generous, thoughtful contributions connect directly to our campuswide goals surrounding student success," Chancellor Philip P. DiStefano said. "They also honor the outstanding contributions of Dean Davis and help mark an impressive legacy. We are thankful to the Galloglys and are deeply appreciative of their longstanding commitment to CU."
Read more in CU Boulder Today.