STORY
Galleries of Contemporary Art to dazzle creative scene with third annual Brilliant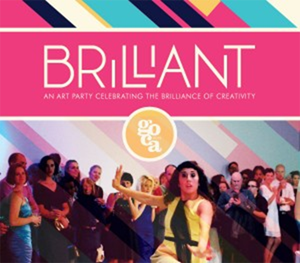 "BRILLIANT 2014," the UCCS Galleries of Contemporary Art's third annual art party fundraiser extravaganza, is scheduled for 7 p.m. June 14 on the Nosh Restaurant Patio and GOCA 121, 121 S. Tejon St.
Free parking will be provided in the Plaza of the Rockies garage for this event.
Advance tickets are now available at www.uccs.edu/goca. Tickets range from $40 for members to $80 for VIP. Students are $25 with ID. Discounted four-packs and 10-packs as well as VIP Packages are available.
"BRILLIANT" combines artists and dancers, cocktails, Nosh catered food, live(ly) auction, art installation and music, with a creative twist. GOCA 121 and the Nosh patio will be transformed into the party place of the year and, in the words of Daisy McConnell, gallery director, "brilliant."
For "BRILLIANT 2014," GOCA will feature new works and original performances by Ormao Dance Company, Denver Digerati/IvarZeile, Soul Mechanics Krew, DJ Prominent and visual artist Wendy Mike. Rana Novini, KRDO News Channel 13 anchor, will emcee the evening's program with guest appearances by regional leaders throughout. A live(ly) auction includes an original artwork by artist and UCCS alumnus Dareece Walker, plus more.
"BRILLIANT 2014" is a creative extravaganza that raises critical financial support needed to realize future gallery programs, exhibits, and innovative collaborations. GOCA is known as a regional leader in contemporary culture programming. Money raised at "BRILLIANT" will be used to bring 2014-2015 exhibits and programs in both gallery spaces and to the community.
GOCA is a regional hub of contemporary art, culture, and conversation. By featuring world-class artists, hosting artist and expert talks, and offering meaningful events, GOCA engages UCCS students, faculty, staff and Pikes Peak Region community members in contemporary culture and life.
For more information, contact McConnell, dmcconne@uccs.edu or call 719-255-3504.
GOCA is a contemporary arts organization with two galleries – one founded on the UCCS campus in 1981 and a satellite downtown location opened in 2010 in the Plaza of the Rockies building.