STORY
Five Questions for Shiquan "Michael" Wang
Visitng Scholar at the University of Colorado at Colorado Springs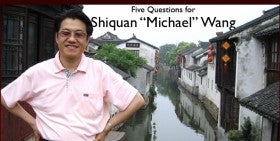 Shiquan "Michael" Wang understands the vast differences between China and the United States, and he would like nothing more than to bring these two giants together to establish mutual trust across their cultural and social systems.
He's already spent years working toward that goal. In China, he was a press officer at the Information Office of Shanghai Municipal Government and later served as editor-in-chief of the Shanghai Daily newspaper. In both positions, he tried to explain the culture of his beloved China to Americans and Europeans.
Now, as a University of Colorado at Colorado Springs visiting scholar, Wang, 46, continues his endeavors this semester, teaching two classes through the department of communications that focus on culture and Chinese leadership and the media.
Wang says it was 20 years ago that he chose his American name, Michael, by looking through a dictionary. He liked the name for its meaning: "A person like God." He's lived in the United States for only about six months, taking an American culture immersion class and learning to navigate the nuances of the nation and Colorado, including the snowstorms.
— Cynthia Pasquale
1. What are some things that have surprised you or that you don't understand about America?
I am familiar with American culture, but I can only have the realistic feeling when I experience it myself. Nothing really surprised me here but I just feel strongly motivated to tell Americans that they also need to share some good values and wisdom from other cultures so that their challenges can be faced and solved well. For example, Americans should show more respect to their teachers and especially take more care of their elders, like parents and grandparents and in-laws who are really in need. The transactional feedback and care is great for family members and themselves.
American individualism is good in many cases, but if it is too individual, the society will tend to be cold and people will feel lonely.
I love freedom, but I think America is over-free in some aspects. Guns are legal to have and easy to buy. I can see competition is everywhere, but America also needs more harmony and Christian values. Although some people are called Christians, they seldom or never keep the Christian code of conduct in love, taking care of others or having the necessary self-control in personal life. But generally, America is a very good country.
2. How do Chinese and American students/educational institutions differ?
The major difference is that Chinese education is mainly teaching and giving students knowledge and information. American education is to enlighten students and make students participate during the teaching. I think Chinese education should learn more from American education in the concept and methodology.
3. What is the most important thing you think Americans should understand about China?
The most important thing that Americans should understand is Chinese culture and the special social situation there is based on the feudal society and 4,000 to 5,000 years of history. A lot of misunderstandings are caused by the lack of knowledge and China is often criticized unfairly in some ways. Because of the culture, many good experiences and ways of doing things cannot be applied to Chinese society efficiently. No one can change China into America in a short time. A lot of wise Chinese leaders have tried hard to make China into a modernized society, but some cultural relics and traditional customs are very strong. Therefore, they have to do it step by step with patience.
4. What are some of your favorite ways to spend free time in America, and what do you miss most and least about China?
I like to do some reading in the office and shop in Wal-Mart. Recently, department colleagues collected money to buy a gift card at a recreation center for me. I will visit there soon. I also visited some beautiful places like Garden of Gods and Rocky Mountain National Park. They are fabulously beautiful.
I love the weather here with most sunny days, and I love the people here who are kind and nice. Driving on snow is a challenge, but it is also a special experience. I spent some time in the New Life church, which made me happy and warm by the environment and Chinese community. I have also been invited to several professors' homes and was treated very kindly, and that is an unforgettable experience.
I miss all my family members and my job at the China Executive Leadership Academy Pudong, too, because we are doing something to change our leaders all over the country. In a centralized society, leaders and their leadership are crucial to the country and the nation. I am happy that we are doing something very significant.
For the least, what I miss is the complicated personal relations in China and the very crowded streets and residential areas everywhere. Although we have the same territory area, we have about four times the population of the U.S.
5. What goals and dreams would you like to fulfill?
I wish to have the opportunity to make some contributions to promote comprehensive communications between China and the U.S. These two brothers, who often have some disagreements, should really communicate and understand each other. We both have got our strengths and challenges. I wish our two countries could really complement each other modestly in different aspects so as to benefit our people and society.