STORY
Five questions for Ron Rorrer
Associate professor motors between classic cars and hydrogen-powered future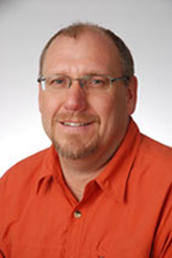 Working in the aerospace industry on a missile system might seem an exciting career. But in fact, Ron Rorrer found he was "bored out of my mind." In the mid-1980s, to be head of research at a company, whether it employed 15 or 1,000 engineers, you needed a Ph.D., Rorrer says. He began working toward a doctorate.
"However, by the time I was finishing up right after the first Persian Gulf War, you could not buy a Ph.D. job in research."
He began working for Gates Rubber Company and also began teaching at the Colorado School of Mines. In 1993, he taught courses at the University of Colorado Denver, and in 1997 became full-time faculty.
His research work has evolved to focus on polymers (natural and synthetic compounds that consist of millions of linked-together units) and biomechanics (the study of the structure and function of biological systems, including humans). He co-teaches a senior design mechanical engineering class where students develop and build cutting-edge designs, and has a passion for the "classics."
1. Tell me about your current research and the implications for the general population.
One research project we're working on with a small company, XDOT Engineering and Analysis, is for the United States Navy and is for water-lubricated, polymer submarine bearings. This project is of special interest to me since the Navy paid for my master's degree almost 30 years ago to work on submarine bearings. Of interest to everyone else is that large marine vessels use a polymer bushing that is on the order of 2 to 3 feet in diameter and 5 to 10 feet long that is lubricated with sea water. Thus far, failure of these monstrous bearings is not the reason you have to suffer indignities when your cruise ship experiences catastrophic failure.
On the bioengineering front, I am working on two projects of interest in collaboration with Richard Weir.  The first is graduate student Nili Krausz' open-sourced prosthetic hand. Nili spent about a year trying to crack open and control a commercial prosthetic hand to little or no avail. We decided to create an open-source hand (and received a faculty grant from the Center for Faculty Development) such that others could download our design for free and 3-D print most of the components for the hand. In addition, the cost of the hand would be less than $2,000. It is our intent that everyone from high schools to universities could print this hand to study prosthetic control schemes. Our wild hope is that someone may actually print and use her or his own hand. Another project I have is with undergraduate Chris "Action" Jackson working on prosthetic liners to increase comfort.  Lack of comfort is one of the major reasons for diminished use or non-use of prostheses.  With the Iraq War, there are many veterans and civilians who could use this technology.
2. What are some of the current projects being worked on in the design class? What is the most interesting design a team has created and has the design been implemented or been successful in other ways?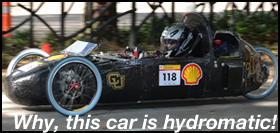 A team that built an alternative energy vehicle in Ron Rorrer's senior design class won first place at the Shell Eco-marathon Americas 2013 competition April 5-7 in Houston in the hydrogen prototype category.

The team's lightweight, carbon-fiber body vehicle – the H2 Eco-Challenger -- was the most energy-efficient prototype to use hydrogen at the annual competition for high schools and universities.About 130 teams competed in several categories.

The nine-member CU team began designing the eco-friendly vehicle in the fall of 2012. The electrical efficiency of the prototype equaled 54.1 miles/kilowatt-hour. Team members are: Ryan Anderson, Ibrahim Alzamanan, Aydh Alajmi, David Edelman, Surawud Martinez, John Ngo, Dong Nguyen, Ronnie Prado and Nicholas Wager.
I co-teach senior design with Doug Gallagher, the instrument maker from National Institutes of Standards and Technology in Boulder. We have six projects under way.  Four are car projects: a Formula SAE (essentially a 1/3-scale Formula 1 car), SAE Mini Baja (an off-road vehicle), a hydrogen-fueled car intended to reach 2,000-plus miles per gallon gas equivalent, and an algae-based, bio-diesel Pikes Peak Hill Climb car.  In addition, we have a gas-powered quad rotor cargo air-lift project and a therapeutic tricycle for children with disabilities.
The most interesting projects are the ones that come from the students.  Five or so years ago we more than doubled the amount of work as faculty in the two-course sequence by letting the students pick the projects that they wanted to do as long as it was a valid mechanical engineering project.  However, the box is really big, since anything that shakes, rattles and rolls typically is valid.  Frankly, I can't narrow it down to one favorite project, since every year there are great projects that just happen to be different.  Last year's chancellor's undergraduate research award-winner at the Research and Creative Activities Symposium event had intended to patent and commercialize their project.  It would help if the technology transfer office would modify the patentability terms for undergraduate projects from the one that applies to faculty and staff.  Compared to working at a company, the patent rewards for faculty and staff and their departments are generous.  However, I think it would be great PR for CU for undergraduates to be able to patent projects.  As it should be, students own the intellectual property rights to their work.
3. Your interest in cars extends beyond the design class. Are you a collector?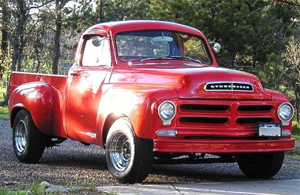 I am not a collector, even though I still have the first enduro motorcycle that I bought when I was 12 years old.  I own my favorite classic, a 1956 Studebaker pickup.  Actually and unfortunately, if it interests me, I buy it and try it.  Of course, what most people do not realize is that you can buy a really cool classic car or motorcycle for less than a modern used car as long as you do not have a fixation on either 100 percent reliability or one of the highly sought-after classics.  My wife and I also have a first generation Mazda Miata, which is a relatively inexpensive future classic.  Even though I live in Highlands Ranch, I have four motorcycles secreted around my postage stamp lot.  A collector looks at his or her collection. I acquire cars, trucks, and motorcycles to use.  About 10 years ago, I told my wife I was going to buy a classic car and a truck to haul lumber for my woodworking projects.  She had the brilliant idea of combining the two into a classic truck to preserve her parking place in the garage as well as not drive the neighbors crazy.  She is available to dole out advice to others finding themselves in the same burdened significant-other situation.
4. Engineers are in high demand right now. What is your best advice for turning a college diploma into a job? Are you involved in any programs to get more students involved in engineering?
Students have to realize that they are competing with every student at their university as well as every other university in the state, if not the country.  For example, there is always someone else either in an individual's department or at another university that has the same GPA.  Thus, a student has to have something that differentiates him or her from everyone else, such as work experience or unique projects.
We have used our success in motorsports to start or propose to start next fall a program in motorsports.  On March 22, we also hosted 30 students from Brush, Fort Lupton, and Fort Morgan high schools that will be first-generation college students.  Amusedly, the person who brought them was from CSU!  While we will have an industrial advisory board, we will also have an educational one composed of faculty from community colleges and high schools to help with transitioning students into engineering.
5. Do you have a favorite item in your office and what is the story behind it?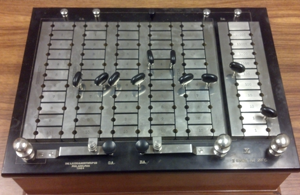 I have a 100-year-or-so-old Wheatstone bridge that weighs about 50 pounds and is the size of a small suitcase. It measures the unknown electrical resistance of an element in an electrical circuit.  Modern ones are the size of a business card and weigh less than an ounce.  I bought this on Craigslist from a physics professor at another university in Colorado. The joke is that I have an inordinate fondness of tools and measurement equipment.  I bought it five years ago during a time when I was indulging this weakness to the limit and had been given strict instructions by my wife not to bring anything else home.  I have been meaning to sneak it home, but other things have arisen, such as moving my woodshop to a cabin in the mountains.  One has to pick one's battles!  I will eventually put it in a glass-topped coffee table for my son, a Ph.D. student at another university in the state that will not be named! Of course, it will be able to be removed for use. Hopefully my wife will not read this!