STORY
Five Questions for Robert Kuehler
Assistant Vice President, University Controller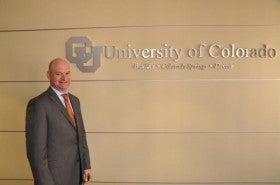 As an assistant vice president and the university controller, Robert Kuehler is responsible for the overall accuracy of financial reporting and for ensuring that university controls are effective and operating properly.
It might sound as if numbers are his life, but other, less concrete issues are just as important to him.
While his focus is about meeting the ultimate goal of the university, which is serving students, he also wants to reach out to critical individuals on the financial side – such as the campus controllers, budget directors and department-level financial supervisors – to ensure that policies and procedures coming out of the Office of the University Controller work for them. He says he's dedicated to communication, collaboration and coming to solutions.
Since arriving at the university in July 2009, Kuehler has turned his attention to improving the reporting system, which was implemented about five years ago. The system has not been well-received, and Kuehler's goal is to make it more user-friendly. He's pledged to make sure his office turns out good, quality financial information to departments in order for staff to make appropriate spending and budgeting decisions, all the while seeking user input to improve the final product. Recently, a new associate director of reporting systems was hired to reinvigorate the process.
— Cynthia Pasquale
1. How will new legislation giving the university more control over financial dealings affect you?
I'm chairing the steering committee for the university that will undertake the process of opting out of state fiscal rules. That process will entail two phases. The first is a short-term solution in which we take the fiscal rules as they are today and amend them to make them specific to the university, eliminating things that are not applicable to the university. Those will be presented to the Board of Regents as our basis for opting out.
The next stage is to take existing policies and procedures and compare them to state statutes to determine what flexibility we have. We'll be visiting with various stakeholders so that we'll be able to strike a balance between the high degree of internal controls needed to ensure our responsibilities to students and the public and gaining efficiencies by changing policies and procedures.
For the first phase, our goal is to opt out of state fiscal rules as soon as possible. The exciting part and the part that will yield benefits is the second phase, determining what we need to do to make our policies more efficient and making the everyday operation of the university easier. That will take more time and we are currently looking at a three- to six-month timeline.
2. How did your career path lead to the University of Colorado?
I was with an international accounting firm for about 20 years in the audit practice and worked 100 percent of the time on public sector-type entities such as higher education, health care and not-for-profits. Those were the industries I most enjoyed. Rather than adding value to a public company's bottom line, I was more interested in helping better serve the public, the patients, the students. That had much more meaning to me than someone's bottom line.
About a year ago, I left that firm for the university, which I felt was a perfect fit. I've taken the skills I learned at the firm and brought them to CU, along with a new perspective and different thoughts about how to get things done, how to help the university become more efficient and more effective. I have been extremely impressed with the qualifications of the individuals in the office and any success we have is due in large part to their efforts.
3. A colleague has said that you bring a "new, refreshing, relationship-based approach to the work of the office." What is your philosophy of management?
The way I want the Office of the University Controller (OUC) to be perceived by the various campuses and other departments and system office is really as a point of service. We can respond to their questions quickly and accurately and bring divergent opinions together to come up with a solution that is acceptable to all parties involved.
I was part of the Excellence in Leadership program this year and had significant contact with faculty. It's an eye-opening experience to understand the challenges they face and what their needs are and it enhanced my impression of what the OUC needs to do to be service-oriented, to listen to what users have to say. I can sit in this office and think I know the answer to the problem, but once you get out there and meet face-to-face with these people and hear the specific issues they have, you have a whole new appreciation of what they deal with on a day-to-day basis. One of my goals is to enhance their efforts to make their high-quality work be more productive and certainly not let the OUC be an impediment.
4. You recently returned from paternity leave. What life philosophy are you trying to teach your children?
Paternity leave was only three weeks, but it was very enjoyable staying home those first few weeks with the new baby. I have three girls, ages 6, 3 and almost 3 months. So it's a household full of girls and me. I'm a pushover, so they come to me if they want to hear "yes."
My wife and I are trying to instill in my 6-year-old compassion for others who are not as fortunate and understanding of people from different backgrounds and beliefs. We want her to understand how fortunate she is and that we have a responsibility to help others in a position of need.
I'm also a big supporter of environmental causes and have a great degree of concern about global warming and issues associated with that. I'm a member of the Sierra Club and recently got license plates from Clean Air Colorado. I try to talk the talk and walk the walk, so we're on wind source for our energy at the house and we're huge recyclers. We try to teach our kids that the environment is a precious thing.
5. You grew up in Texas. What do you find appealing about Colorado and what do you miss about Texas?
The first thing is easier to answer than the second. What appeals to all my family about Colorado is the beauty of it. It's not like we go to the mountains all the time, but it's nice to know they are there and you can get to them. We've made some very good friends here, and the climate, compared to Texas, is so much better.
I enjoy working outside in my vegetable garden. My dad always thought flowers were a waste of space and he kind of instilled that in me. I like to can sauerkraut and make salsa with my tomatoes. I try to do it all as close to organic as I possibly can. It's a very nice way to get your mind off work and other issues and see tangible results growing in front of you. Tangible results at work often take months to come to fruition, but in a garden, you can see the daily growth and the results of your labor.
And the unique opportunity that I have to work for the University of Colorado is not something I could get anywhere else.
As for what I miss about Texas, it is my family. I'm the youngest of eight and everyone else is still in Texas. I'm not sure I can think of anything else.
Want to suggest a faculty or staff member for Five Questions? Please e-mail Jay.Dedrick@cu.edu