STORY
Five questions for Rob Pyatt
Instructor, research associate, CU-Boulder, CU Denver
Working on sustainability design projects on the Crow Indian Reservation in Montana and the Navajo Nation in Utah made an impression on University of Colorado instructor and research associate Rob Pyatt.
"You can't get an inside look at the housing conditions without having it affect you deeply," he says. "There's a tremendous housing shortage on many Native American reservations and a clear need for an effort to offer technical assistance and basically help build the capacity of the communities."
To help address the issues, Pyatt founded the Native American Housing Sustainable Initiative (NASHI) in 2010. The organization, through a multi-educational and disciplinary effort, began work this year on the Pine Ridge Indian Reservation in South Dakota, home of the Oglala Sioux tribe, where the unemployment rate is more than 80 percent and per capita income is estimated at $4,000. The reservation often is described as the "poorest place in the United States," and many homes there lack basic water, heating, electrical and sewage systems.
Pyatt, in the College of Architecture and Planning on the Denver campus, teaches in the undergraduate environmental design program on the Boulder campus. "I'm primarily interested in teaching design build to architecture and design students and get out of traditional classroom environment into a community to work on projects," says Pyatt, who earned a bachelor's degree in environmental design at Boulder and a master's of architecture at CU Denver.
He initially studied fine art at Otis College of Art and Design in California. Toward the end of his time at Otis, he took an environmental design class.
"I considered myself a creative person and loved fine arts. I had never experienced architecture and didn't realize it was more suited to the things I enjoyed most."
At the same time, he thought back to experiences he had in high school where he participated in workshops run by two Cal Poly professors, who were proponents of natural building and sustainability design. He decided to pursue architecture.
1. Why did you think it was important to found the Native American Sustainable Housing Initiative?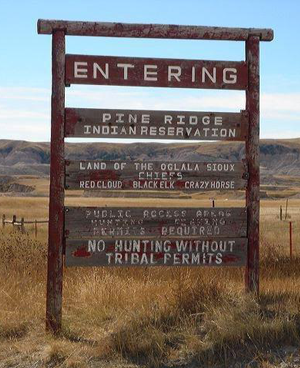 It was striking how similar the conditions were and how similar the problems were on the reservations. It is clear that it is an issue of poverty and that we should try to do more. I didn't start out with a plan; I just knew that was the area I wanted to focus my efforts on. We decided to create a design build studio with a tribal community as our partner, and we looked at different communities in a certain radius of Boulder that had a certain need. Pine Ridge was at the top of the list. We met with the faculty at the tribal college, the Oglala Lakota College (OLC). It was a key goal to have them act as our ambassador to the community. Our efforts are a consortium with OLC and the South Dakota School of Mines and Technology.
Oftentimes, when we teach traditional architecture studios, we have a topic, say affordable housing. This takes it further, bringing a cultural and landscape component to it. We partnered with ethnic studies to include sociology and cultural studies in this studio and created a service-learning program we could teach in our environmental design program.
2. What will you being doing on the Pine Ridge Indian Reservation over the next few years through NASHI?
We're designing a series of four demonstration houses this semester with students from the OLC.  The first two will be built over the summer. Four different materials and methods of construction will be used: straw bale, structural insulated panels, compressed earth blocks, and optimized wood frame, which is the more conventional method. These were identified by the tribe as the systems they were interested in so we'll be collecting costs and analysis about the life cycle of the materials and energy costs. Business students at OLC will calculate the costs; our engineering students will install data loggers on energy performance and indoor air quality; and pre-engineering students at the school of mines will test some of the materials and do some sampling.
The idea is that these homes will be a research study, a case study that will be used to help form decisions. The buildings will be used as faculty housing on campus and to give tours to the community. Since they are zero-net energy, the houses will be used as an educational tool. We'll also create a best-practices manual on specifications for each of the different systems. The second phase of the project will be to build homes within the community.
3. What do you hope your students will learn from your efforts?
Each project is different. Real projects are chaotic and unpredictable, sometimes messy. So it's a great experience for students to have that real-world perspective. We have design, site and scheduling constraints; there are issues with weather, accessibility and logistics. You can't predict any of it. There's a community that develops on these projects. If done right, it's a rich environment for mediating differences and being truly collaborative, which is wrought with compromise. You develop a communal sense of accomplishment instead of an individual sense of accomplishment, which is completely the opposite of how we've traditionally taught architecture in the studio environment. There, it is a total vacuum where it's an individual experience: You're judged on your expression of creativity. But in the real world, it has less to do with the individual architect and more to do with community. Those are humbling lessons to learn. In tribal communities, it's even more challenging because they definitely have a different way of seeing the world. I learned more working on tribal projects than I teach anyone there.
Family and community come first, always. The Lakota people have a spiritual connection to the landscape that is sometimes hard to grasp, but it really is the basis of the whole concept of sustainability.
4. As your career evolved, did any of your ideas or beliefs about architecture or design change?
They definitely have changed. I believe architecture is a social art, and a political act, in a sense. I didn't realize that in beginning. Maybe we get caught up in formal expression of a design as opposed to what it could do or as a catalyst for change. But I'm definitely more focused on the social aspects of architecture and the idea of community design. People are really important, so I've focused on housing and shelter.
Architecture should be of its place, so trying to understand the specifics of landscape and a culture as the starting point for beginning a project is critically important.
5. What are some of you favorite projects?
Casa Sanitas in Boulder, which should be completed in another two months, is the first insulated, rammed-earth house in Colorado and my residence. I use it like a laboratory, so the research I do typically is implemented there. It has a frost-protected shallow foundation that I designed for the Crow prototype. It's a zero-net energy house, one level with 1,800 square feet, three bedrooms and two baths. It produces more energy than it uses; it's geothermal and passive solar and uses natural materials. I'm very proud of my work.
I love the idea that the geothermal heating and cooling system is coupled with the foundation system and that partners with the mass of the rammed-earth wall to create a very integrated structure and system. I also love the connectivity to the outside. The courtyard allows us to interface with all types of Colorado weather. There's an opportunity for shade in the back courtyard so you can follow or run away from the sun as needed, depending on the season. We've got such great weather here that you want to spend as much time outside as possible, but the sun is so strong. You'd like to be outside, but you need the shade.
It's about partnering design with your understanding of a specific landscape or climate. That's what I enjoy most about his project on that lot where we've lived for 12 years. I feel that we really understand that particular lot. Conceptually I understood that you could design a small home that seemed much larger. By opening up spaces to the outside, you can double your living space at any time and not need a gigantic house. That worked really well and surprises folks.
I loved designing the Crow Sustainable Housing Prototype, a passive solar home built with compressed earth blocks. (See story.) I have a lot of respect for the Mortensen Center in Engineering for Developing Communities and it was an honor to be part of that team. I also love the Windcatcher House that I worked on with Rick Sommerfeld (associate chair and senior instructor at the College of Architecture and Planning) and DesignBuildBLUFF in Bluff, Utah. The rammed-earth project already has won a number of awards.
Whenever I see our students doing great work in the community, I feel very proud to be a part of it. The most satisfaction I get is to lead students into a community project and watch them flourish. It's incredibly rewarding to help facilitate those experiences for our students.