STORY
Five questions for Mary Jane Rapport
Assistant director, Physical Therapy Program, School of Medicine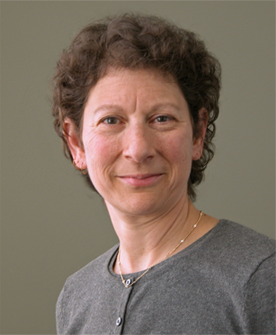 Since 2006, Mary Jane Rapport has served as assistant director of the Physical Therapy Program in CU's School of Medicine. Many of her duties relate to student services, including curriculum evolution, recruitment and developing new initiatives. As an early intervention physical therapist, she also helps children from birth to age 3. And she teaches in the PT program, where, she says, compassion is an important ingredient.
"We approach each of our patients as a person first, and only then do we identify what the diagnosis, illness or injury is that brought this patient into the health care system," she said. "In order to feel compassion for others, you need to recognize, refer and respond to them as a person first."
She's also the Anschutz Medical Campus coordinator of the President's Teaching and Learning Collaborative and the Physical Therapy Discipline Director for JFK Partners. Much of her research has focused on pediatric physical therapy or physical therapy education, or the law and policy related to individuals with disabilities.
Off-hours are spent with her family, sometimes skiing, traveling, exercising, cooking and eating. "I used to love backpacking, hiking and spending time outdoors in the mountains, but that has been difficult to pursue while my children were growing up and have had their own interests and activities. I hope to get back to more of that someday."
1. Your path to the University of Colorado and your current position has been circuitous. How did you finally end up at the School of Medicine?
I first came to CU (Boulder) as an 18-year-old freshman thrilled to be out of Ohio and attending school in beautiful Boulder with mountains to ski so nearby.  Back in those days, the path to become a physical therapist was through a bachelor's degree – the requirements have changed a lot since then! As fate would have it, when I was a freshman, CU changed the rules and only accepted state residents to the PT program.  While that was a short-lived rule, it certainly affected me. But I had a plan ready: I would complete my sophomore year, take a year off to live in the mountains and ski and work and become a Colorado resident then apply to the PT Program. My parents told me if I wanted them to continue helping to pay for my education, I would first apply to a PT program in Ohio before pursuing this Colorado plan, which essentially delayed my education by at least a year. So in my sophomore year, I applied to Ohio State University and I got in!
After graduating with my bachelor of science in PT from Ohio State, I went to live and work as a PT in Albuquerque, N.M. About five years later, I moved back to Ohio to be closer to my "childhood" friend and future husband, and found a PT position in the public schools. This led me to connect with a funded master's degree program in early childhood education and special education at Kent State University.  As I went through that degree program, my interest in education, and specifically law and policy related to education and individuals with disabilities, grew. I decided to pursue a Ph.D. with a dual degree in special education and education administration. After earning my Ph.D., I knew I had to move elsewhere to begin this new career path.  I took a position at the University of Florida in the College of Education, Department of Special Education. I was funded by several grants and continued to develop my interdisciplinary focus in this setting. When the project funding was coming to an end, my husband and I decided to move to Denver, a place we had always wanted to live, and we made the move with two young children, a dog, and a house unsold in Florida, arriving in Denver after a long cross-country journey.
My first position in Denver continued to be in education, where I was working in special education. Within the first year in Denver, I connected with JFK Partners, the University Center on Excellence and Education in Developmental Disabilities. I took on a post-doc position and then was hired as the Interdisciplinary Training Director with half of my time contracted to the Colorado Department of Public Health and Environment in the Healthcare Program for Children with Special Needs (HCP).  Eventually, my connections to the PT Program grew through Dr. Carolyn Heriza, then the director of the program. I began to teach for the PT Program and upon Carolyn's retirement, Dr. Margaret Schenkman became the director and I assumed the role of assistant director.
And I finally did earn a PT degree from the University of Colorado when I graduated with a DPT in May 2009.
2. How did you choose this career path?
I was very interested in young children and wanted to better understand how children learn. I also wanted to better understand children with disabilities and what services (both educationally and medically) could assist them to become as independent and functional in their daily lives as possible.  Third, I wanted to teach as a way to impact the lives of more people with disabilities in a positive way.  As a PT providing direct intervention, I could only work with a finite number of children. But as a teacher of future PTs and other health care providers and educators, I could assist all those people grow their own knowledge and skills and then go on to work with many more children than I could ever touch. I had always thought about going on for another degree after my bachelor of science, but I knew that the foundational sciences in PT were not my passion. Education turned out to be an interesting and provocative path for me.
3. What would you consider your favorite part of your job and why?
I enjoy the opportunity to interact with students and faculty on a regular basis. I really feel best when I know that I am helping others to grow personally and professionally in a way that allows them to see their own potential at new level. It's really fun to watch students grow over the three years of the program and work alongside faculty who are committed and want to reach their own excellence. I find the environment of an academic institution, and especially an academic medical and health sciences center, to be particularly exhilarating. There is something new to learn every single day!
4. In what ways has physical therapy changed in the past 15 or 20 years?
Physical therapy has changed extensively in the past 20 years. At each change of degree required to enter the profession (bachelor's to master's to DPT), we have seen change. But by far, the DPT has been the most significant. The clinical doctoral degree expects that all physical therapists will be able to use advanced knowledge and skill to approach each patient using evidence-based clinical reasoning to make sound decisions that can be discussed with other members of the health care team. Physical therapists no longer need a prescription and have the ability to see patients through direct access.
5. Tell me about a favorite memory from your career.
There are many. Many years ago I was a PT working in an elementary school. One of my patients was a girl who had cerebral palsy and a significant visual impairment. I was working with her to help her walk better – more upright with a smoother, more efficient gait pattern. She really didn't seem to enjoy our sessions and complained a lot. Several years later she wrote me a letter thanking me for helping her walk straighter and look better; I still have it hanging on my wall.
The second has been watching the professional development of a former post-graduate student who went on to open her own pediatric physical therapy practice and who continues to reach out to me for mentoring and collegial discussion on a regular basis.
And third is a patient I have been working with more recently. The family does not speak English and there is an interpreter at each visit. He told me that the family calls me "grandmother." Even though I hope I don't really look that old, that means a lot to me.
There are so many other memories that I could talk about related to specific publications, an award from the APTA, or traveling to teach in Nicaragua. I just hope that my work will make a difference in people's lives – patients, students, faculty and anyone else I have the opportunity to collaborate with during my professional career.