STORY
Five questions for Lori James
UCCS professor inspired by Waldo Canyon Fire victims to investigate coping skills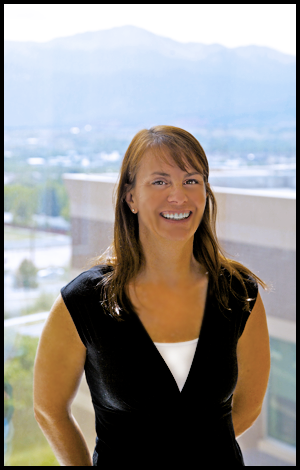 We tend to take memory for granted, unless we are 17 and need to know 108 physics equations or we have reached the half-century mark and can't find our keys. And we probably don't consider that memory is attached to language, which is the focus of Lori James' research. James is an associate professor and director of undergraduate training at the University of Colorado Colorado Springs.
Both James' father and brother studied psychology and that helped spur her interest in the topic. She was introduced to cognitive psychology in college and, during graduate school, met her mentor, Deborah Burke, who helped her solidify her interests in studying language and memory abilities.
James and a colleague also are hoping to find ways to help victims of tragedies by studying what tools are most likely to diminish stress and anxiety. She is seeking 200 survivors of the recent Waldo Canyon Fire to participate in research that she hopes will provide information about how people can increase their coping skills.
James understands about the distress that evacuees and others felt during those frightening June days when the state's most costly fire swept through neighborhoods. "I was evacuated, and as I sat in my car – along with the thousands of other people around me – trying to leave the area, I experienced quite a bit of distress. I was very fortunate that my home and my immediate neighborhood were spared," she said.
1. Is it inevitable that cognitive performance declines in older people?
Age is not all about decline. There are aspects of cognition in which healthy older adults experience declines, but my own research has shown that many aspects of older adults' language skills, such as their vocabulary knowledge and story-telling ability, are actually better than young adult skills.
2. You've also researched memory of proper names. What have you found and how have or how will your studies impact humanity?
My lab has now conducted more than a dozen experiments on memory of proper names, and names really are harder to remember than other information. The findings are beginning to shape a theory of name representation that will help us further understand their difficulty. I really am a basic scientist, so to me the most important impact is knowledge. Sometimes, just letting people know that names are much harder to learn and remember than other information provides them relief, especially older adults, who worry that forgetting names might indicate impending dementia. Other researchers or practitioners might be able to develop interventions to help "name memory" based on my work.
Names are harder to remember than any information that has meaning. When we meet someone, we find out what they do for a living and we can learn their occupation pretty easily, and that's true even as we get older. But to learn a name is much harder. What's interesting is that this is true even when the name comes from a word that has meaning. We can learn that someone is a farmer, but as soon as you say Mr. Framer, we have trouble learning that information. It gets even worse as we get older.
However, we learn other information that doesn't have real meaning to it. For instance, you learn a ZIP code or an identification number. We're testing one possibility that it's hard to learn names because we have a particular anxiety about names. The pressure is on when you try to remember someone's name. If you mess it up, you run the risk of looking a fool. The question of whether anxiety might contribute is one external factor I've started looking at. The other thing about names is that they run the possibility of coming from a wider selection of sounds. So a name might not sound like anything we'd consider linguistic in English, so that might contribute to the difficulty of remembering.
We've done studies to see what happens when we give people names that are descriptive, but it turns out the meaning has to be linked to the individual. For instance, we showed people new cartoon characters and asked them to remember the names. If we said that a character was named "Flirty," but there was nothing flirtatious about the cartoon, people had no better luck learning the name. But if we said the character was named "Drowsy," and the cartoon looked tired, the label was easy for everyone –young and old – to remember.
In addition, some people have extraordinary memories while others are terrible. We're all on a continuum.
3. How did you become involved with the Waldo Canyon Fire research project and what do you home to learn?
In 2010, my colleague, Chip Benight, invited me to help on a project that involves testing the effectiveness of a website designed to help people cope with the aftermath of a disaster. Trauma research is one of his specialties and I was brought on board because of my expertise in research methodology and data analysis. The website is based on sound scientific principles that have been shown to help people increase their coping, but we want to know whether the Internet provides a viable way of delivering this information to large groups of people affected by a traumatic event. It was by chance that there was a disaster in my town, but we are prepared to conduct the website study in many places across the country.
We pilot tested earlier versions of the website following other disasters. Data concerning website use and effectiveness following Hurricane Ike (in Galveston, Texas) are in press, and we have some pilot data from the fires in Bastrop, Texas, last summer suggesting that the information on the website can be helpful in coping.
For more information, contact study personnel at 719-255-3709 or bjohns17@uccs.edu. To participate immediately, go directly to the survey website: https://www.surveymonkey.com/s/waldorecovery
4. What are your favorite memories from your time at CU?
My department has been a great fit for me, personally and professionally. I have colleagues and students who are really bright and productive, but also see the value of family, friendships and fun.
5. Do you have hobbies or activities you enjoy in your leisure time?
I do Brazilian Jiu Jitsu, like to go for hikes and enjoy soaking in hot springs. I also travel quite a bit to conferences, for fun and to see my family. One of the hikes I do most often is in Ute Valley Park, which is just behind my subdivision. I just visited Mount Princeton Hot Springs recently. It's beautiful there.