STORY
Five questions for Lon Abbott
'Mountain geek' at CU-Boulder says 'geology is the most amazing story we have to tell'
The mountains have always held special meaning for Lon Abbott. Growing up in Boulder, he took advantage of the rock climbing, kayaking and backpacking that was so accessible, and like many, fell in love with the landscape.
When it was time for him to go to college, he thought about being a chemist or a physicist or maybe a philosopher.
"I've always had this very deep and emotional attachment to the mountains – it feels like I'm at home when I'm in the mountains – and I was curious about why these places that I love so much look the way they do and why do they move me emotionally," he said. Geology seemed like a natural thing to try.
What happened next is what happens to some of the students whom Abbott now teaches and advises at CU-Boulder. "You walk into the geology intro class and you listen to the lectures and you say, 'Wow, I had no idea geology was so fascinating.'" He was hooked and never looked back.
"Not many freshmen declare geology as a major. You either go to the intro class and say, 'This is the dullest thing I could imagine,' or you say, 'Wow, this is totally cool and I can't get enough,'" Abbott said.  "You either are born a geologist or not. Geology is the most amazing story we have to tell because it is the science of our planet. It's intrinsically fascinating, but in the wrong hands, it can be deathly boring."
Abbott went to the University of Utah for his undergraduate work and the University of California, Santa Cruz for his Ph.D. He spent 10 years in Arizona at a small liberal arts school, Prescott College. He had always wanted to move back to Boulder, and when a position opened at Red Rocks Community College, he took the job. Then an opportunity arose at CU-Boulder in 2008. Along with teaching, Abbott is an academic adviser for geology students.
He spreads his passion for his chosen field through teaching, as an author of books and in speaking at community lectures.
1. You've been around the world, studying mountains. Which range do you find most fascinating and why?
I am sort of a mountain geek. I love all mountains; it doesn't matter where they are. I went to the University of Utah for three years then I took a year off and traveled around the world with two buddies. The place I had to go – the closest thing I had to a religious pilgrimage – was the Himalayas. They are very near and dear to my heart. There are so many mountain ranges and each one is different and beautiful in its own way. The Tatra Mountains, a little pocket-size range in Eastern Europe, are another favorite. But from a scientific standpoint, the most fascinating range is right here where I grew up – the Colorado Rockies. I fell in love with them when I was in high school: They were so beautiful and I loved to recreate in them. Now, years later, I look back as a geologist and understand theories of how mountain ranges form, and know that the Colorado Rockies break a lot of the rules. They are kind of a weird range; we don't really understand why they are here.
2. What do we know about the evolution of the Colorado Rockies?
The Rockies are a long way from the edge of the continent and they are equally far away from the nearest plate boundary. Most mountain ranges are formed at the boundary of a tectonic plate. The nearest plate boundary to us is in California: the San Andreas Fault. It's a strike-slip fault and those aren't the types that generally build big mountains. So we're a long way from a plate boundary and we're not near the kind of fault that typically forms that kind of mountain, and that's what makes the Rockies odd.
It's one reason why we don't actually know when the Rockies – the mountains we see today – were formed. We do know the base Rockies were formed about 65 million years ago in the Laramide orogeny. Orogeny is just a fancy word for mountain building. Most geologists are convinced that the mountains we see today are not the Rocky Mountains that were made in the Laramide orogeny. There is ample evidence that those mountains eroded and were buried. Basically, the sediment produced from erosion buried them. There also was a giant volcanic episode. Colorado today is not a volcanically active place, but in the comparatively recent geologic past – 25 million to 40 million years ago – we were volcanically active. A lot of volcanic ash accumulated and buried those Laramide Rocky Mountains. Once they were buried, they just sort of sat there and nothing happened to them, but in the past 5 million years or so, they have been excavated. They are being re-exposed but the reason is somewhat controversial. Some geologists believe they are actively being uplifted right now and others think climate change switched us to an erosion mode and that is what caused the exhumation of the mountains.
So we know the basic structure of the mountains comes from the Laramide orogeny. The oddball thing is that the faults that bound the Rockies aren't the thrust faults that you'd find in the Himalayas or the Alps. The Rockies are marked by reverse faults, which speak of an unusual origin.
Boulder sits in an important part of the Rockies, called the Colorado Mineral Belt. The belt runs from Boulder to Durango diagonally across the state, passing through mining areas like Central City, Idaho Springs, Breckenridge and Aspen. All of these places played an important role in the history of the state, which became a state because of the Pikes Peak Gold Rush in 1859. The Laramide orogeny delivered fluids that were rich in minerals and those became embedded in the rocks. The first gold discovered in Colorado was found by miners panning in the river in Idaho Springs. A week after that, what is called lode gold – gold embedded in the bedrock – was found at Gold Hill.  Boulder is one of the oldest cities in Colorado because it was a service town for Gold Hill. Miners looked at rock and mineral associations that were similar to those where they had discovered gold before and surmised that if they found similar associations, they would have a chance of finding gold again. So they fanned out over the hills, looking for those associations. One of the things they looked for is what miners call "color" – stained rocks in reds or oranges – which usually indicates oxidized forms of iron. They recognized that if you had color, you had a good chance of finding gold. They would create a shaft called an adit, and if they found anything, they kept digging. If they didn't find anything, they wasted a lot of time and effort building those shafts. All over our mountains, you'll see places where they found gold and kept digging, but there are also adits and places where they were picking and went 10 feet and stopped because it didn't pay off for them.
3. You've written a book, "Geology Underfoot Along Colorado's Front Range," for lay people about the evolution of our area. What was your intent behind the book?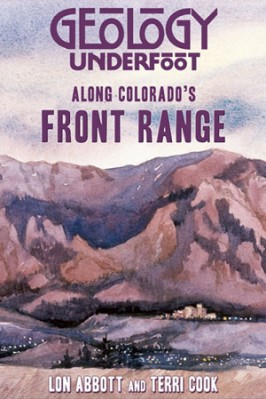 My wife (Terri Cook) and I co-authored three popular geology books and I've written a rock climbing guide to Arizona and a couple of geology textbooks that are used here in classes.
I wrote the popular geology books because I have a passion for geology. I love it and I love teaching. My dad was a high school teacher in Adams County and I grew up saying, "I don't know what I want to do, but I know I don't want to be a teacher." When I was in grad school, I became a rock climbing instructor and I was a teaching assistant and I learned that I actually loved teaching. The books marry my passions for geology and sharing the most amazing story that can be told – the story of Earth. I want to make the story as accessible as I can to people who are interested and one way to do that is by teaching classes at CU and another way is by writing books. I also go on the road and present talks based on the books. (For more information on the books, see www.down2earthscience.com.)
4. Do you still rock climb?
I was a rock climber for 28 years but the year I was hired at CU, I turned in my grades at the end of spring semester and went rock climbing. I had a serious fall – about 100 feet – and was flown by helicopter to St. Anthony Hospital in Denver. Because of the accident, I have a two-week gap in my memory. I woke up one day and I was in the Boulder hospital. I recovered after five months in a wheelchair. CU showed a lot of patience: I taught field geology from a wheelchair. I would have loved to have gotten back to the rock but I have two young kids. I had a traumatic brain injury and a broken back. I had no memory of it but my wife and kids did and they asked me not to climb again.
Now I love to travel. I can't run because of the accident but I'm a road biker and skier.
5. Do you have an item or artifact that holds special meaning for you?
One of my favorite things is hanging on my bedroom wall. My mom was a watercolor artist – she passed away a number of years ago – and our home is adorned with her paintings. When I graduated with my Ph.D., she came to the ceremony and gave me a painting she called "Coming Home." It's a view of Boulder from Davidson Mesa and she called it "Coming Home" to remind me of my youth growing up in Boulder. For me, to come full circle and be back in Boulder and teaching at CU, which was the big college when I was a kid, is pretty special. The painting is on the front cover of the geology of the Front Range book. She actually did a painting of Arizona for our Arizona geology book as well.
A couple of years ago, during the Flagstaff fire, my neighborhood was under voluntary evacuation, so I was thinking about what would be the first possession I would grab. It would be that painting.
The second thing I have is a souvenir from when I did the deepest ever dive – 4,500 meters – in the Alvin research vessel off Costa Rica. When people go down in the Alvin, they take Styrofoam cups with them and tie them outside of the submarine. Styrofoam compresses uniformly. So I've got that little cup and a normal one that I keep in my office and I often take it to class when I discuss pressure.