STORY
Five Questions for Leigh Holman
Director of CU Opera at the University of Colorado at Boulder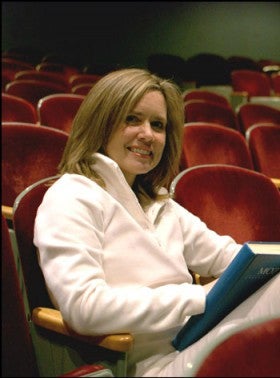 From 2006 to 2009, Leigh Holman served as director of the Opera Colorado Ensemble Artists, staging productions and developing the program's young artists. Since last June, she's worked with the student artists at the University of Colorado at Boulder, where she's director of CU Opera. CU-Boulder also is where she earned her doctorate in musical arts; her bachelor's degree in music is from the University of Southern California. The mezzo-soprano also earned a graduate opera performance degree on full fellowship from the Eastman School of Music. She previously served as chair of the voice and opera studies area at the University of Arkansas at Little Rock, where she founded an opera program.
The stage director's latest production,Mozart's "Don Giovanni," plays at Macky Auditorium from Friday, March 12, through Sunday, March 14. In April, she'll helm CU Opera's "Our Town," an American work that's just a few years old. In between the two stagings, she might find some free time to go hiking or motorcycle riding with her husband, a Boulder High School guidance counselor. At the moment, though, a certain Don Juan is occupying most of her time.
— Jay Dedrick
What makes Mozart's "Don Giovanni" relevant to audiences in 2010?
The opera was written in the 1700s, and the play is from the 1600s, but it's still about real people and the heartbreaks we get through in life. The story's relevant in the sense that people are people. We can relate to these people who have been harmed and hurt and who grow throughout.
It's the story of Don Juan: He's drawn to the obsession of seducing women and it overtakes him. The audience can be hard-pressed to relate to Don Giovanni. He seems to be evil. I don't perceive him as evil; in his mind, I don't think he has a choice.
Mozart is the ultimate dramatist in the sense that his music, not just the text, really evokes a human emotion. His music is relevant no matter the time period because he's a genius. An evening out, going to the opera and hearing the music of Mozart is really special. I don't want to jinx it, but we're having some of the best ticket sales CU has had in years. It could be because of the quality of students, performers and designers, and it also could be that people are starting to choose what they think is worth spending their money on, choosing what they think is important.
What led you from Opera Colorado to CU Opera?
When this professional job with Opera Colorado came up, I knew it was going to be a great stepping stone to the job I really wanted, which was to be with a great university in a great opera program. For two years, I was the director of Opera Colorado's young artist program, which is an apprenticeship program for up-and-coming opera singers. Now I'm directing and teaching acting to singers, and I'm just thrilled to be here. I got a doctorate in order to pursue a career in academia, so this is really my dream job.
This is your second CU Opera production in your current position, following "La Traviata" last fall. Even though you're an experienced professional, did you learn anything from your first CU production that's helping you this time?
Actually, I did. In the professional world, rehearsals are done so quickly because everyone's done their role several times before. In the academic setting, we have time to really dig into it and think about how to learn a role. In "Traviata," I tried something new and had the singers translate each of the Italian words into English, and then put it into their own words in modern language, to help them really understand every single thing they're saying.
It helped to make the drama so much more immediate. So we did that again with "Don Giovanni." For example, if Giovanni is saying something that would translate to, "Women are the air that I breathe and the depth of my existence," the actor would say something in his own words, like, "I don't think of anything in the world except women. Food doesn't matter, drink doesn't matter. I just think about my next conquest." The performers are getting out of the poetic and making it their own.
This summer you're launching the CU New Opera Workshop, where composers will come to Boulder and take part in workshops with students. How did this come about?
It's an idea I got from my time at Opera Colorado. When I was there, the National Performing Arts Conference was in Denver, and the National Opera Conference included a new works sampler. I had the opportunity to work with young artists from Opera Colorado and the Central City Opera, and I really enjoyed directing them and seeing them get into American opera.
If we don't support living composers, the art form will die. My intention at Opera Colorado was to start to use that as framework and do performances of new works every year. When I left, I took the idea with me. It actually works even better in an academic setting, because it really is study of new works.
This summer will be a real workshop situation. Composers will be composing for the students' voices. They get to try it out and get their work off the page and into voice.
You're set to direct "Rigoletto" in Cento, Italy, next January. Is it intimidating to know you'll be staging an opera in the birthplace of opera?
It is. It is intimidating and exhilarating, exciting and challenging. What's most exciting is that I'll be using the Italian language to direct with. In music, you learn a lot of "love" words in Italian. And in Italian class, you learn, "Where is the bathroom?" and "May I order a beer?" But speaking Italian to Italian singers, saying, "Hey, come down stage right" and "Let's evoke sensuality." That's exciting and new for me. So I'll be submersing myself in Italian this summer.
Want to suggest a faculty or staff member for Five Questions? Please e-mail Jay.Dedrick@cu.edu