STORY
Five questions for Laura Borgelt
New chair of Faculty Council chair relishes challenges – on land and in water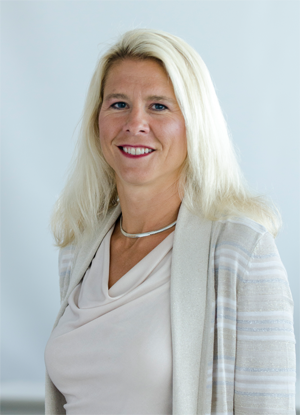 Whether she's swimming the English Channel or navigating the sometimes rocky waters of shared governance, Laura Borgelt remains committed in her pursuit of goals. After coming to the CU Faculty Council as a member of the women's committee in 2010, Borgelt now chairs the council, practicing leadership that has earned her many accolades throughout her career. The honors include the 2011 Elizabeth D. Gee Memorial Lectureship Award, which recognizes teaching, scholarship and interdisciplinary collaboration that advances women in higher education.
A professor in the Departments of Clinical Pharmacy and Family Medicine at the Skaggs School of Pharmacy and Pharmaceutical Sciences and the School of Medicine on the CU Anschutz Medical Campus, Borgelt teaches and engages in research – focusing on women's health and patient safety.
She came to CU after earning her bachelor's in pharmacy at the University of Iowa, where she swam collegiately. Swimming remains a passion: In recent years she has completed endurance-testing crossings of Tampa Bay, the Maui Channel and, yes, the English Channel. She's an avid triathlete and aquabiker, and also finds time for biking and running – when she isn't chasing after her three young boys, ages 5 to 9.
1. What are the top issues you expect Faculty Council to be dealing with this year, and what leadership philosophy do you hope to employ as chair?
One of the things I've done is develop a dashboard, which indicates for us what our agenda items will be for the year. I encouraged committees to create their own agenda items they want to target for the year and how they'd like to proceed. I'm also trying to reach out to encourage our faculty governance groups to employ the philosophy of shared governance with administration. We aim to have a voice at the table that can influence decision making.
One of the first issues we're bringing forward this fall is the tuition benefit APS (administrative policy statement). Two of our committees, budget and personnel/benefits, are working on that, which is an example of an issue that I think Faculty Council can really have a role in influencing. It's relevant to all faculty and staff across all of the campuses.
I'm really trying to promote involvement with Faculty Council and its committees. I want to stress the importance of the faculty engaging in processes to help the university be a better community. We're actively looking for faculty members to participate in at-large roles and in our seven committees. I'd be happy to talk with people about it and give them more information. (Note: See the Faculty Council website or email facultycouncil@cu.edu.)
2. Five years ago, you designed a women's health elective. How did that come about, and what's the state of it today?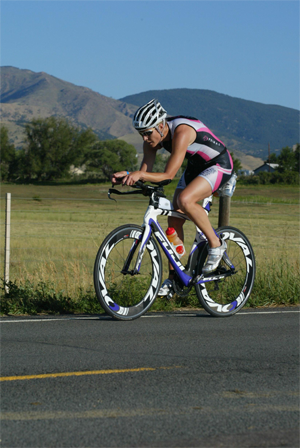 I wanted to design an elective that would challenge students, with appropriate assessment of outcomes, and that would create active learning strategies. This was an elective I designed as we were writing a text book. I felt like I needed to walk the walk – that I needed to be involved in creating an elective where the outcomes, the objectives for each lesson, were determined first. At that time, 'beginning with the end in mind' was kind of a new philosophy in teaching.
In my mind, it's been very successful. It really has been a very eye-opening experience, as well, for students, in learning about the role gender plays in terms of similarities and differences in health. It's not only about treatment decisions and women's biology and physiology, but also about women's perspectives about their health in the world. Another important aspect of the class is women's health and wellness, not illness or medical conditions. This is a topic we need to continue to emphasize in medical education because health and wellness leads to a better quality of life.
Until this past year, it was mostly women students in the class. But last semester, a quarter of the class was men.
It has been fun to work on, and I'll continue to do it as long as I can.
3. The book you referred to is "Women's Health Across the Lifespan," which you co-edited. Is there a single greatest challenge facing women today in terms of health?
That's a million-dollar question. As the title indicates, it's important to recognize that you're looking at health across the lifespan. Issues pertinent to adolescents are very different from those for women in their non-reproductive years.
You can look at areas like health equity and gender differences. It's important to recognize that women face different health considerations than men. Not only biologically, women are often the primary decision makers in their families, and they're often taking care of their own children and elderly parents all at the same time.
There have been many key studies and articles in the last 10 to 15 years that have changed how we treat women with medications. That goes back to the pharmacy side: We have to evaluate what that new information means and how do we translate it so it's meaningful for women?
4. You've completed some jaw-dropping swims. When you're challenging your endurance, how high are the highs and how low the lows? Are you ever tempted to give up?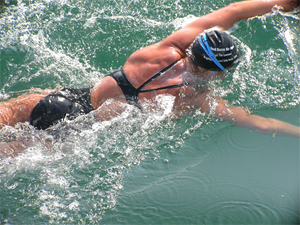 There are definitely those moments of doubt with many of these swims – it's the cold water for me. The Maui Channel was not cold, but with both Tampa and the English Channel, depending on the length of the swim, you will have to face the cold.
The most difficult part is the training. The cold water training that has led to the swim has been my lowest low – it's really only you and your swim buddies out there training with you to get you through. When you're out there cold, shivering, knowing you have to go back into water that's less than 60 degrees, you really don't feel like doing that. But for the accomplishment, it's necessary. You push through that and understand the greater goal.
The highest moment is not always the completion of that event, although that gives you a great sense of accomplishment. It's the journey in getting there, all the small victories along the way. When I was training for the English Channel, I did an eight-hour swim in Lake Superior – that was the greater achievement for me. Because I was the only one out there with a one- or two-member support crew. That's where you build confidence.
5. How do you find the time for all of your pursuits, at work, home and elsewhere?
It really is just a matter of making choices to really focus my energies on those things I really want to be doing and making every minute count. I have what I call 'my village' – I'm a single mom, so my nanny or mother's helper steps in to fulfill those after-school responsibilities so I can do what I need to do at work. I then do what I can in the evenings to spend quality time with my boys.
Hopefully my kids are understanding what work-life balance looks like. We're a family, and everyone's got to have their part. I try to spend quality time with my kids doing activities we all love. And sometimes, after they're in bed, I'm back at work.
Every other weekend, I get time for my sports activities. Sometimes I'm using my walk across campus as an opportunity to move my body. I need the swimming, honestly, to keep my mind fresh and creative and thinking about what's next. That's a place for me to prioritize and organize. I really find I need that time to maintain my sanity – to minimize stress and organize how I'm going to get things done.