STORY
Five Questions for Kerry Paterson
Executive Chef, Housing and Dining Service, CU-Boulder
Kerry Paterson has some extremely demanding patrons – as many as 6,000 a day for nine months. They're always on the go and have different needs, but they have one thing in common: They are always hungry.
As executive chef of the University of Colorado at Boulder's housing and dining service, Paterson and his staff of a few hundred have learned how to keep all those students content and build a community where food memories are made.
For the past 10 1/2 years, he has taken care of his culinary team, planned menus and made food selections, trained staff and helped design dining areas. The business of food has always been part of his life: His father was a butcher, his mother a dietitian, his grandfather a baker. He's worked in restaurants – he became the first regional chef for Nordstrom in San Francisco - and has traveled around the world, including to Antarctica. All of those experiences have helped him shape his dining philosophy. He likes to involve all the senses in cooking. People see the food, smell it, hear the garlic sizzling in the pan and taste the mingling flavors. He believes in food democracy – food for the people – and food that is ethical, casual and in great varieties.
He chose to work at CU because, he says, the "university environment enables a chef to practice the trade he loves but also gives us a life, a real quality of life. I'm not working until 3 a.m. every day. And there's more training and career development at the university. At restaurants, you can get stuck in the middle and just be told to produce."
— Cynthia Pasquale
1. How has university dining changed in the years you've been there?
We used to say, "It's not your parents' dining room anymore." Now there are a lot more choices. Most modern university dining rooms are based around a food court scenario. There are lots of options, not just those comfort foods like mac and cheese. Students are very mobile and they like to have mobile meals. The foods need to be more authentic. The students are more used to travel and they've watched the Food Channel.
We've also taken away the barriers. There are no walls between the diners and the kitchen. The food is in your face. You see the person making the food. There's no mystery meat any more. You can see the quality of the food. The quality of the ingredients has improved, too. There's more scratch cooking versus food that is made at 3 in the afternoon but not served until 5.
And there's more emphasis on healthy food and food integrity. We use organic and natural foods as much as we can.
So how much food does the University of Colorado at Boulder purchase to feed diners at its five centers and smaller on-the-go food venues during one year?Shredded mozzarella cheese: 21 tons or same weight as a fully loaded 84-passenger bus.

Ranch dressing: 4,500 gallons or enough to fill a 12-foot-by-16-foot-by-4-foot-deep swimming pool.

16-inch pizza bases (crusts): 22,650 bases that if placed side by side would stretch for approximately 6 miles.
2. What's your favorite menu item and why? What are some of students' favorite foods?
I like the Asian things we do because of the freshness of the cooking and the authenticity. Students can talk about being healthy, but the most popular items are grilled cheese and chicken nuggets. Students will travel to where they can get those foods.
3. What's your role in the new Center for Community?
I was involved from Day One, figuring out what ideas we were trying to achieve, from moving the bakery to centralizing production. The planning stages evolved into the actual designing – the architectural layout – of what would be included in the dining area based on student surveys. Once the designers mapped it out, I had to decide what food to serve and what equipment is needed and how the food will be presented. There are 10 different stations in the dining area. Then I decided how we would do the training and what the food would be presented in.
The C for C will be the biggest and most modern kitchen in Colorado, and one of the most progressive kitchens in the nation on university campuses. We don't call them dining halls any more. They are restaurants, up there with other middle-of-the-road restaurants. We're just doing it for thousands instead of hundreds.
In my travels I've learned that the meal has to have integrity and how to make sure the cuisine is authentic. We'll serve a lot more street food.
For instance, the Persian station in the C for C will have kabobs. You have to know how to marinate correctly. In all of the stations, there will be small portions and quick meals. There's also a smoker on site, for quick and easy Korean barbecue.
We try to look around and be open. The culinary staff is encouraged to come up with new ideas and experiences; it's not all top down. Some of the best meals we've learned from are made in our down time, when workers come in and start making meals from their home countries. We get lessons from everywhere.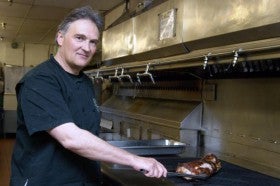 4. What is your favorite meal? Favorite cooking ingredient?
My favorite ingredient is lamb. I grew up with lamb in New Zealand, so if it's on the menu I don't go any further. In Boulder, I like to eat at the Mediterranean or the Thai Kitchen in Longmont. The Tandoori Grill and The Kitchen Café in Boulder are other favorite restaurants.
Sometimes I miss cooking because most of my day involves administrative duties. But I did participate in a cooking competition between colleges and universities (the National Association of College and University Food Services Regional Culinary Challenge).
CU has competed for the past 11 years and we have won it four of the last seven years. I won it last year. It's a one-hour competition where you produce four plates with a specific ingredient. You only get two burners – no oven – so you have to make it work. I made a trout duo: macadamia-encrusted trout over smoked fruit salsa and a poached trout with lemongrass and ginger cream sauce over spinach with coconut fingerling potatoes. (The same dish earned Paterson a second-place finish in the national competition.)
4. Michelle Obama is spearheading a campaign on childhood obesity and many in our nation are overweight. As a chef, what is your best advice to Michelle or children or those people trying to lose a few pounds?
Watch what you eat. Become educated about what you are eating. People now eat lots of junk food and processed food. Throw that out. Bring in more fresh and organic vegetables. Know where your food is coming from and how it affects your body. Diets don't really work. You lose at first, but if you don't make lifestyle changes, you'll go right back up.
Schools should get rid of processed foods. We also need to educate everyone. I know that costs, but we need the resources to do that.
5. You sign your e-mails with "Think outside the Wells." What does that mean?
In the culinary world, food is often served in metal pans that go in steam tables. They're called "wells." I'm trying to tell people to stop thinking of them as those big pans that go into the table, but to think of them as a platter, as a plate. There is a different way to present the food, not as one big blob on a hotel pan. I want to get everyone thinking and challenging themselves.
Want to suggest a faculty or staff member for Five Questions? Please e-mail Jay.Dedrick@cu.edu