STORY
Five questions for Kathleen Bollard
In new dual role, vice president for academic affairs eager to return to teaching, learning, writing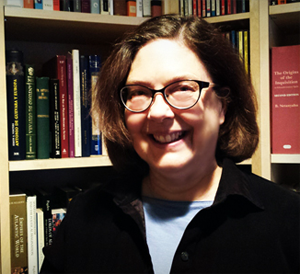 Kathleen Bollard, Ph.D., MBA, typically relies on her knowledge of three or four languages while working on academic projects. Her favorite is Spanish, she says, partly because of its beauty and mainly because so many of her favorite authors employed it.
She'll be immersing herself more in those languages soon, as she begins a new dual role: She'll remain vice president for academic affairs, though part time, and will resume her responsibilities as an associate professor of Spanish at CU Denver, also part time.
Earlier this year, Bollard had intended to return to teaching and research full time. But President Bruce Benson asked her to take on a modified role at system administration, in which she'll be joined by an associate vice president to assist.
As the president's liaison between system administration and the campuses' faculty, her skillful communication is among the traits that helped her recently earn the Faculty Council's Leadership in Public Higher Education Award. The governance group also named her administrator of the year in 2009.
Originally from California, she has spent time living in Spain, Mexico and Greece – experiences she remembers for "the constant sense of discovery that comes from living in a different culture and talking with people about their perspectives on global issues."
Now at home in Colorado, she enjoys spending free time with friends and family. "I love hiking in the mountains, throwing dinner parties, and playing with the dog."
1.       What is the most satisfying aspect of your work as vice president for academic affairs?
Working with CU's faculty. While we all identify with our campuses, the times we work together as a single university show that we probably can change the world.
2. What's the key to working toward consensus in a university environment?
There are a lot of different stakeholder groups in the CU community, from regents to students and alumni, but all of them care deeply about the university's mission and its students, so that is always a good starting place. If you can bring people together around a specific project or issue, they will invariably figure out a way forward.
3. As someone who has served in administration and on faculty – and soon will be doing both – what do you think people on either side can learn from one another?
The perspectives, at first glance, are so different, that it's sometimes easier to stick with preconceived notions or stereotypes than to take the time to listen and learn how much the two groups actually have in common.
As an administrator, I appreciate how invested the faculty is in all aspects of CU's success, and I now understand that the administration is just as committed. Recognizing and respecting the fact that each group may, at any given time, have information or experience the other lacks, can go a long way toward moving the needle on issues that are critical to all of us.
4. How would you describe your experience working with President Benson as part of his leadership team?
I have enormous respect for him, and for everything he and Marcy have done and continue to do for the university. His integrity, hard work and belief in service have shaped his life and affected all of us who work for him; he teaches by example.
5. What aspect of your teaching and research are you most looking forward to resuming?
I think everyone wants to do the work that he or she is passionate about and feels will make a difference in the community. For me, that involves teaching and learning, as well as writing.
I've missed working directly with students and seeing their excitement about things ranging from a lyric poem to an internship that is going to change the direction of their lives. I've also missed meeting regularly with colleagues to talk about research; I can't wait to get back to the working group in ancient, medieval, and early modern studies some friends and I formed almost 15 years ago.
I want to finish a book manuscript on 16th century humanist dialogue that I set aside for years, continue working with a colleague at another public university system on an "administrative" book we're writing, learn and incorporate some new pedagogies into my courses, develop some new internship opportunities for Spanish students, get back to some volunteer work, write the great American novel — but I may be getting ahead of myself.