STORY
Five questions for Jose Mercado
Assistant professor, Department of Theatre, Film and Video Production, CU Denver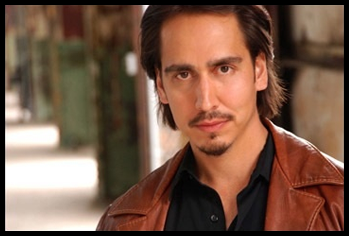 Jose Mercado was doing what he loved – acting – when a personal event changed the trajectory of his career. He left the spotlight of the L.A. stage and returned to Denver, where much of his work has been conducted behind the scenes. But he is no less visible or commanding. An assistant professor at the University of Colorado Denver's Department of Theatre, Film and Video Production, Mercado has directed numerous successful productions and has played a role in students' successful careers. He also is spearheading the Elitch Gardens Theatre Foundation's effort to renovate the theater at the original Elitch Gardens site.
Since becoming involved with the Elitch Theatre rehabilitation in 2010, Mercado has taken a hiatus from performing. The CU-Boulder graduate still does commercial and voice-over work in Denver, but the last play he acted in was 2009's Curious Theater production of "26 Miles," written by Quiara Hudes, winner of the 2012 Pulitzer Prize for Drama.
"I was thrilled she won. I'm picky about projects, but I would jump at the opportunity to work with her again," Mercado says. "Also, I've become good friends with Donald Zuckerman, who is the new film commissioner for the state. I'd love to get back into acting for a film that he's able to woo to production in Colorado."
Mercado teaches a course at Denver West High School through the CU Succeed program, where students receive college credit for classes and have the opportunity to learn more about CU Denver. During his first year at the university, one of his students booked a job on "General Hospital"; later, Mercado talked shop with Spike Lee as he chauffeured him to a lecture at the King Center.
One of his favorite achievements is the recent production of "Blood Wedding."
"The actors, the text and the movement all came together in a passionately poetic way," Mercado says. "It is my favorite artistic work thus far. And it sold out the last two performances! People doubted audiences would come to a bilingual production. We proved them wrong."
1. How did you choose this career and was there an event or person who influenced you?
It would have to be my mother, a strong and beautiful woman who raised four children completely on her own. She was a fighter. She told me that while living in Cheyenne, Wyo., she remembered seeing a sign that read: "No dogs or Mexicans allowed." Any tenacity and fight I have comes from her.
I was performing in a play in Los Angeles with Megan Mullally from NBC's "Will & Grace" and Nick Offerman, who is on "Parks and Recreation" today. We didn't have understudies and on closing night, my mother's cancer took a drastic turn for the worse. I finished the play and I told her on the phone that I would see her first thing in the morning. As I was boarding the plane, I called my sister to discover my mother had just died. After the services, I returned to L.A. a different person. I was emotionally empty and lost the courage an actor needs to survive in the industry. I decided to take a year off to regroup and accepted a job as drama teacher at Denver North High School. I committed for a year. The first play I directed, "Zoot Suit," turned into a monster hit. John Hickenlooper was trying to get me to stay in Denver and he cleverly appointed me to the Commission on Cultural Affairs. That was nine years ago. It worked.
A career as an educator wasn't something I saw myself doing, which makes life in academia interesting for me and those I work with. Things happen for a reason and my mom's death made me dig deep and re-evaluate. I know my mother would be proud. She only had a sixth-grade education, but she stressed its importance growing up. It's been nine years since I lost her, but she influences me every single day.
2. How did you get involved with the restoration of Elitch Theatre and why do you believe saving the theater is important?
The Elitch Theatre was Denver's first cultural center, before the DCPA (Denver Center for the Performing Arts) and the downtown cultural district. My commitment to the restoration is a way to give back to a neighborhood that I care deeply about. The schools, the restaurants, the whole vibe is eclectic. I see the revival of Elitch Theatre as a return to the cultural heart for arts education. Denver Public Schools has an "All City Stadium" for athletic events. I envision the Elitch as an "All City Theater."
I was invited to help develop the theater's arts education programming. When I learned about the theater's robust list of alums, I was able to get Oscar-winning actress Cloris Leachman to host a fundraiser through my L.A. connections. She performed her one-person show at the Elitch Theatre years ago. Soon, my role developed into director. The theater has a remarkable history as the oldest summer stock theater in the nation and the first theater owned by a woman in the U.S. For years, I've tried to challenge the conventions of traditional theater by having students perform material of cultural relevance to them and the surrounding community. The Elitch Theatre will reflect the diversity of Denver's urban population, including kids from every ethnic and socio-economic group.
3. In the past few years, many local, small theaters have closed. Some might argue that the arts in general are in decline. Do you believe this is true?
People think I'm crazy to take on this project in these economic times. They have a good point. But anything worth doing usually requires tenacity, passion and someone who's a bit loco.
I think theaters are closing and the large institutions are struggling for two reasons. First, many theaters have failed to pay attention to changes in our communities and to diversify their programming, outdated models, and their trustee boards, for that matter. Theaters must be aggressive about meeting and adapting to the needs and appetites of audiences today. Second, theaters struggle to obtain audiences because of the lack of arts education for youth. The National Education Association and U.S. Census released dismal data recently: Minority youth are getting half the arts education today in comparison to when I was in high school 20 years ago. How do we expect them to be cultural consumers and purchase a ticket to the theater, symphony or opera down the road? We have to cultivate that audience and prepare them. That's the mission of the Elitch Theatre, to cultivate our future cultural leaders and to provide an accessible bridge to not only local cultural institutions, but to higher education institutions like CU Denver. We stress that arts education equals academic success.
4. What would you consider your proudest moment or favorite achievement so far?
When I performed in the Pulitzer Prize-winning play "Wit," my mother flew in to see it opening night. It was significant because the play deals with cancer and we thought my mother was in remission from her cancer at the time. During the opening night curtain call, I was thrilled to see her sitting next to Tom Hanks! I couldn't wait to hear about their conversation, however, she didn't recognize him because of the beard he was sporting for the film "Cast Away." She couldn't forgive herself for the lost opportunity to dote on him.
I'm certainly proud of the fact that my work brings communities together, whether at CU Denver, North or in the nonprofit sector. I'm most proud of the academic achievement of theater students at North, which had a graduation rate of 25 percent when I was there. Those who participated in my theater program graduated at a rate of 97 percent; 50 percent went on to college. That's proof that the arts have a significant impact on the lives of urban youth.
5. What's the toughest thing about being a director? Do you have a philosophy you employ?
I just taught a course on directing and I told students that you learn by "doing." As a director, I don't always know what I want. On the other hand, I always know what I don't want. That can make it tough for designers in preproduction and actors when I'm blocking a show. Some directors have the entire show orchestrated and blocked before the first read-through of the script. I don't work that way. I believe in approaching it in an organic way and letting the actor make choices. I help guide them to discover their character and maybe dig a little deeper when they think they've discovered moments of truth in the play. It's the way I preferred working with directors when I was a young actor. It's a process of give and take.