STORY
Five questions for Deborah Keyek-Franssen
In new role, tech authority works with campuses on digital and online education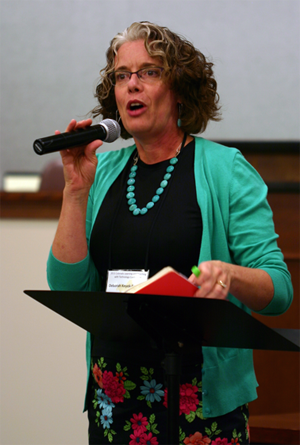 A troika of "love" interests helped place Deborah Keyek-Franssen at the intersection of education and technology. First, she fell in love with higher education. Her parents' stories about their college experience and books she read that featured college life in the 1920s gave her an idealized vision of the quintessential American college experience. She felt drawn to college and teaching from an early age, and followed a path that led to teaching high school and at universities, and to a Ph.D. in German literature.
Second, while an undergraduate at Dartmouth College, she was required to learn BASIC or Beginner's All-purpose Symbolic Instruction Code. (The original computer language was developed at Dartmouth.) She loved using the library terminals that were networked to the entire East Coast even before the commercial Internet was around and enjoyed the creativity technology granted. Later, she used tech tools to help her students learn.
Finally, after moving to Boulder (following a dare from a brother), she immediately was attracted to the University of Colorado Boulder campus and knew she would work there. Not long after, in September 1998, she began working for the university's first chief information officer. Her first challenge – buoyed by her strong background in teaching and as a technology power user – was Y2K and the fear that computer systems would stop functioning at the beginning of the millennium. During her time at Boulder, she also was involved with ATLAS (Alliance for Technology, Learning, and Society), and helped it achieve its status as an institute.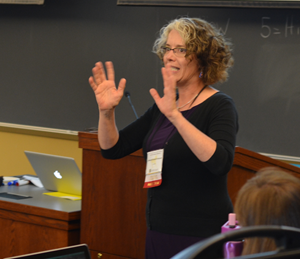 Keyek-Franssen recently moved from the Boulder campus, where she was director of Academic Technology, to the CU system's Office of Academic Affairs as the Associate Vice President for Digital Education and Engagement. She will help CU campuses with the implementation of digital and online education solutions.
"The mission of higher education is to create and disseminate knowledge in the service of the citizenry. I can't think of a more noble mission to follow," she says. "A couple of years ago, I realized everything was coming together and I was in the right place at the right time with the right set of expertise to help CU continue to do great things, benefitting from the changing landscape of higher education."
1. What goals do you have for the university?
My role as a system employee is to be of service to the campuses in their development and implementation of strategic plans for digital education. That might encompass thinking about everything from teaching and learning with technology to online courses and programs, and as a subset, MOOCs (Massive Open Online Courses).
I'll be there to help campuses set strategy and identify the structures, services and support needed to achieve their goals. There's an acknowledgement that higher education in general needs to do a better job, first with teaching and learning and then with digital education, as a way to increase access to higher education, to maintain or improve the quality of students' learning experiences, and to lower costs for students. The appropriate implementation of technology solutions can help us get there.
In my work, I'll also look at points of commonality across campuses. If we can combine resources or implement similar solutions, then we'll get to where we want to be much faster. Of course, CU's campuses are differentiated by mission and student body and therefore there will be differentiation in some of the goals and solutions. Still, I'm a firm believer in the principle that we can do more together than we can do separately.
Wherever possible, I'll be developing communities of practice, pulling together the passionate, intelligent and dedicated people I have the honor of meeting and working with. Together we can work to find solutions for all of us.
2. What do you see as some of the current issues surrounding digital education for students and educators?
Access to education and technology, exploiting data to understand how people learn, and expanding understanding of effective uses of technology in teaching and learning are three issues that are on my radar.
Technology both enhances and inhibits access to education. With content readily and freely available online, it's easy to get information. The caveat is that we shouldn't confuse access to information with education. Even when you have innovators in instructional design teaming with content providers to develop effective hybrid or face-to-face learning opportunities, if students don't have access to broadband or to the appropriate hardware or software, then they don't have access to education.
Technology can help us better understand how people learn if we apply the resources to analyze the data that are generated by the many tools used for teaching and learning. At this time, though, we don't have enough people with expertise to crunch the data, or to help develop or implement adaptive learning tools. That will be the next frontier for CU.
Finally, the record-breaking attendance at our annual COLTT (Colorado Learning and Teaching with Technology) conference two weeks ago shows the demand for researching and sharing effective practices in the world of digital education. We're looking forward to expanding opportunities for networking, learning and professional development for faculty and instructional technology support staff with "Galloping COLTT" presentations throughout the year and on all CU campuses.
3. Studies have shown that students prefer to use traditional textbooks rather than digital ones, for instance. So, in some ways, is technology the tail that's wagging the dog?
Based on research by Mark Werner and Caroline Sinkinson on the CU-Boulder campus, e-textbooks are not quite there yet. In addition to some functionality issues, their study also raised considerations about licensing, payment and even privacy. People seem relatively complacent about the personal information they provide to Google or Amazon. E-books go a little further because data is collected about what students are reading and taking notes on.
That said, the adoption of disruptive and new technologies gives us a valuable opportunity to have discussions we need to have about effective teaching and learning. Witness how MOOCs have pushed discussions about the mission of postsecondary education, the roles of faculty, and access to technology and education. So is the tail wagging the dog? No. Is the tail providing us a new opportunity to have discussions that we've needed to have on a broader scale for decades? Yes.
4. MOOCs have dominated educational news lately. Will these types of classes be a focal point for you?
MOOCs are taking much of my attention now, but there is a spectrum of teaching and learning issues that I will focus on in my job. I'll continue supporting MOOCs, but also will be involved with strategy for a range of teaching and learning activities, from in-classroom teaching to hybrid classes, where some of the face-to-face time is supplanted by online learning, to flipped classrooms and fully online courses and programs.
Another element of my job is apparent in my title: "engagement." Engagement is a nicely loaded term. Within that concept you can talk about teaching and learning activities to engage students so they can succeed. You can also look at the data being generated by core systems and learning management systems and other tools to understand when students are engaged and when they are not. I hope to be able to work with campuses to determine when a student could be at risk because of the behaviors he or she displays when using technology so that campuses can create appropriate interventions to help those students re-engage.
Engagement can also describe the social aspects of learning. Technology appropriately implemented has the ability to engage students in valuable social, active and peer learning opportunities.
5. Outside of technology, what are some of your favorite activities?
Being with my family. My husband, Dean, owns Pete's Electric Bikes and is building an industry to change the way people transport themselves. This semester, both of our sons will be students at CU-Boulder. I have been a Shotokan karate student for 15 years, a black belt for 10 of those years, and teach children's classes every week at our dojo in Louisville. I like to read and have written one murder mystery. I wrote it during National Novel Writing Month a few years back, which was an awesome experience. I want to get a T-shirt that says, "Be careful or you'll end up in my novel."