STORY
Five questions for David Thomas
'Scholar of fun,' tech expert promises playful approach for COLTT conference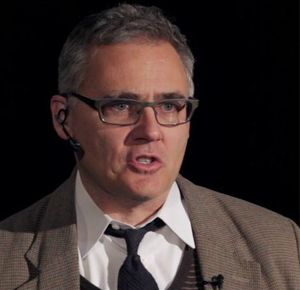 At the offices of CU Online at the University of Colorado Denver, the joke is that faculty members pay a visit to find out which button they need to push to make something happen but end up in a conversation about teaching.
"It's true that if you don't know how to use a computer platform, it's impossible to get what you want out of it," says David Thomas, director of academic technology. "But we think that bringing you into a kitchen and showing you knives and stoves and blenders and never talking about cooking is odd. We think of ourselves as educators first and technologists second. We actually talk about what they want to get done before we talk about how to do it."
Registration is open for the 16th Colorado Learning and Teaching with Technology Conference (COLTT), Aug. 7 and 8 on the CU-Boulder campus. Discounted early registration rates are available through July 17: https://cucs.colorado.edu/confreg/coltt-2013.
Regent Stephen Ludwig is the conference's 2013 keynote speaker. He is currently serving his second term as the at-large (statewide) member of the University of Colorado Board of Regents, and has worked to improve the cooperation between colleges throughout Colorado.
COLTT 2013 offers an impressive array of engaging and innovative presentations on teaching and learning with technology. Topics include: "The Classroom Movie Mogul: Practical Uses of Camtasia Software," "Hybrid Courses: Google+ for Mobile, Socially Networked Learning Beyond the Classroom," "The Digital Dossier: Combining Effective Digital Pedagogy and Scholarship" and "Acrobat Hands-on: I Didn't Know Adobe Could That!" See the list of sessions and descriptions on the conference wiki.
Eligible participants may request registration fees to be covered by CU Boulder's Arts and Sciences Support of Education Through Technology (ASSETT) or the Graduate School; click here for information. For others who are seeking financial support for registration, including the Colorado Community College System (CCCS), please send an email to jill.lester@colorado.edu.
For more information regarding the conference, please review the COLTT 2013 website at: www.cu.edu/coltt or contact Jill Lester, COLTT Conference Coordinator, at jill.lester@colorado.edu.
As the digital landscape continues to change and more information is available online, higher education must also evolve, says Thomas, who moved from journalism and corporate learning to the university.
Thomas worked for the Rocky Mountain Collegian at Colorado State University and wanted to be a journalist. "I had the great misfortune -- or perhaps fortune – of trying to enter the newspaper job market during one of those horrible slumps. There were no jobs. I found myself working for US West. I kept doing the journalism thing, writing about video games for The (Denver) Post and the Rocky (Mountain News), and it was a healthy sub-career."
Thomas also worked for a corporation building a learning infrastructure, but the dot.com bubble burst. Because he was known as the "video game guy," he became a member of the advisory board for the university's Digital Animation Center and that led to teaching a class on video game criticism. Next he began teaching the "History of Digital Media," which he's now taught for the past eight years.
At the time, Thomas says, "CU Online was growing like crazy and they discovered that I knew about online learning from my corporate life," and over time he became a full-time employee. "I went from corporate training and learning systems to a very similar role at the university."
1. What are your duties as director of academic technology?
We select and manage some of the critical components used in the delivery of online and face-to-face classes — most notably the learning management system. The more important role, I would say, is helping our team provide top-shelf support to our faculty in terms of using technology to teach.
We're extremely lucky at CU Denver. The traditional model is that faculty comes in and you do it for them. But we have very capable faculty and they know how to do things for themselves. They would rather do it for themselves. They learn the tools and they get good at using them, and that's the way it should be.
2.  You just earned a Ph.D. in architecture and planning. What do you plan to do with the degree?
I graduated last spring, and for now, I am going to stay in administration. Online learning is the place to be these days! But, on the side, I continue to teach a course or two every year and pursue the usual academic research program — albeit very slowly.
I went to college to potentially write about virtual worlds and what makes games fun. Architects, landscape architects, and to a degree, urban planners, are really broad-based in their disciplinary outlook. They allowed me to write about places that are fun, so I wrote 400 pages on "What makes homes fun?" Now I'm working slowly on a book about what is fun and finishing up a manifesto project with an art historian from Parsons that basically is about why games and art are two different things and arguing for a native aesthetic for games. Basically, I'm a scholar of fun. It's the ambiguity of things that makes them fun. (For Thomas' broader explanation of what makes things fun, visit http://www.youtube.com/watch?v=KBgaf2VkzlQ.)
3.  You'll be participating in the upcoming Colorado Learning and Teaching Technology (COLTT) conference in August, discussing tools that will revolutionize education using a game scenario.  What do you hope to accomplish?
I will be running a game that lets the audience help figure out the future of higher education by earning and spending pretend money. This will be the greatest thing ever or a total disaster. Today, things like Massive Open Online Courses (MOOCs) and technology changes have left a lot of people looking for solutions and directions. I thought it would be a fun way to get academic tech people to think about their place in all of this and where they should place their bets. So instead of playing pundit for 50 minutes, I thought I would design a little game, like Monopoly, where they're going to bet on technology. For example, if you think enrollments will decrease, you bet money on that. If you bet MOOCs will become more important, you put money on that. But events keep changing, and like Monopoly, you are rewarded or punished financially by the decisions you've made. Maybe in the game, the Regents approve a tuition increase; you get to collect money. But, oh, no, MOOCs are scavenging the freshman class so you lose money. The idea is that at the end of game, the items with the most money are the winners because that's where players chose to invest. The goal of the game is twofold: to get people thinking about technological changes and to think about where you put resources and how that will determine what you are capable of in the future. (For more about the COLTT conference, visit http://www.cu.edu/coltt).
4.  What would you consider to be some (or one) of the most important technological advances in education? And is the speed of those advances always positive?
The Internet. One of the points I try to make early in my "History of Digital Media" classes is that the idea of networks of information is as old as at least 1945. The information age as a giant network of human knowledge isn't an accident, it was a vision. And today we are reaping the fruits of that vision and sometimes suffering the consequences. So, for example, when we (the university) had all the experts and all the books, it was easy to justify our role as the Ivory Tower. But now that anyone can be an expert and information is only as far away as a Wikipedia link, we have to think deeply about the value we offer. It turns out that the university was never really about experts and information. But it has taken the Internet to get us to admit that.
We keep forgetting that it isn't about MOOCs or digital copyright or online learning, but the entire digital landscape. In his 1945 essay "As We May Think" , Vannevar Bush talked about how we get information into people's hands and how we increase people's ability to manage and understand things. Now we're living in that world. I try to help people to get past the current trend or the current thinking of the day and to consider the deep motion of what's happening in the information age. Higher education needs to understand what it means to be an institution of higher learning in a world where everything is online.
As for the speed of technology and the implications, it's a question that scholars debate all the time. For folks like me, every day there's something new out there. I'm sitting down with Windows 8 and I find it confusing, and it makes me feel really old and I think I can't keep up. But I keep at it and with time I get used to Windows 8. But I'm lucky, because I'm surrounded and saturated by technology, and I work with people who are in love with the next greatest thing. Sometimes we're moving so fast, we don't realize that not everyone is in the fastest part of the current. Then we have to kick back as tech people and realize that the speed of change is exciting but it's also really scary and hurtful to other people. We need to work really hard to make sure everyone is moving downstream at a common speed.
5. What is a favorite tech gadget or equipment that you own? Why is it a favorite?
Right now the thing that I am most fascinated by is a tiny little $25 computer called the Raspberry Pi. It was developed to help teach people about computers. But it's so cool that you can pick up a computer board the size of a deck of cards, plug in a monitor, keyboard and mouse, boot up a version of Linux and have a fully functioning computer. I guess it's a little nerdy. But it's a reminder that there's no magic here. It's all understandable layers of technology. Just knowing that something is knowable thrills me.