STORY
Five questions for Daniel Savin
Director of mental health program works on success stories for refugees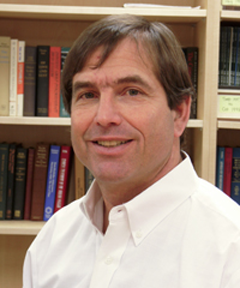 As with many people who enter the field of medicine, Daniel Savin sought a profession that would enable him to improve people's lives. Because he also enjoyed talking with people and listening to their stories, he chose psychiatry.
After finishing medical school in Michigan, Savin came to Colorado to complete a psychiatry residency and a child psychiatry fellowship. His first job after the fellowship in 1991 was as a volunteer psychiatrist on the Thai-Cambodian border helping refugees. Since then, he has continued working with underserved populations, including Native American veterans, Hispanic families and refugees who come to the state. In 1999, he returned to the university and now is director of the Refugee Mental Health Program and an associate professor in the departments of Psychiatry and Family Medicine at the School of Medicine on the CU Anschutz Medical Campus. His patients, many of whom struggle with the violence they faced in war-torn countries, include two children who were tortured at ages 2 and 3.
He has earned numerous awards, including those for outstanding teaching and for his work with diverse populations. He chose to come to Colorado for his residency, in part, because of the mountains, and he still enjoys spending some of his free time hiking, camping and skiing.
1. Why did you choose to work with refugees on the Thai-Cambodia?
My grandparents were immigrants from Eastern Europe and I was interested in their background and life in other countries. I was single and didn't need to support people, so I thought it would be a good time to take an adventure and see the world. I wanted to see if there was anything I could do to help. I knew I wanted to work overseas in a developing country; perhaps in a war-torn country. I saw an advertisement in Psychiatric Times for a volunteer psychiatrist at the Thai-Cambodian border. I called, had a phone interview, and was accepted for the position. I worked for a Thai Catholic organization at a refugee camp for one and a half years. After that, I worked another year in western Cambodia as a general medical officer for Doctors Without Borders, where I helped start a TB treatment program in a hospital.
At the refugee camp, I worked with a team of Cambodian mental health workers. It was a big camp -- 220,000 people -- and we treated plenty of people with major mental illness and also post-traumatic stress disorder. We had an in-patient unit that consisted of several thatch huts, and we had a safe house for those involved in domestic violence. The staff pretty much learned on the job.
2. Did your experiences in at the camp influence your decision to co-found the Refugee Mental Health Program at CU?
As soon as I came back from working overseas, I started working with refugees in Colorado. There was a program here -- the Refugee Mental Health Access Project -- and I volunteered there as a consulting psychiatrist for about four years on a part-time basis. I also was working as a child psychiatrist at the Cleo Wallace Center.
When my wife finished her residency in internal medicine in 1998, we worked in Nicaragua for six months, and then I was in Cambodia again for three months, teaching in the first psychiatry training program there. While I was in Nicaragua, I received a message that the Refugee Mental Health Access Project was closing and the funds were shifting over to CU, and I was asked if I wanted to work in that program. I hadn't thought of any kind of academic career before, but when I heard there was a chance that I could work with refugees at CU, I thought that would be great.
Refugees always are coming to the United States and Colorado, and many of them have suffered war trauma. The program, which began in 1999, provides treatment for these underserved populations and also teaches interns and residents how to work with refugees. It's been fulfilling to me to be able to work with others who share an interest in working with refugees. It often is hard for refugees to access community mental health centers because they have trouble negotiating our complex system, especially when they don't speak the language. And it is difficult for many of these people to make a call to get help because of the stigma surrounding mental health care in their cultures.
I've worked for years with the Colorado Department of Public Health and Environment, which provides a public health screening for newly arrived refugees. We've implemented a mental health component as part of this process. We often receive patient referrals as a result of the screening. We also get referrals from case managers at refugee resettlement agencies, from current patients, and from local hospitals and emergency rooms.
3. What do you like most about your work?
I love listening to patients and hearing their stories. Refugee stories are particularly interesting because I learn about many different cultures, different places and a multitude of inspiring ways that people use to solve problems. I also get to work with trainees who are just starting their careers and with whom I can share these interests. When I see patients improve, it is of course very gratifying.
4.  What is one of your favorite memories during your career?
It probably has to be working as a refugee camp psychiatrist, which steered my whole career. I was there as the camp was preparing to close and people were getting ready to go back to Cambodia. There was a lot of turmoil and anxiety and worry about what would happen next. About a year ago, I got a call from someone who had been in the camp. He said he was in the United States now, going to school after working for 20 years. I barely remembered him until he said that I had taught him how to drive. These people were going back to Cambodia and needed jobs; working as a driver would be considered a good job. I had access to a car and would go out with several of them to the only place you could possibly drive, and I gave driving lessons. I wasn't very good at it, either, but they learned anyway. That's the kind of thing I feel good about.
5. Do you have an item in your office that carries special meaning for you?
A former patient of mine came to this country from Iraq about 11 years ago. He gave me a beautiful piece of his artwork that is now hanging on my wall. He explained to me that the artwork illustrates both the darkness and the hope he experienced during his years as a political prisoner in Iraq during the Saddam Hussein regime. It's one of the favorite things I have.