STORY
Five questions for Cheryl Krause-Parello
Research, outreach mission studies and pairs veterans with canine companions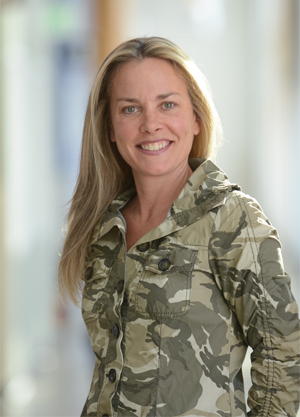 It has been one year since Cheryl Krause-Parello, Ph.D., R.N., arrived at the University of Colorado College of Nursing at the CU Anschutz Medical Campus. During this time she has developed a health research initiative for veterans – Canines Providing Assistance to Wounded Warriors, or C-P.A.W.W. – which investigates, in part, the beneficial effects that dogs have on their human companions. The roots of her research, however, began years ago.
Her family owned a pharmacy – her grandfather and father were pharmacists – and an aunt, with whom she was emotionally close, was a nurse. She decided to follow in her aunt's footsteps. While pursuing her master's degree, she worked at a high school and wrote her thesis on teen pregnancy. When she applied to Rutgers University's Ph.D., program, she planned to build on her master's work.
But the summer before Rutgers classes started, she had an epiphany. She remembered that her academic adviser told her that she needed to find a topic that she was passionate about in order to construct a successful dissertation. While lying in the sun, looking down at her beloved dachshund, Samantha, she thought, "You are the one who is going to get me through my Ph.D. program."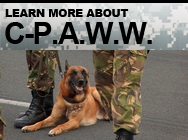 C-P.A.W.W. joins with community partners who provide support for our military, advance evidence-based practice protocols in military-related clinical settings and promote the delivery of culturally-congruent and competent care for the military members.
On the web:
She went to the library and began pulling hard copies of articles on pets and pet therapy. The librarians helped with her quest, but the documentation was limited to baseline research. She was determined to find something. When September rolled around and classes started, she told her adviser that she was going to switch her dissertation topic and research something about human-animal interaction.
"I found a dissertation team that understood where I was trying to go and supported me through it. I love animals and I knew the wonderful emotions I felt when I was with my dog, especially when I was going through stressful times. I knew there was something there; I just didn't know what it was."
Her dissertation examined how companion animals (dogs and cats) affected loneliness, social support and well-being in older adults. Over the past five years, Krause-Parello expanded her research to include "human-animal interaction and stress biomarkers in vulnerable populations including military veterans and children of alleged sexual abuse." Long-term, Krause-Parello hopes to find ways to use canines to moderate the effects of post-traumatic stress disorder (PTSD) on returning active-duty military members and veterans.
A few years ago, she considered moving to a more research-oriented institution and always wanted to work with her Rutgers dissertation chair and mentor, Linda Flynn.  Flynn had recently accepted a position at the University of Colorado and Krause-Parello thought the move would make it impossible to work with her mentor and friend. When Krause-Parello received a call from Flynn asking if she would be interested in interviewing for a CU position, it was something she had to consider.
"I kept saying, 'It's so far,' and my husband said, 'It's too far,' but I thought if it worked out, I would have the opportunity to work with my mentor. So I interviewed and it was an amazing three-day experience. My dean, Sarah Thompson, was fantastic and supportive of my ideas of developing and creating a veteran and military health initiative at CU."
As Krause-Parello works to advance the health and well-being of members of the armed forces, an 8-foot American flag hangs in her CU office. "It stands for everything I'm trying to do."
1. How did your research population move from the elderly to veterans and those in the armed forces?
My husband is a Marine veteran and a retired New York City detective. Basically, my study population changed around the time of 9/11. My husband was involved in rescue and recovery after the tragedy. I wanted to do something to help, but I wasn't sure what I could do. I was too old to serve, but I wanted to give back somehow. What better way to try to give back than to blend my passion for research on canines with veterans and wounded warriors.
2. Do other animals – cats, for instance – provide the same healing assistance as dogs? What is it that animals provide? Can humans provide the same support?
The type of animal depends on the person. It's really about reciprocal relationships. Everyone is different and everyone's preference is different, whether it's about the breed or the species. If you have that connection with an animal, regardless of what kind of animal it is, it can be beneficial to both parties.
My colleague, Dr. Michael Rice, and I are developing a theory around this. We're calling this a "relational certainty," a term that was coined based on available literature and from talking with people about their human-animal bond. A relationship with a companion animal is nonjudgmental. The animal is something to care for, but there is also reciprocity to the relationship: In other words, caretaking is bilateral – it works both ways.
The relationship provides a sense of social support and is also a coping mechanism. Say you have a bad day at work. When you get home, you are greeted by your companion animal, maybe a cat's purrs or a dog wagging their tail and it melts away all the stress you had. Or you walk around the park with your dog and you both get exercise.
I think it is different with other humans. It's the unconditional, nonjudgmental piece of the animal-human relationship that is really important. It doesn't matter what happened in your day or your world. Once you are with the animal, your world and their world integrate, almost in a silo, and nothing else really matters. It's very powerful. I'm not saying everything is perfect, but I do think there is a distinct difference from what another human provides. Obviously, humans are social creatures, as are many domesticated animals. They instinctively become part of your pack!
3. C-P.A.W.W. is a year old now. How has the program progressed?
With any kind of startup initiative it takes time to build relationships and we're still building them. But the program has been well-received as almost a hub for this area of research. A lot of people from other universities are reaching out to me. We want C-P.A.W.W. to be a resource for veterans and the military population who are looking for a service dog, service dog trainer, or a companion dog.
We've partnered nicely with key organizations. A couple of those include the Pets for Vets; Prison Trained K-9 Companion Program (PTKCP), where inmates train dogs for the community; Warrior Canine Connection; and Freedom Service Dogs.
We have a research project going on now with the VA in Denver. They have a facility dog – her name is Waffle – who has been specially trained and accompanies Dr. Elizabeth Holman, a therapist who visits veterans who have been admitted to palliative care. This is the first study conducted there using Waffle to see if she will make a difference in veterans' stress indicators. We're measuring salivary alpha-amylase, cortisol, immunoglobulin A, blood pressure and pulse. The vets visit with Dr. Holman and Waffle for 20 minutes and by measuring these stress indicators, we will see if Waffle makes a difference. When we're finished, we offer to take a picture of the vets with Waffle. The way they embrace their pictures afterward is so touching. We plan to wrap up our research in the next six months and get those results out to the community.
We're also getting ready to submit a grant for research regarding protective factors for impulsivity. We plan to conduct focus groups with student veterans to determine the role that companion animals play in reducing impulsivity.
In addition, we're seeking approval to conduct research through one-on-one interviews with veterans who have service dogs to determine what service dogs mean to those individuals.
And we'll soon be starting our research with wounded warriors who have been diagnosed with PTSD and/or traumatic brain injury (TBI) in the outpatient setting at Walter Reed National Military Medical Center.
4. What are some of your future goals?
I really would like to see more support around the issue of obtaining service dogs for veterans in need. It's important that service dogs are looked at as a therapeutic intervention that is reimbursable through the military. And of course, I want to conduct more research to support this premise. One of my concerns is there's not a lot of funding available to support this kind of work. However, we at C-P.A.W.W. were so fortunate to receive a gift from the Anschutz Foundation to build our program. My goal is to continue to conduct research in this area so we can provide the empirical evidence to support change in public policy regarding the benefits of service dogs and companion animals for our military.
5. Have you been able to enjoy Colorado and Denver during your year here?
My husband is still in New Jersey with my two dogs (yes, both rescue dachshunds) and I try to get home as much as possible. I keep very busy here. Besides my research I do triathlons, and so I do a lot of training for that and work out almost every day. I've done zip lining and snowshoeing, which is something I hadn't done before. I've gone skiing and taken many train rides, including the Pikes Peak Cog Railway. I'm an avid horseback rider and have all my gear ready to go in my closet, so I must go on a trail ride soon.
I live downtown and everything is in walking distance so I've really been able to take advantage of the city lifestyle, from going to the theater to watching the Broncos. I love the Broncos and Peyton Manning. Even though I grew up in New Jersey, I've always loved Peyton and followed him throughout his career. I must confess that I was a Colts fan before a Bronco fan; I even went to games in Indianapolis so I'm definitely not a groupie!