STORY
Five questions for Bradley J. Birzer
CU-Boulder visiting scholar desires 'true, not ideological, debate'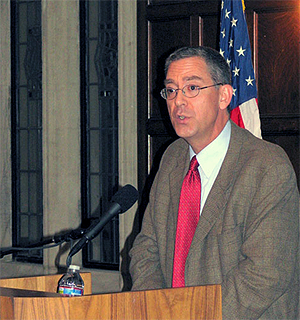 Bradley J. Birzer has been appointed the second Visiting Scholar in Conservative Thought and Policy, the University of Colorado Boulder announced in June.
Birzer, a professor of history and the Russell Amos Kirk Chair in American Studies at Hillsdale College in Michigan, begins his one-year appointment beginning in the fall.
In the coming year, Birzer is scheduled to teach four undergraduate courses. In fall, he will teach a freshman course in the Sewall Residential Academic Program and an upper-division course on the Foundations of Western Civilization for the Center of Western Civilization. In spring, he will teach a 2000-level history course and the Western Civilization course again.
Additionally, he will be encouraged to foster discussion by hosting public events in the campus community and perhaps around the state. Steven Hayward, the inaugural visiting scholar, organized more than a dozen guest speakers, debates and other public appearances during 2013-14.
Birzer is enthusiastic about his new post. "To say I'm thrilled about the year appointment would be an understatement," he said.
Birzer has been teaching at Hillsdale College, a small and traditional liberal arts school, for 15 years and said he has some of the best students and colleagues in the whole of academia. "I'm also very much in line with the core and the mission of the college, color blind and gender neutral since its founding by abolitionists in 1844."
Birzer recently answered five questions from Clint Talbott, Colorado Arts & Sciences Magazine's editor:
1.       Why did you choose a life in academe?
Two of the finest persons I knew as a child were my maternal grandfather and mother, both teachers. One Saturday, my grandfather decided to take me to the Sternberg Museum of Natural History in his hometown of Hays, Kansas. He was always incredibly dignified. As we drove onto the campus of Fort Hays State, he saw a parking spot reserved for "Professor" somebody. He looked at me with his typical mischievous eye, and said, "Bradley, today, I think I'll be a professor." Whatever reason, I knew that a professor was somebody of importance (who, after all, could be wiser than my grandfather?), and the idea stuck with me throughout all of my schooling. I also had the great fortune of having a number of amazing teachers and professors, from grade-school Dominican nuns to some of the best lecturers and thinkers imaginable at the University of Notre Dame and Indiana University.
2.       How would you characterize the state of political discourse in the United States today?
Terrible. Absolutely terrible. But, I must admit, I write this as a 46-year old jaded romantic who once would have given much of his life to one of the two major political parties.
Political discourse as of 2014 comes down to two things 1) loudness and 2) meaningless nothings. Oration is a dead art, and the news from CNN, Fox and other outlets is just superficial talking points with some anger and show. Radio is just as bad, if not worse. As one noted journalist, Virginia Postrel, has argued, we probably shouldn't take anything that someone such as Ann Coulter says with any real concern, as she is "a performance artist/comedian, not a serious commentator."
Two examples, I think, help illustrate this. Look at any speech delivered by almost any prominent American from 1774 to 1870 or so. The speeches are rhetorically complicated, the vocabulary immense, and the expectations of a well-informed audience high. To compare the speech of a 1830s member of Congress with one—perhaps even the best—in 2014 is simply gut-wrenchingly embarrassing.
Another example. The authors of the Constitution expected us to discuss the most serious matters with the utmost gravity. Nothing should possess more gravitas in a republic than the issue of war. Yet, as Americans, we have not engaged in a properly constitutional debate on the meaning of war since the close of World War II. We've seen massive protests, some fine songs, and a lot of bumper stickers, but no meaningful dialogue.
As a humanist, I crave answers for this, and I desire a return to true—not ideological—debate and conversation. Academia has much to offer the larger political world in this.
3.       If you were asked to summarize what you hope to accomplish during your year as visiting scholar, what would you say?
I have dedicated my own academic career to the study of two things: 1) the human person as a unique manifestation of universal truths in a culturally and temporally specific setting; and 2) the humanities as best understood through the classics of western (and, at times, world) civilization.
CU is already rich in all of this, but I hope to add to that richness and to benefit from the same. No community can survive without a conversation with those of the present, those of the past, and those who are to come.
4.       The Visiting Scholar in Conservative Thought and Policy at CU-Boulder was created because of a perceived imbalance of perspectives among faculty; do you see this as an issue that should be addressed, and, if so, how should it best be addressed?
Though I grew up (in Kansas) vacationing in Boulder and the Boulder area, I have only been a part of the campus community on the day I came for the interviews. Of course, I had a brilliant time. Regardless, I don't really know what the state of discourse is on CU's campus. I plan on being involved in as many discussions as possible, and I also plan on sharing those discussions with non-Coloradans through the website The Imaginative Conservative.
And, of course, it's an absolute privilege to be invited to be an additional voice in such a vibrant intellectual community of scholars as that in Boulder. My voice, I hope, though will be that of Brad Birzer who happens to have strong conservative and libertarian leanings rather than as a libertarian or conservative who happens to be named Brad Birzer.
And, as much as I appreciate a relatively recent historical figure such as Barry Goldwater, I still much prefer Cicero and Virgil.
5.       How do you view the value of higher education today, particularly given its rising cost and rising student-loan burden?
This is a terribly difficult problem, and, from what little I know of economics, so much has changed over the past 50 years due to strange incentives in funding, etc. But we also continue to specialize and specialize in our professions and disciplines to the point we can no longer talk across the self-imposed barriers. A person might gain from this, but a society and the persons that make up that society do not.
I'm rather a devoted patriot of and for liberal education. From Socrates forward, the goal of a liberal education has been to "liberate" the human person from the everyday details of this world and the tyranny of the moment. Our citizenship, as liberally educated persons, belongs to the eternal Cosmopolis, not to D.C. or London or. . . .
College-level education must return to the fundamentals of the liberal tradition. Interestingly, this is the least-expensive way to teach and to be educated. The best education involves a professor, a group of students, a primary text and three hours a week in discussion.
Given how readily available the texts of the greats have become through the liberation and decentralization of publishing through the Internet, the complete writings of Plato are within reach of anyone with access to the web.
Real education does not have to be expensive.
This is in no way meant to discount professional education. Training for engineering, law, the sciences, etc. is vital for a functioning and healthy world and happy citizenry.
But, in our own titillation with what we can create, we often forget what came before and what will need to be passed on in terms of ethics and wisdom. The best lawyer, the best engineer, the best chemist, will be a better person for knowing the great ideas of the past: the ethics of Socrates; the sacrifice of Perpetua; and the genius of Augustine.
Bradley J. Birzer is CU-Boulder's second Visiting Scholar in Conservative Thought and Policy. To subscribe to his CU blog and receive event notices, click here. For more information, see: http://artsandsciences.colorado.edu/ctp/